COVID-19 outbreaks at two long term care facilities in Eldora have infected 15 residents, state and local officials reported this week.
The outbreak at Eldora Specialty Care was reported on the Iowa coronavirus website on Tuesday, but the outbreak at Valley View Specialty Care has not yet been reported by the state. Susan Eichmeier is administrator of both facilities, and she described the state's reports as "behind the times."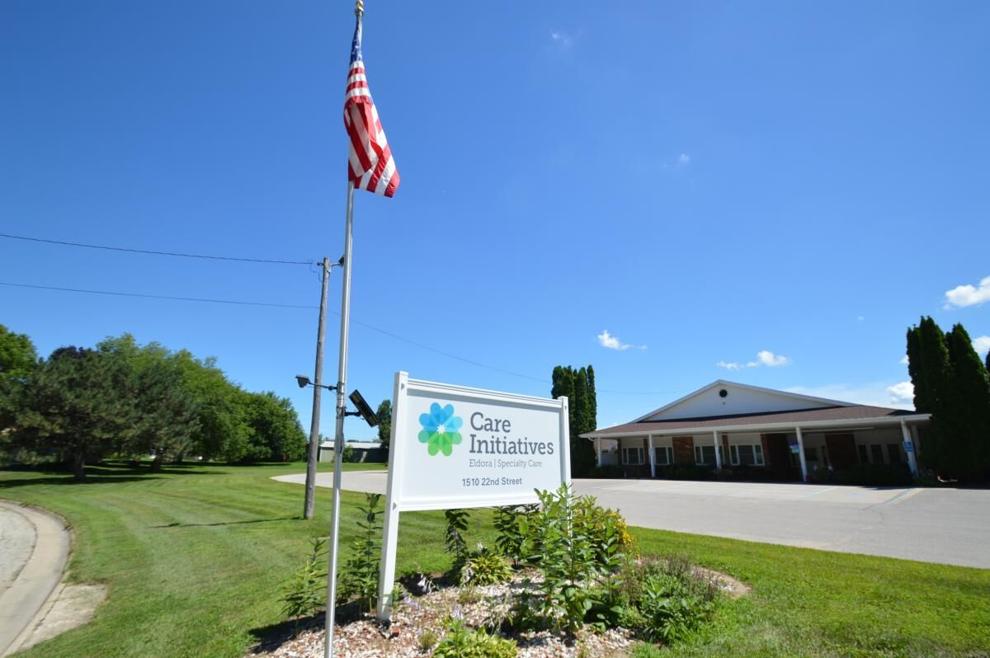 Eichmeier said the first positive resident test was about a week and a half ago, at the end of November. Since then, eight residents and "a couple" of employees at Eldora Specialty Care have tested positive for COVID-19. Seven residents at Valley View Specialty Care have also tested positive. Those numbers are not reflected on the Iowa coronavirus website's long term care outbreaks dashboard, but the state has consistently reported numbers that are different than those reported by officials at local facilities.
Both long term care facilities are owned by Care Initiatives, a West Des Moines-based non-profit organization that operates 44 skilled nursing care facilities, as well as a number of assisted living locations, senior housing apartments and hospice offices in Iowa.
Eichmeier said each Eldora facility has a segregated COVID-19 area. She described them as hallways that are separated by fire doors. As staff enter or leave the areas, they pass through a neutral zone, separated by plastic sheeting, where they can change PPE and sanitize.
"There's a lot more work," Eichmeier said about the outbreaks. "A lot of reporting things for administration and a whole lot more work for the nurses and aids.
"Everybody is really taking it in stride and doing a great job," she added. "Everybody's tired. It's been hard."
Eichmeier said that two residents of Valley View Specialty Care who tested positive for COVID-19 have died.
The Eldora nursing homes are the third and fourth in Hardin County to report outbreaks of COVID-19. At Hubbard Care Center, the disease infected 38 residents and 34 employees between Oct. 5 and Nov. 9.
Grand JiVanté in Ackley reported its first COVID-19 case in a resident on Oct. 29. The disease infected a total of 35 residents there, but as of Dec. 3 there were no more infections, according to a Facebook post by CEO Korey DeBerg. Grand JiVanté was removed from the state's list of long term care facilities with outbreaks on Tuesday.
As of Tuesday afternoon, the Iowa Department of Public Health was reporting outbreaks at 144 long term care facilities. There have been 1,127 deaths at long term care facilities since the coronavirus was first detected in Iowa in March.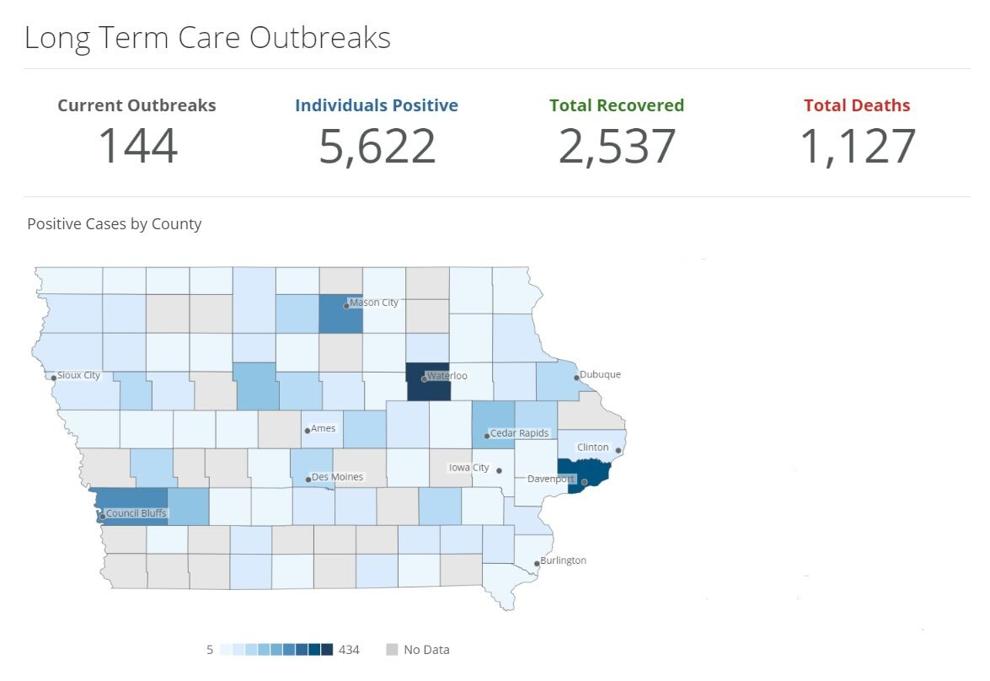 Eichmeier said the community has reached out to support the two long term care facilities. They're received poinsettias from local day care and preschool classes, balloons from a floral shop and donations of water, soda and snacks for residents and employees.
"We've had some lovely gifts from the community and from other nursing homes" she said. "We just appreciate everybody helping us out with everything we need."
As parts of a larger non-profit organization, neither Eldora nursing home has struggled to obtain supplies. Since the beginning of the pandemic, Eichmeier said they've been stockpiling PPE and other equipment necessary to mitigate spread of the disease.
"That's the nice thing about having a home office," she said. "They've been taking really good care of us."
The facility is testing all residents and staff twice each week. Eichmeier said she's hopeful there will be no more positive tests. She said she's proud the facilities could keep COVID-19 at bay for so many months.
"We went so long without anything," she said on Tuesday. "We were praying and hoping we wouldn't get COVID. I talked to the staff regularly and told them 'Remember what you're bringing back to these people. Please think about what you're doing when you go out.'
"It just seems like it's everywhere," Eichmeier said of COVID, which surged in Hardin County and across the state in November. "It felt like it was closing in on us."