Fareway Stores and Hy-Vee Inc, the two biggest grocery store chains in Iowa, have announced separate programs that will assist employees financially during the COVID-19 pandemic.
On Wednesday, Fareway Stores announced its Fareway Family Frontline Plan to provide cash bonuses and additional paid time off for its hourly employees who have worked on the frontlines in the past several weeks. 
Hy-Vee is also offering a frontline employee appreciation bonus for its part-time and full-time store employees. Hy-Vee employees will receive a 10 percent bonus on their hours worked between March 16 and April 12.
Fareway will provide a one-time cash bonus that will be paid to hourly employees under the age of 18.
Part-time employees at Fareway age 18 and older will receive an additional 20 hours of paid time off. Full-time hourly employees will receive an additional 40 hours of paid time off. Assistant managers and warehouse foremen will each receive an additional 47 hours of paid time off. All Fareway employees can choose to use the additional time off or receive a cash payment for the time.
Bonuses through the Fareway Family Frontline Plan range up to $1,200 per employee with a total investment of several million dollars to approximately 8,500 frontline employees. 
The Fareway corporate office will distribute the bonuses to qualifying hourly employees on Friday, April 3.
Hy-Vee is also offering new benefits to more than 80,000 employees in response to the coronavirus outbreak. Hy-Vee will be offering job protective leave for employees who either test positive for COVID-19 and/or are required by health officials to self-quarantine.
Pat Ryan, store manager at Hy-Vee in Eldora, said the program is a morale-booster for his employees.
"These employees have been working their tails off for me, so absolutely, I agree with what Hy-Vee is offering," Ryan said. 
Ryan said his staff includes eight full-time employees and 20 to 25 part-time staff. He said online orders have doubled each week. Before the pandemic reached the state, the Eldora Hy-Vee was receiving five to six online orders per week. That total has grown to 10 to 12 per day.
The Eldora store does not deliver online orders, and requires the customer to pick them up.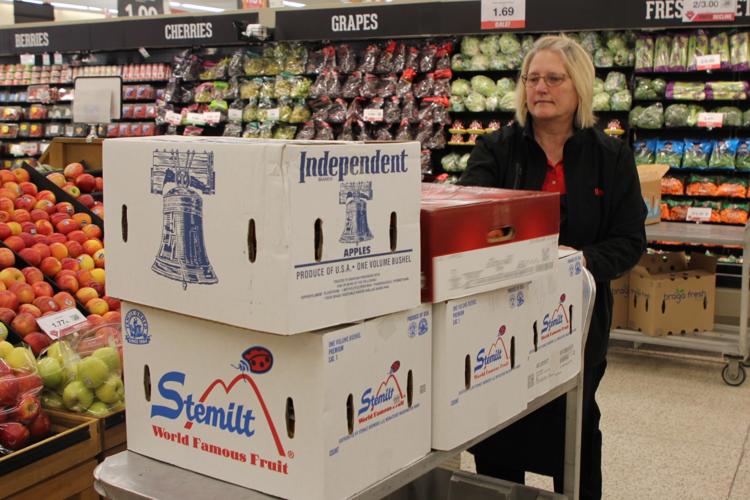 "I'm sure we aren't doing numbers like the bigger stores in larger towns. I've adjusted that to where I've got a college student back in town because of the situation. She is doing nothing but online orders. Before this happened, management was doing it," Ryan said. "I think the panic buying is not quite as bad as it was. But it's still a lot of volume going out." 
At the Iowa Falls Hy-Vee, store manager Stephanie Dagel describes the employee activity as "all hands on deck." The Iowa Falls Hy-Vee staff includes 32 full-time employees and roughly 115 part-time workers.
Like Ryan, Dagel said her store is also experiencing an increase in online orders as people practice social distancing. She said Hy-Vee's appreciation bonus program is the corporate office's way of patting employees on the back for a job well done.
"It's amazing. Everyone works hard, but to be rewarded during this difficult time. It's an extra pat on the back," Dagel said. "Our corporate officers who are unable to come to the store and shake our hands and give us a high five, it's just one more way they can show that gratitude."
Hy-Vee also announced a second benefit offering employees affordable access to telehealth services, including mental health. The supermarket chain is waiving co-pays for all full-time employees and their dependents who use the 24-hour virtual medical service and will allow part-time employees to use the service for a minimal fee per visit.
Jason Snyder - store manager of the Iowa Falls Fareway - said he's proud of how his employees have stepped up during a tough situation. But he's also not surprised by their hard work.
Snyder said he's beginning to notice a return to normalcy after the past two weeks.
"With school being out, we've been able to have an abundance of help so people are not working quite the number of hours they were during the first week this all started," Snyder said. "That being said, it was great for the company to come up with a reward for them. They've definitely answered the call during a tough time. They've already done more than what I could ever ask of them." 
Snyder said Fareway's trucks are beginning to get back on schedule and that has provided a more normal routine.