Less than 1 percent of Hardin County's residents have been tested for COVID-19. That's according to new data released this week by the Iowa Department of Public Health.
On Tuesday, Gov. Kim Reynolds announced that the state would expand the information made available to the public about COVID-19 in the state. The information is being disseminated through the state's website, coronavirus.iowa.gov, and includes the number of tests per county, as well as demographic data - sex, age, race and ethnicity - of those who have tested positive for the disease that's caused by the novel coronavirus.
According to the data, as of Thursday morning, 99 Hardin County residents had been tested for COVID-19. That's just 0.5 percent of the county's 16,868 residents, smaller than this year's Iowa Falls-Alden High School graduating class.
Of those tests, just one has come back positive. That test belonged to 60-year-old Justin Weber, an Eldora business owner and the pastor at Honey Creek New Providence Friends Church. He is still hospitalized outside the county. A map released Monday morning showed a second Hardin County case, but that turned out to be a mix-up in the state's reporting. It was later corrected.
The counties around Hardin County have similarly low testing numbers (as of Thursday): 76 Franklin County residents have been tested; 47 in Grundy County; 62 in Butler County; 94 in Wright County; and 67 in Hamilton County.
At a press conference on Wednesday, Reynolds was asked about the number of tests that have been performed. She said 1 in 160 Iowans have been tested.
"We can do more, we should do more, but I actually think that's pretty good," Reynolds said. "So we are making progress, we are testing more, we have been somewhat limited with the state hygienic lab testing, but as you can see we're opening that up. We're using those tests to target where some of those hot spots are at."
The "hot spots" Reynolds referenced include outbreaks at seven long term care facilities in Iowa, and at a Tyson Foods plant in Columbus Junction, where more than 180 employees have tested positive for the virus. Reynolds urged Iowans who are ill and think they may have coronavirus to call their health care provider. They will be walked through a series of screening questions to determine whether they qualify for a test.
Certain criteria must be met before a state test can be administered (and sent to the State Hygienic Lab). Tests will be administered to:
Hospitalized patients with fever and respiratory illness;
Adults age 60 and older with fever and respiratory symptoms and a chronic medical condition;
Persons of any age with a fever or respiratory illness who live in a congregate setting (long term care facilities, dormitories, and residential, correctional or treatment facilities);
Healthcare workers, essential service personnel, first responders and critical infrastructure workers who have a fever or respiratory illness
The state has also provided hundreds of tests to places like the Tyson Foods plant so workers can be screened for the virus.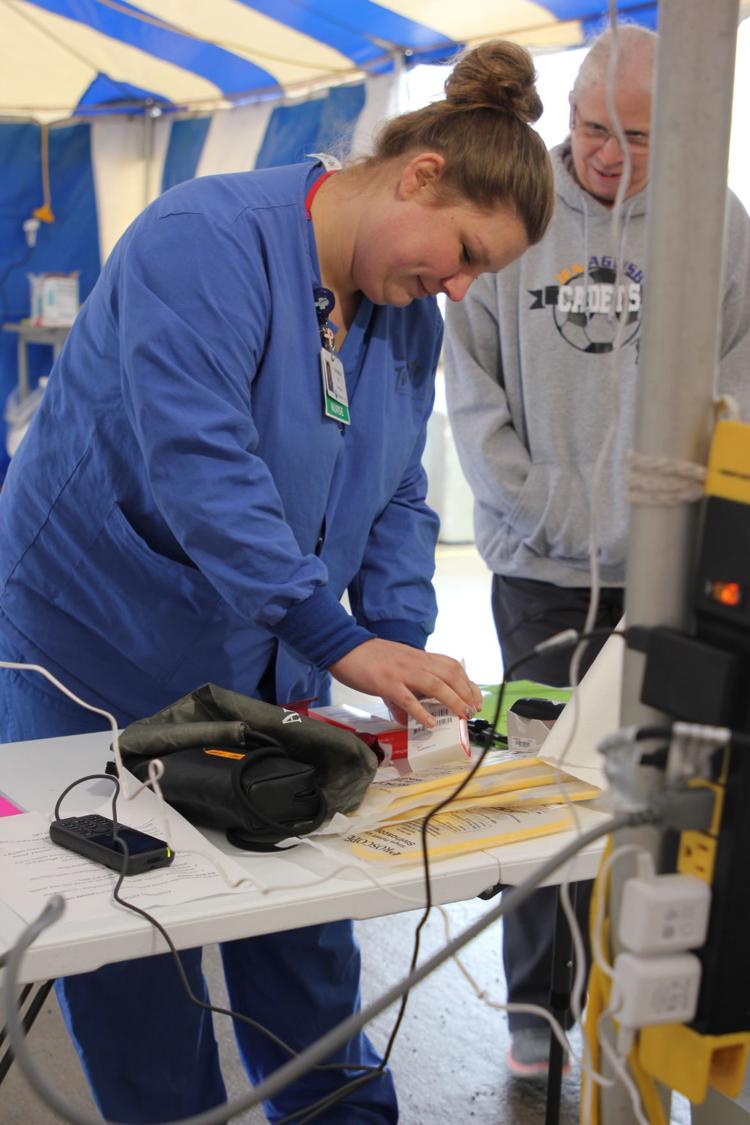 Hansen Family Hospital in Iowa Falls is following the state's protocol so that the tests it administers will be processed by the state lab. HFH asks patients who have respiratory illness symptoms to call 648-7113 to speak with a provider, and if they qualify for testing, to go to a tent in the hospital's parking lot. The hospital has not released the number of tests it has administered because, officials said this week, it could violate patient privacy, and it may be testing people who don't live in Hardin County, thereby giving a false sense of the number of Hardin County residents who are being tested.
For those who don't meet the criteria outlined by the state, Reynolds said Wednesday that testing at private labs "continues to be a very good option for Iowans." The cost to process those tests would not be paid by the state.
Rocky Reents, the public health coordinator for Greenbelt Home Care/Hardin County Public Health, said she worries about the small number of Hardin County residents who have been tested only because people could have the virus, not know it, and still be out in public.
"It is concerning people could be walking around with it and have no idea," she said. "It's such a mystery, too, because you could be asymptomatic and have it and have no idea. If I'm walking around and feeling fine, I'm not going to call the hospital and ask for a test."
While six counties have seen outbreaks at long term care facilities, Hardin County, which ranks 16th in the state for the percent of its population over the age of 65 (21 percent), has so far avoided any outbreaks.
Reents said she is in contact with the county's long term care facilities weekly, and Hardin County Emergency Management Coordinator Thomas Craighton is hosting regular webinars for healthcare providers.
"It's especially important to communicate with our long term care facilities on recommendations around PPE and make sure they have the amount they need," Reents said of personal protective equipment. "They're with that vulnerable population every single day."
Reents said Greenbelt Home Care/Hardin County Public Health will continue to post local coronavirus information - including press releases about new positive cases - on its Facebook page. The state updates its coronavirus website once per day, usually around the time of Reynolds' daily press conferences at 11 a.m.
NOTE: This story, which was originally published at 8:30 a.m. on Thursday, April 16, was updated Thursday afternoon to reflect updated testing numbers from the Iowa Department of Public Health.