UPDATE: This story was updated at 9:45 a.m. to reflect the announcement that two more cases were identified on Friday morning.
Five new positive COVID-19 tests have inched Hardin County closer to 100 cases of the disease since testing began in March.
On Thursday, Greenbelt Home Care/Hardin County Public Health announced three more Hardin County residents have tested positive for COVID-19, and on Friday morning another two cases were added, bringing the county total to 98. Of the five new cases announced on Thursday, three are age 18-40 and two are age 41-60.
The state reports that 54 of those 98 patients have recovered. No one from Hardin County has died of the disease, but there have been 782 deaths statewide.
Over the past month, the number of COVID-19 cases, hospitalization rates and the number of people in ICUs have increased. As of Friday morning, 210 Iowans were hospitalized for treatment of the disease. The most recent county-level hospitalization data shows one Hardin County resident was hospitalized for COVID-19 treatment as of Wednesday.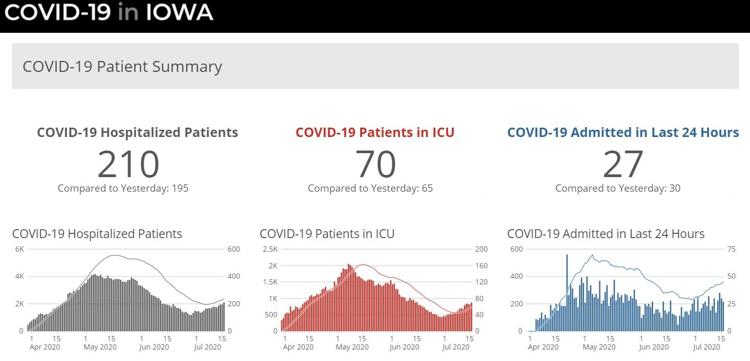 On Thursday, the Center for Public Integrity reported on a White House document that identifies 18 states it says are in the coronavirus "Red Zone." Iowa is included on that list. The document, dated July 14, was prepared for the White House Coronavirus Task Force, but it was not publicized. States in the Red Zone have reported more than 100 new cases per 100,000 population in the last week. Iowa had 116 new cases per 100,000 in the week before the report was released. Recommendations for the state include continuing to promote social distancing and the wearing of cloth face coverings when outside the home, among other guidelines.
Iowa Gov. Kim Reynolds said this week that she does not plan to issue blanket shutdowns as she did in March and April, but she would consider other mitigation efforts, such as implementing restrictions on bars.
Testing of Hardin County residents continues, although it has slowed in recent weeks. Over the last two weeks, from July 3-16, 310 Hardin County residents were tested for COVID-19, and 23 positive cases were reported. Over the previous two weeks (June 19-July 2), 675 people were tested and 16 cases were reported. Some Iowans have complained that it's difficult to schedule a test through the state's TestIowa sites, which Reynolds said is due to an increase in demand for testing.
As of Friday morning, 2,111 Hardin County residents had been tested for the disease. That's about 12.5 percent of the total population.
Of the 98 local people who've tested positive for COVID-19, 54 were classified as recovered on Friday morning.
Public health officials continue to urge the public to take precautions to prevent the spread of COVID-19. That includes staying home if you feel ill; covering coughs and sneezes; disinfecting frequently-touched surfaces; avoiding touching your eyes, nose, and mouth with unwashed hands; avoiding close contact (less than six feet of distance) with people who don't live in your household; covering your mouth and nose with a cloth mask when around others; and washing your hands often with soap and water for at least 20 seconds.
People with COVID-19 have reported a wide range of symptoms including fever or chills, cough, shortness of breath or difficulty breathing, fatigue, muscle or body aches, headache, new loss of taste or smell, sore throat, congestion or runny nose, nausea or vomiting and diarrhea. If you are experiencing any of these symptoms, you're instructed to call your health care provider before going into the office. They will walk you through a series of questions and may ask you to report to a testing site. Hansen Family Hospital in Iowa Falls is able to test for COVID-19, but patients should not show up at the hospital. Call the HFH COVID-19 phone number at 641-648-7113 first.
Iowans are also asked to complete a health assessment on the state's TestIowa website. The assessment will ask you to enter information about your health and workplace, and will then give you the option of scheduling a COVID-19 test at a drive-through TestIowa site.
Find more county, regional and state data on the state's coronavirus website.