A fourth Hardin County resident has tested positive for COVID-19, the respiratory disease caused by the novel coronavirus. Greenbelt Home Care/Hardin County Public Health announced the diagnosis at around 3:30 p.m. Monday.
This fourth patient is identified as an older adult, between the ages or 61 and 80. They are reportedly self-isolating at home.
The first confirmed Hardin County case was announced on March 26. It was 60-year-old Justin Weber, of Eldora, who remains hospitalized. The second case was announced on April 16 in a person age 18 to 41, and the third case was announced on the 18th in a person age 41 to 60.
As with the previous three cases, the identity of the person and their town of residence are not being released. (Justin Weber's identity if known because his family consented to an interview with the Times Citizen.) Local public health officials have interviewed the latest patient and will contact anyone they may have had contact with in the last two weeks. Those people will be asked to self-isolate for two weeks.
Iowa public health officials do not release the town of residence of any person who tests positive for COVID-19. Iowa Code Chapter 22 prohibits the release of information that could identify an individual. Some states have different confidentiality laws, but Iowa officials have said information related to where an individual lives or has visited "is not essential in protecting the public's health during the COVID-19 outbreak."
"COVID-19 is circulating widely in the state and in our county," said Greenbelt Home Care Public Health Coordinator Rocky Reents. "A resident's chance of being exposed to the virus is high, regardless of contact with a confirmed case. This is why all residents are advised to stay home as much as possible, and when they must leave for essential errands like groceries or to get medication, they maintain a six-foot distance from other individuals and avoid groups of people. This is because the risk of exposure to the virus is NOT limited to exposure to a known case; you could just as easily be exposed to an undiagnosed individual who is at the grocery store."
Iowa Gov. Kim Reynolds announced 257 new COVID-19 cases on Monday morning, bringing the state total to 3,159. There have been 79 coronavirus-related deaths in the state. According to the Iowa Department of Public Health, as of Sunday morning, 120 Hardin County residents - about 0.7 percent of the county's 16,868 residents - had been tested for the disease.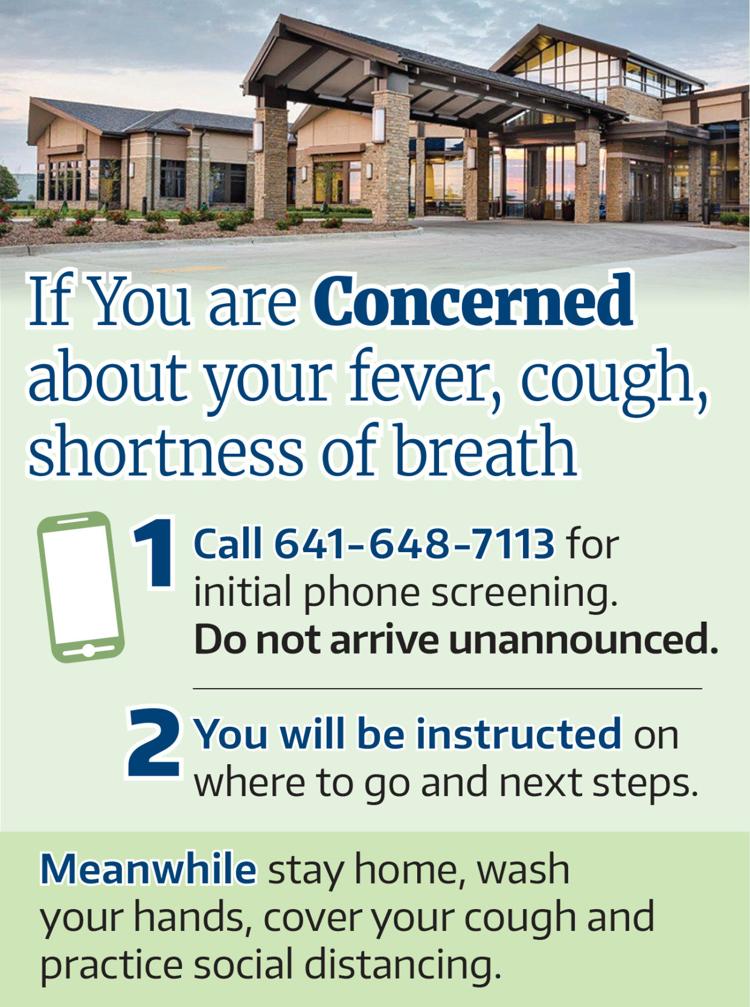 Symptoms of COVID-19 include cough, fever (100.4 or greater) and shortness of breath. If you are experiencing any of these symptoms, you're instructed to call your health care provider before going into the office. They will walk you through a series of questions and may ask you to report to a testing site. Hansen Family Hospital in Iowa Falls is able to test for COVID-19, but patients should not show up at the hospital. Call the HFH COVID-19 phone number at 641-648-7113 first.
Find more information about COVID-19 in Iowa on the state's coronavirus website, or on the Greenbelt Home Care/Hardin County Public Health Facebook page.