Two local women - both of whom intended to spend this spring exploring Europe - are instead home, self-isolating after being forced to return to the U.S. amid a global pandemic.
Gabby Evans, a 2017 Iowa Falls-Alden graduate and current student at Iowa State University, left Iowa in January to study abroad in Greece. Gabi Damiano, a 2019 IF-A grad, left for Europe this month, planning to explore the continent on her own. Each traveled home before she'd planned, and each had different experiences on the way home.
'Things got a little crazy'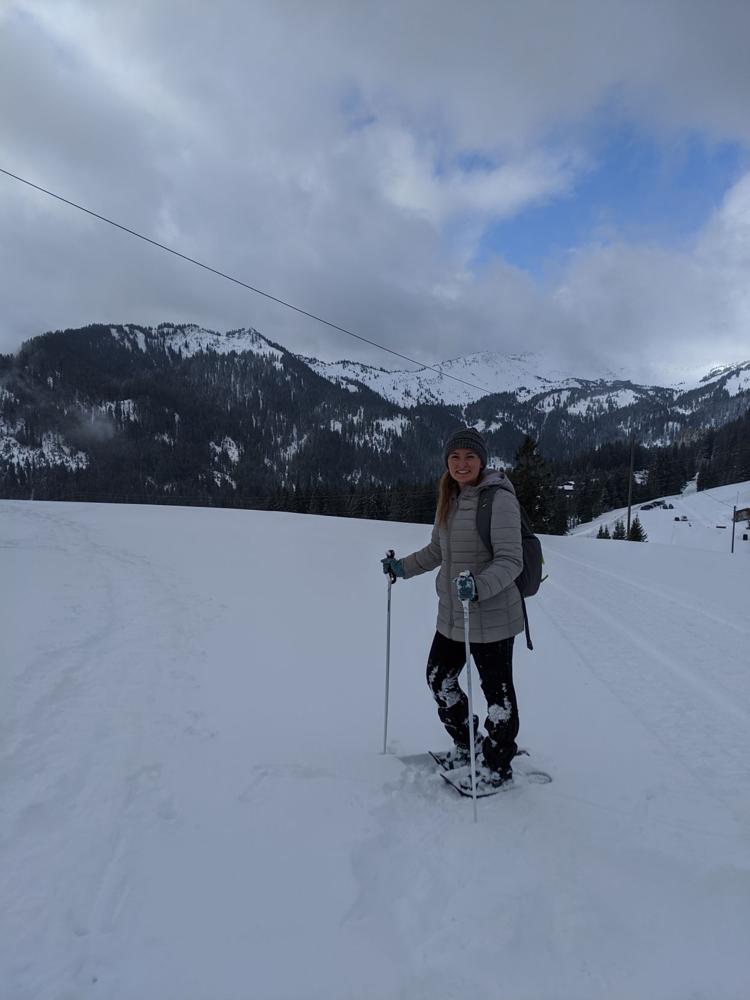 Gabby Evans left Jan. 20 for Thessaloniki, Greece. She planned to stay until April 10, but as the novel coronavirus spread across Europe, Iowa State University officials ordered her to return home. She made her way back on March 14, just three days after President Donald Trump restricted travel from Europe to the U.S.
The return trip started with a flight from Thessaloniki to Munich. At the airport in Greece Evans witnessed an airport employee confront a man who was coughing, and order him to put on a mask before boarding the plane. Upon her arrival in Munich, Evans said passengers bound for the U.S. were congregating in one area, isolated from other gates. Passports were checked multiple times, and passengers had to answer questions about where they'd been and why they were in Europe.
At Chicago's O'Hare Airport Evans ran into a sea of people. What's normally a fairly painless customs process took her nearly five hours to navigate.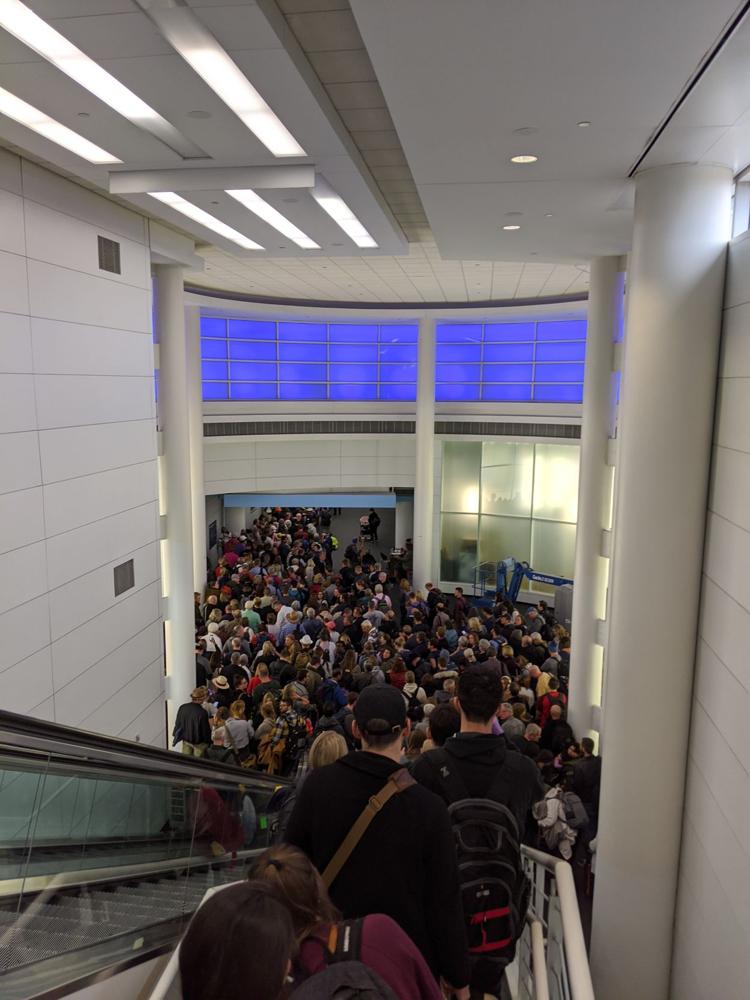 "When we walked towards customs, things got a little crazy," she said. "We had arrived at the same time as at least two other flights. We all got to the stairs and our mouths dropped. There was a huge bottleneck into customs, starting at the top of the stairs."
Passengers were being directed through customs, and then they got in a line for CDC (Centers for Disease Control) screening. Evans had to fill out a CDC form that asked about any symptoms she was feeling and whether she'd had contact with anyone who had the virus.
"At this point, I knew we would be here for a while and I called my parents to give them an idea of what was going on," Evans said. "I guessed two or three hours max. I was wrong. Once we came into the opening, we saw the mess we were in. I wasn't prepared for this process, no one was."
Evans passed the examination, which included more questions and a temperature check, and she received printed information about COVID-19 and self-quarantine steps before claiming her baggage.
Through it all, Evans said she couldn't ignore the irony of the situation.
"Everyone had been told over and over again to avoid large groups and to stay six feet away from each other, but thousands of us were shoved into this room, shoulder to shoulder, from all over the world," Evans said. "There was no control and no way to isolate. At the beginning, people wore their masks and applied their hand sanitizer, by the end it was comical. What was a mask and hand sanitizer going to do at this point?
"If one of us was sick, we were all in trouble."
'I had so much anxiety'
Gabi Damiano had planned a five-week trip to points across Europe. But as it turned out, she arrived back home on March 16, just 12 days after she'd departed.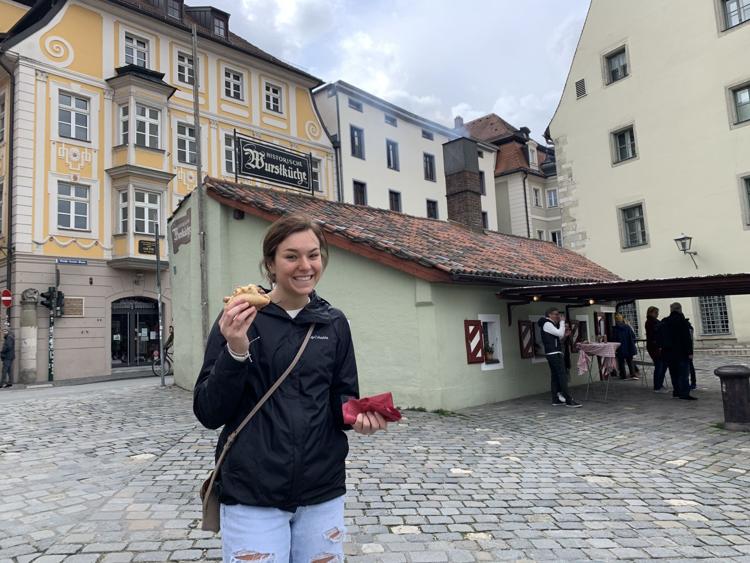 "Things [around coronavirus] hadn't gotten too bad until I was leaving, so people weren't really taking too many precautions," Damiano said. "There was concern, but it wasn't crazy and no one was really panicking - yet. The day after I left Germany, they ended up closing their borders."
By the time Damiano arrived back in Chicago, she knew more about COVID-19 than she cared to.
"Before we landed, they handed us forms to fill out about where we had flown from, who we were flying with, if we had been to China, Iran or Italy and if we had come in contact with anyone with COVID-19," Damiano said. "When we landed, we had about a 10-minute walk to get to customs and CDC screening. I did not see a single person besides the people on my flight the entire walk there."
When Damiano and her fellow passengers got to customs, they were split into smaller groups to be checked. And, like Evans, there were a lot of questions.
"I said I was coming from Europe and the lady took my passport and called out 'I have one here,' and another guy dressed head-to-toe in gear came and got me," Damiano said. "They asked me if I had any symptoms, checked my temperature, gave me some paperwork about the virus, told me that they recommended I self-quarantined - but said it wasn't mandatory and they wouldn't be checking to make sure I did. He then signed off on my paper and sent me to baggage claim. After I got my bag, I handed the guy at the door my paper and was on my way."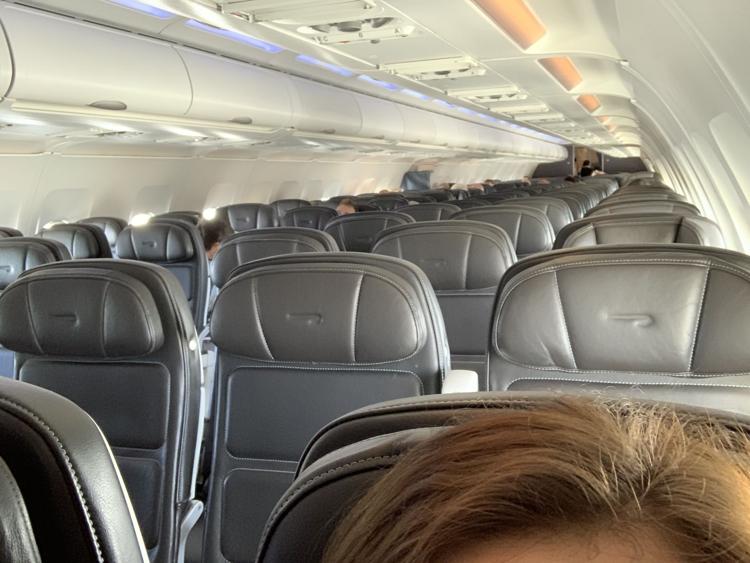 Damiano said she was surprised it was so easy. She'd seen photos and stories on social media and she thought the process would take longer and may include her being tested for COVID-19. A process that had taken Evans some five hours four days earlier, took Damiano only about 45 minutes.
"Before even leaving Europe I was making myself sick because I had so much anxiety about everything I didn't know and what was going to happen to me," Damiano said. "It was honestly terrifying waking up the day after the travel ban was announced. I woke up to a ton of messages about how I was going to be stuck in Europe."
Evans said she had very little information in Europe, which meant fewer precautions to protect herself from COVID-19.
"We didn't have any precautions for this specific virus and it hit fast, so we never really had any time to prepare," Evans said. "I know there was concern, especially as it blew up in Italy, but you didn't feel it the same way as you do here. It definitely felt calm until it wasn't."
And when it wasn't, things started shutting down fast. The school Evans was attending in Greece, Perrotis College, was the first. The mall closed the night before she left, and the day after she left restaurants and cafes closed.
Back at home
Despite the fact that they're now home, the lasting effects of Evans' and Gabiano's trips have not ended. Both women's families have put themselves in self-isolation for two weeks.
"A lot of that is due to the fact that pretty much everyone knows I'm coming from Europe and a 'high risk' country, so I probably shouldn't be out and about just in case," Damiano said. "I will be quarantined for the whole 14 days, assuming I never show symptoms."
Evans said her self-isolation was suggested by ISU officials. The school also asked her to report her health status daily.
"Being in the airport for five hours with people who may or may not have been exposed gave me enough fear to stay home," Evans said. "I don't want to be the one to start the spread in Hardin County, and I especially don't want to get someone more vulnerable than me sick."
Even at the end of her two-week isolation, things may still not return to normal for Evans. ISU has canceled face-to-face classes, so she will likely be home until her summer internship starts. If it starts at all.
More than anything, Evans said she looks forward to a return to normalcy.
"Mentally, I am exhausted," she said. "I knew it would be hard when I got home, especially since I had to return a full month early. Coming back to the States meant I was coming back to the media and hysteria that I had avoided for a few weeks. By the end of the day, I am drained and I get agitated when we start talking about what has changed in the world during the day. It is exhausting and emotionally, I am looking forward to the end of it"