Nearly all of the COVID-19 vaccine doses received by Hardin County Public Health last month have been administered, but as the county looks ahead to more vaccinations, confusion and frustration abound – in the public health officials distributing the doses, in the health professionals who want to help vaccinate, and in the local residents who are anxious to receive the shots and regain a sense of safety that's been missing for almost a year.
"This, by far, has been the hardest part of this whole pandemic," Hardin County Public Health Coordinator Rocky Reents said this week. "I have a lot of people upset with me."
Since the coronavirus pandemic reached Hardin County in March last year, Reents has been the face of the local public health department. She's coordinated press releases, issued infection updates and communicated new guidelines to long term care facilities and schools. But none of that prepared her for the rollout of the vaccine.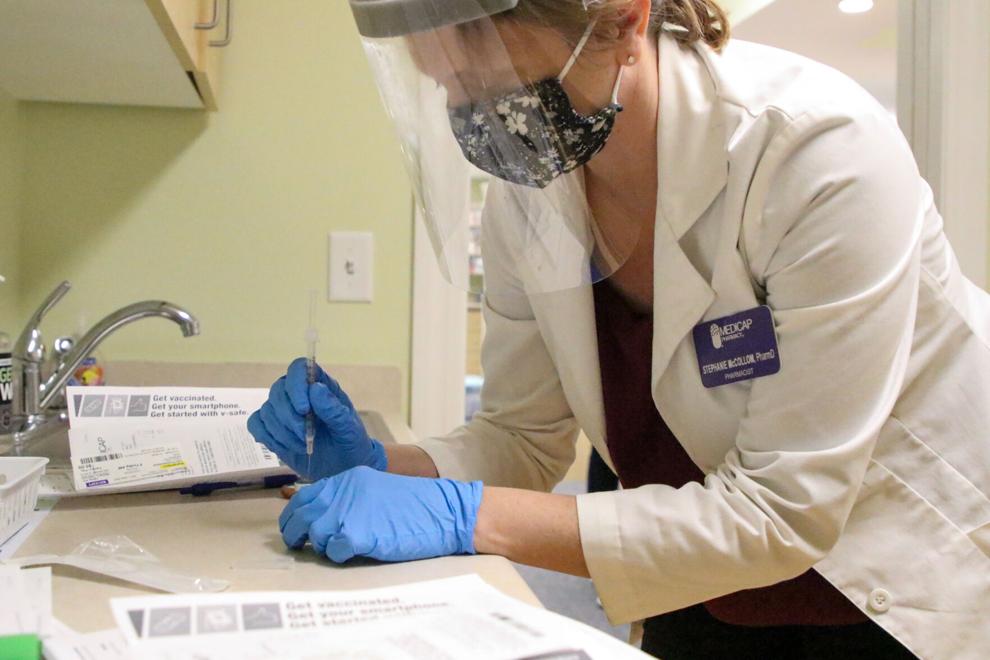 "Everybody is calling all day long wondering when they can get the vaccine because they saw another county did their fire departments or they saw Florida is open for everybody 65 and up," she said. "I have to tell them every state is different."
While the Centers for Disease Control and Prevention has released recommendations about who should be vaccinated first, it is the Iowa Infectious Disease Advisory Council (IDAC) and the Advisory Committee on Immunization Practices (ACIP) that decide which Iowans will take priority. In recent weeks those groups have issued guidance about which Iowans qualify for Phases 1A and 1B of the COVID-19 vaccine. Vaccinations of people in Phase 1A, which includes health care workers and residents and employees of long term care facilities, are continuing across the state. Reents said she thinks 97 percent of the Hardin County residents who qualify for Phase 1A and who want the vaccine have received it. 
According to new data published this week by the Iowa Department of Public Health, of the 600 doses of Moderna vaccine received by Hardin County Public Health on Dec. 22, 457 doses had been administered as of Jan. 10. Reents said that number is higher now. On Wednesday she estimated that fewer than 100 doses of the original allotment remain.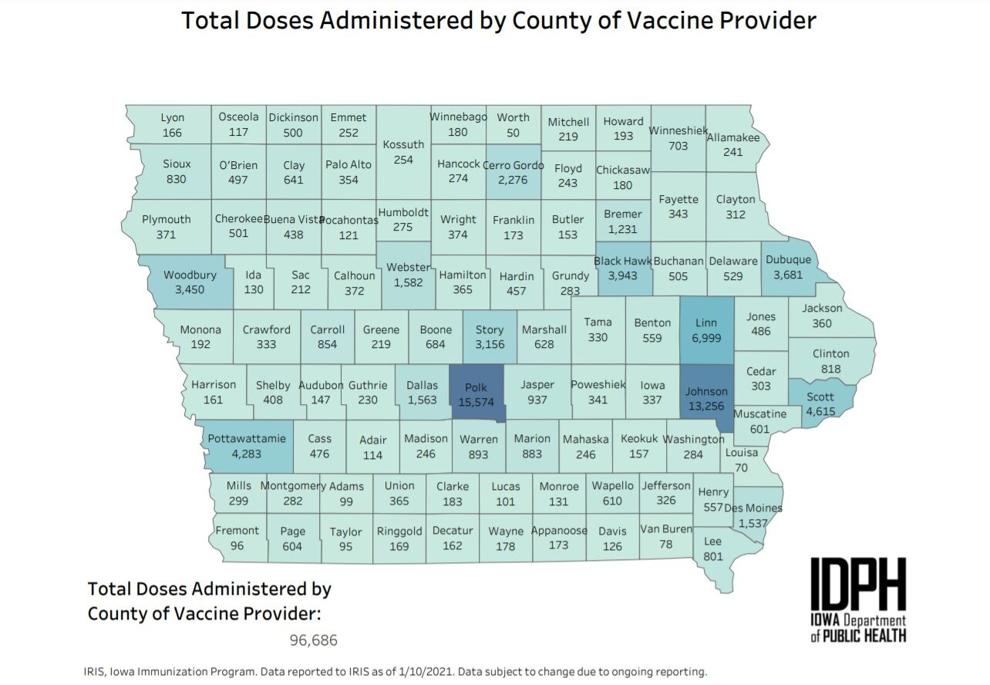 Hardin County's 600 doses have primarily gone to health care workers. Long term care facilities were able to sign up for COVID-19 vaccinations through a federal program that contracted with three pharmacies - Walgreens, CVS and Community Partners - to administer the vaccines. All but one of Hardin County's long term care facilities received vaccines from those pharmacies.
Grand JiVanté in Ackley decided to receive its vaccine doses directly from Hardin County Public Health. Shasta Smith, Grand JiVanté's Director of Nursing, said that she and Assistant Director of Nursing Josey Bohner have administered about 100 vaccines at the facility. She said with the number of doses they received, they were able to vaccinate residents in the facility's nursing home and assisted living facility, as well as independent living.
More confusion ahead
While Reents said she's been happy with the rollout of the vaccine for Phase 1A, there's confusion about Phase 1B – about both when and how it can and should be rolled out.
"I'm so lost, in a sense, because last Friday we had a call with IDPH and they said we don't want to move forward on Phase 1B until 70 percent of health care workers have received the vaccine. They told us to decline any further allocations except booster doses," she said. The booster dose is the second shot that completes a COVID-19 vaccination, and it comes 21 or 28 days after the first dose, depending on which vaccine is being administered.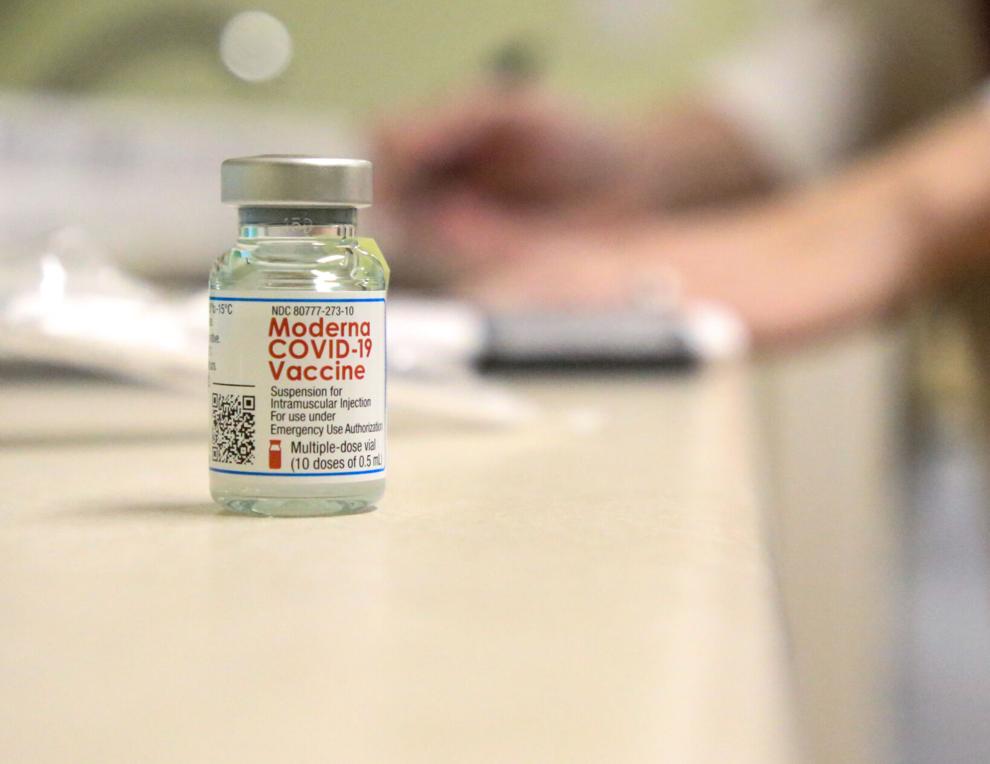 Reents said state officials are concerned about getting enough doses of the vaccine to the state's more populous counties to be able to vaccinate everyone in Phase 1A. A smaller rural county that has already vaccinated everyone in Phase 1A declining first-dose deliveries of vaccine would free up doses for other counties. But those instructions were contradicted this week when IDPH announced that Phase 1B of the state's vaccination schedule should begin "no later than Feb. 1."
"Maybe I just accept the allocation and keep it in my freezer until I can technically start 1B," Reents said, "but I don't want to sit on vaccine doses if another county needs them to finish 1A."
The number of people who will qualify for vaccination in Phase 1B is also causing some concern. According to IDAC and ACIP guidance, Phase 1B will include "frontline essential workers," which is firefighters, police officers, food and agricultural workers, postal workers, manufacturing and grocery store employees, teachers and day care workers. It also includes anyone age 75 and older.
"Honestly, 1B is probably the remainder of our county," Reents said. "Phase 1B is definitely going to need a little bit more work than 1A because we don't even know what we're going to be allocated or when that will happen."
The county was scheduled to receive a second delivery of the Moderna vaccine this week, but those doses are boosters – the second dose of vaccine for the people who've received their first doses over the last three weeks.
Vaccinators at the ready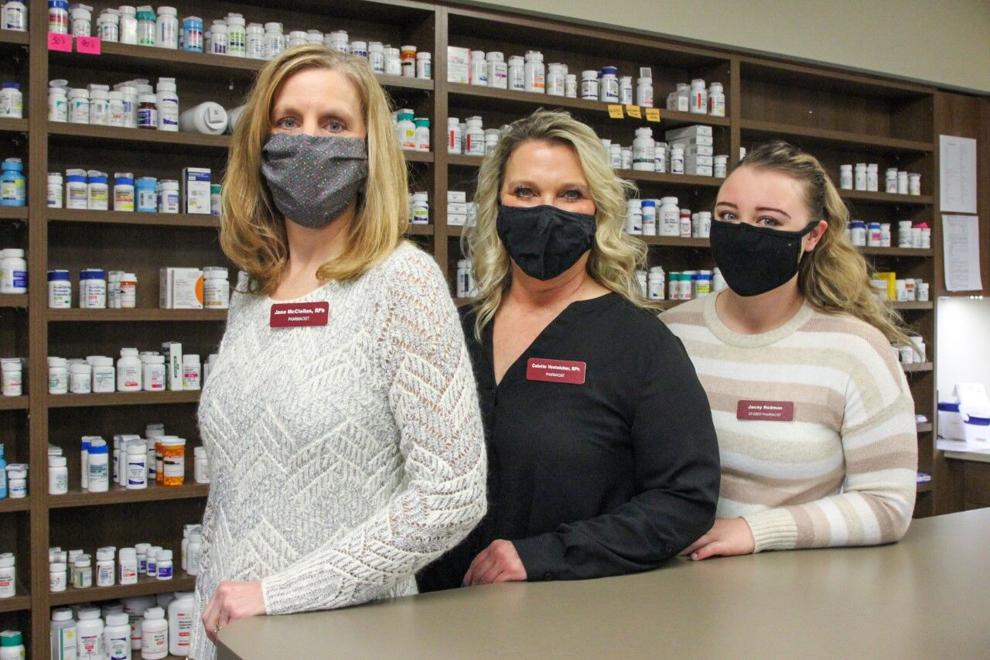 While Reents is pleased with the way the first phase of vaccines was administered locally, others have been frustrated by what they say is a lack of communication. Colette Venteicher, RPh, owns Clinic Pharmacy in Hansen Family Hospital. She said she and her employees have been ready to help vaccinate and they've made that willingness known, offering their services on a donation basis. But so far their offers to help have been declined. And she said she believes the process could have been better communicated to the medical providers in the county and the public.
Until the day the vaccine arrived in Hardin County, Venteicher said she believed she would be receiving doses of it from Hardin County Public Health to vaccinate her employees and employees of other Iowa Falls pharmacies. But that day she learned via email that the county's public health agency had partnered with only one pharmacy – Medicap in Eldora – to administer the vaccine. She said that has hampered distribution of the vaccine in the county.
"It's really limited how health care workers are getting their vaccines," Venteicher said. "I have four vaccinators, soon-to-be-five, and we'd love to help this community, but unfortunately the direction that was given was to just solely go with one pharmacy. So then that puts Hardin County at a disadvantage."
Reents said county public health partnered with Medicap because the pharmacy's other locations have worked with other counties and because it has an online scheduling and tracking program that makes vaccine distribution easier. But Venteicher, who used Medicap's online system to sign up to receive her vaccine in Eldora, said her pharmacy uses the same program.
Hardin County health care workers have had two options for receiving the vaccine in recent weeks: make an appointment and travel to Eldora to receive the shot at Medicap, or attend a satellite clinic. One clinic was held in Iowa Falls on Jan. 5, and another was held in Alden on Jan. 11. Medicap also traveled to Hansen Family Hospital on Dec. 28 to vaccinate employees there.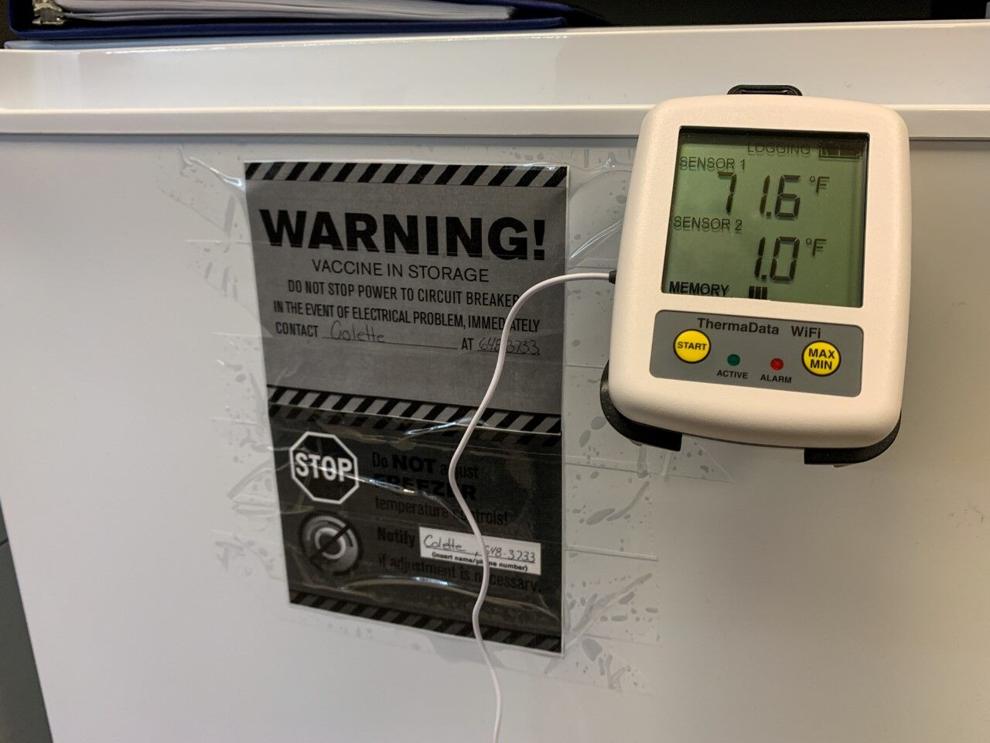 Venteicher has been signed up with the federal government to administer the COVID-19 vaccine for months. In preparation for receiving vials of the Moderna vaccine, she bought a new freezer and equipped it with a digital monitor that will send alerts to her phone if the temperature inside fluctuates.
"We are loaded and ready when they want us to help," she said.
Venteicher and her employee, Jane McClellan, RPh, said they've been frustrated by the lack of communication from the state and from county public health, in part because they don't have answers for the people call every day to ask about the vaccine.
"Our phone has been ringing off the hook with questions about 'When can we get this,'" said McClellan. "We would like a better system of communication throughout the county so we can put their minds at ease. Being informed is half the battle."
Reents said she's hoping for the same - a clear line of communication - from the state. 
"It would be nice if the state would provide us more guidance on this," she said. "As a public health employee, I've never dealt with a pandemic. There's not a lot of tools out there."
Venteicher and Reents agree - and other news reports have shown - it's not just a Hardin County issue.
"Nobody knows what the tell a patient if they're calling," Venteicher said. "There's a line of communications that's very vague. It's so almost non-existent."
As pharmacy and public health employees wait for more guidance, they ask the public to be kind. Call if you have questions about the vaccine, but understand that the people answering the phone are frustrated too.
"I felt like COVID in general the past 10 months had been kind of a nightmare," Reents said. "This is worse."