The best medicine for cabin fever is getting outside.
Though most stores and businesses are closed due to the COVID-19 pandemic, one place that's not is the great outdoors. With temperatures near 60 and sunshine, Monday was the perfect time to get out and spend some time social distancing. Many people were walking around Pine Lake State Park in Eldora and enjoying the lake.
"It's a beautiful day to get out and about," said Matt Crouse.
He was tinkering with his fishing lures and separating the bait. Not one to just sit around, Crouse is semi-retired but still works when he can. He had the day off (it was his birthday) and was using the time to fish. On the previous day before Crouse was able to get some golf in.
"I know people are very concerned and we should be, but it's just basically common sense. Stay away from people as much as you can," he said. "But the person has to have a little bit of something to do."
One thing Crouse is thankful for is the ability to go outside and still be away from people.
"I'm glad we're not in a city, thankful for that," Crouse said. "We can at least get out and about a little bit, in open space."
Walking along the trails, Ben and Audrey DeVilder - with their two kids Conner and Riley - were also taking advantage of the nice day. It was the first time they were able to leave the house as a family since picking up their kids from daycare earlier last week.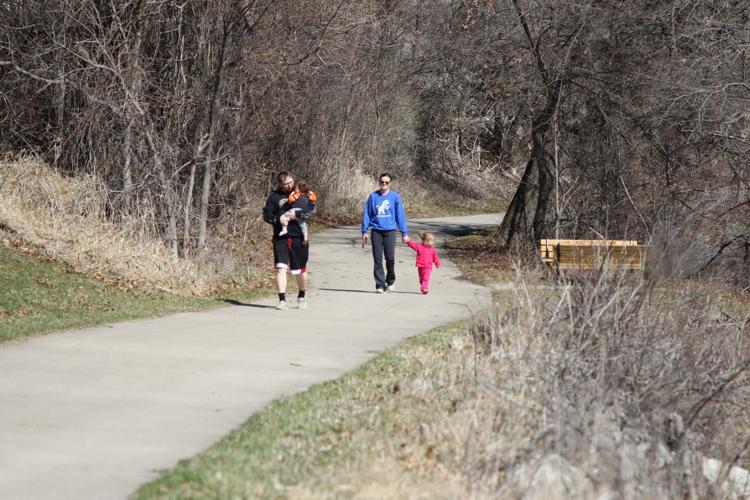 "We're really trying to stay in and trying to not spread this virus. Just staying with family and trying to just stay with our house," said Ben. "Today it's nice, so just finding an area where we can go that no people are touching, there's no frequent fliers. Just kind of still being on your own. That's kind of what we're doing today, and being out and about."
The situation is different - not working and the kids not in daycare - but the DeVilders have been able to find things to do around the house while keeping up with the news. On Sundays, Audrey has been showing the kids church videos and Bible verses.
"We've done some painting, drawing and baked cookies," said Audrey. "All the things we don't normally have time for."
The DeVilders look to keep somewhat of a normal schedule for the kids, especially before they are only home for a week. They work at the bank in Eldora and are down to half staff currently.
"If it were a couple of months, it would be different. We are trying to keep them on a schedule just for their sake and daycare's sake."
The recent events have given the couple a chance to spend time with their young children that they don't normally get.
"It's kind of bonus time if you look at it outside the virus. You get time with your family and just catch up at home," Ben said. "It's something you weren't expecting, so you try to make the most of it while trying to do what is socially responsible too."