The growth of new COVID-19 cases among Hardin County residents slowed over the last week, but the county still added 100 new cases, continuing a trend of steeply increasing cases that began in October.
According to the Iowa coronavirus website, as of Monday morning, there had been a total of 1,157 COVID-19 cases in Hardin County since testing began in March. That's 100 more cases than one week earlier, on Nov. 23, when there had been 1,057 total cases. Of Monday morning's 1,157 cases, 567 people are identified as having recovered and 10 have died, leaving 580 people still infected with the disease, the website reports.

As of Saturday, five Hardin County residents were hospitalized for treatment of COVID-19. That's down from 11 hospitalizations one week earlier.
Health experts have warned that the closure of testing sites - both by TestIowa and hospitals and clinics - over the Thanksgiving holiday could affect the number of positive tests being reported by the state. According to the state's coronavirus website, during the Thanksgiving week, more than 150 Hardin County residents were tested each day except Thursday (Thanksgiving), when only 28 people were tested. They've also warned that a surge in cases could follow the holiday, when many people likely gathered with those outside their household despite government and health leaders' requests to do the opposite.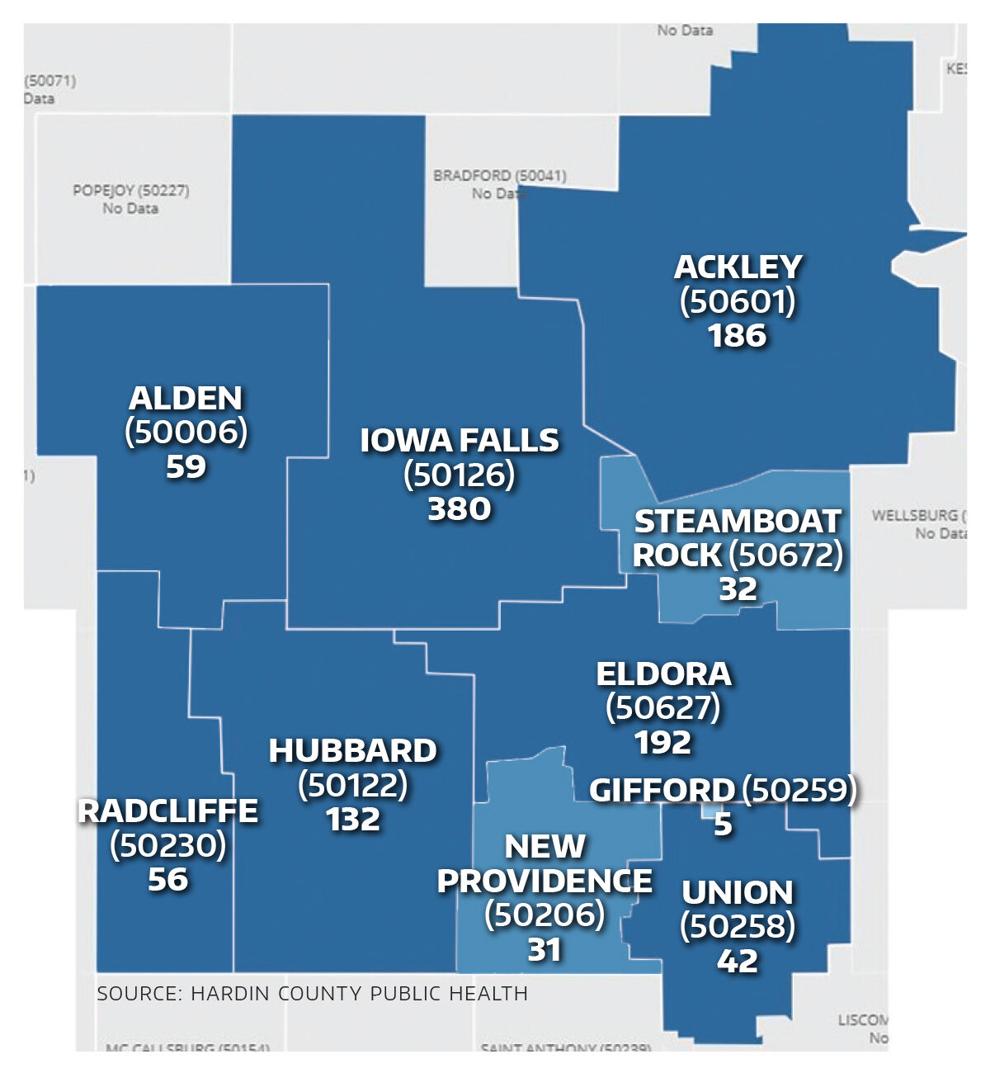 On Friday, Greenbelt Home Care/Hardin County Public Health released an updated list of COVID-19 cases by ZIP code. It shows that the Iowa Falls ZIP code (50126) saw the biggest increase with 48 new cases between Nov. 20 and 27. Despite that, the 50126 ZIP code, which is home to 36 percent of the county's total population, still only has had 34 percent of its total COVID-19 cases.
The Ackley ZIP code (50601) is home to about 14 percent of the county's population, but has had almost 17 percent of the county's COVID-19 cases. During the week of Nov. 20-27, it added 18 new COVID-19 cases.
Ackley is home to Grand JiVanté, a long term care facility that's spent the last month fighting an outbreak of COVID-19. On Sunday, CEO Korey DeBerg reported via Facebook that of the 34 cases of COVID-19 in the building, there was just one person who was not yet classified as recovered. He reported that there had been no new cases in the previous 12 days of testing. 
Find more COVID-19 data on the state's website, coronavirus.iowa.gov.