What will Halloween look like during a global pandemic? According to guidelines issued last week by the Centers for Disease Control and Prevention, to prevent the spread of COVID-19, high-risk activities like door-to-door trick-or-treating and indoor haunted houses should be replaced with pumpkin carving and outdoor, distanced costume parties where revelers wear face masks instead of Halloween masks. While many of Hardin County's annual Halloween activities are being canceled this year, most area communities are still setting trick-or-treating hours for Oct. 31.
The CDC guidelines outline low-, medium- and high-risk activities for Halloween. Low-risk activities include taking a walk to look at decorations and planning a Halloween movie night with the people in your household. High-risk activities include traditional trick-or-treating, hayrides with people not in your household, and indoor haunted houses where people are crowded together and screaming.
"Many traditional Halloween activities can be high-risk for spreading viruses," the CDC guidelines state. "There are several safer, alternative ways to participate in Halloween."
The guidelines outline a number of moderate risk activities that adapt Halloween to fit many coronavirus precautions:
One-way trick-or-treating where individually-wrapped goodie bags are lined up for families to grab and go while continuing to social distance (at the end of a driveway or edge of a yard);
Host a small group, outdoor, open-air costume parade where people are distanced;
Attend a costume party held outdoors where protective masks (not costume masks) are used and people can distance;
Attend an open-air, one-way, walk-through haunted forest where appropriate mask use is enforced and people can distance;
Visit a pumpkin patch or orchard where people use hand sanitizer before touching pumpkins are picking apples, and mask are encouraged;
Hardin County communities have started to set trick-or-treating hours. Details can be found below:
Ackley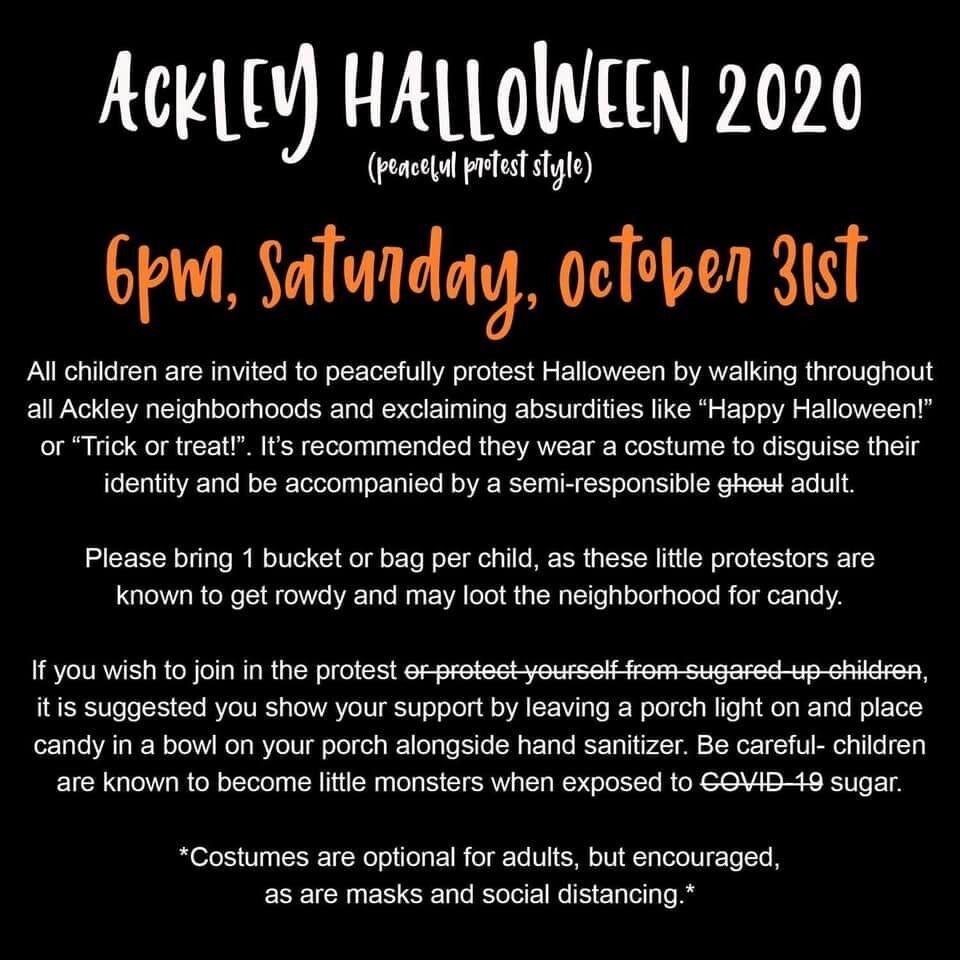 The Ackley City Council voted earlier this month to cancel trick-or-treating in town, citing an increase in the number of COVID-19 cases in the community. (As of last Monday, Ackley had recorded 40 total cases of COVID-19 since testing began in March. That was an increase of 11 cases in one week.)
The announcement, posted on the city's Facebook page drew the attention of community members who were upset about the decision. Within hours, several residents had undertaken the task of planning trick-or-treating.
"I want the kids to have something to do – something that hasn't been canceled," said Ackley resident Kim Scallon. "Anyone who doesn't feel safe trick or treating, or handing out treats, shouldn't." Scallon advises social distancing and masks during the event which will begin at 6 p.m. on Oct. 31.
Ackley Mayor Pat Daggs responded to the concerns saying, "It is not just the children we are trying to protect, it is the senior citizens that will turn that light on and hand out candy whether they feel safe doing so or not.".
Alden
The Alden City Council scheduled trick-or-treating for 5-7 p.m. on Saturday, Oct. 31. The fire department will host its annual chili and potato soup supper with grilled cheese sandwiches from 4 to 7:30 p.m. at the Alden Fire Station. Cost is a free will donation. Meals can be picked up to-go.
"In the past, we've had just a portion of the fire station open, but this year we will open up the whole fire station to set up more tables for social distancing," Mayor Jeff Fiscus said. "We have ideas for candy for kids. We thought about putting all of the candy in one bag and hand them one bag in order to limit contact."
Fiscus said anyone concerned about COVID-19 should leave their porch light off during trick-or-treating hours.
Eldora
The Eldora City Council has not yet set trick-or-treating hours. The issue will be on the agenda for the council's Oct. 13 meeting. The Eldora Rotary Club announced last week that its annual haunted hospital has been canceled this year.
Hubbard
The Hubbard City Council set trick-or-treating hours on Oct. 31, from 6 to 8 p.m. The council urged only residents who are comfortable having trick-or-treaters stop at their house to turn on their front lights and participate.
"If you have an issue, don't turn your light on and if lights aren't on, don't stop" said council member Sandi Swenson. "I don't feel we should take it away from everybody so we should move forward with it."
Iowa Falls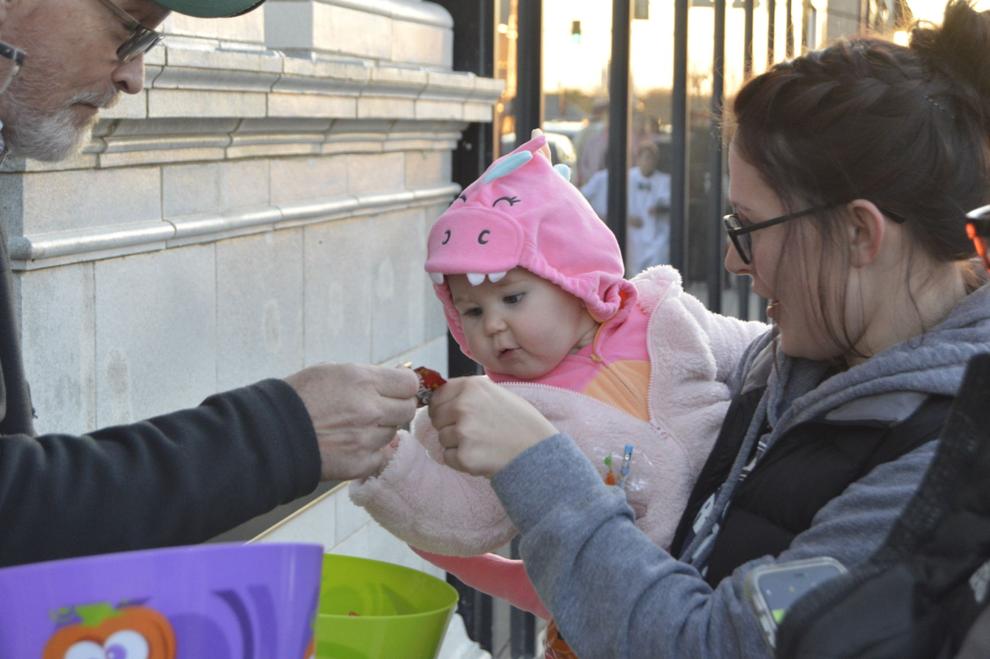 The Iowa Falls City Council voted last week to set Halloween trick-or-treating hours for 5 to 7 p.m. on Saturday, Oct. 31.
"People have the option to flip your light on and hand out candy if you want to, or if you don't feel comfortable doing that, don't," said City Manager Jody Anderson.
The council approved the hours with an encouragement that those who participate practice social distancing. Council member Roger Nissly suggested residents leave a bowl of candy outside their front door for trick-or-treaters.
Heritage Care Center on the west side of town will offer an opportunity for children and residents alike. Kids are invited to arrive in costume between 3:30 and 4:30 p.m. on Oct. 31. They'll be directed on a path around the outside of the building to see pumpkins in windows. Residents will be able to look out the windows to see the children's costumes. Staff will have goodie bags ready to hand out to participating children. 
Iowa Falls Chamber/Main Street has canceled its downtown trick-or-treat event, and Calkins Nature Area has canceled its Halloween Hike.
New Providence
Trick-or-treating hours in New Providence have not yet been set. The issue will be on the council's Oct. 12 meeting agenda.
Radcliffe
The city of Radcliffe will allow trick-or-treating from 6 to 8 p.m. on Oct. 31. Children are instructed to stop only at the homes that have front lights turned on.
Steamboat Rock
Trick-or-treating in Steamboat Rock will be Oct. 31, from 6 to 8 p.m.
Times Citizen reporters Becky Schipper, Justin Ites, Corey Meints and Matthew Rezab contributed to this reporting.