Every morning at Hansen Family Hospital, department leaders gather for a meeting. In recent days that meeting added a new component: updates to information about novel coronavirus COVID-19, and planning for how the Iowa Falls facility will respond if and when the illness is diagnosed here.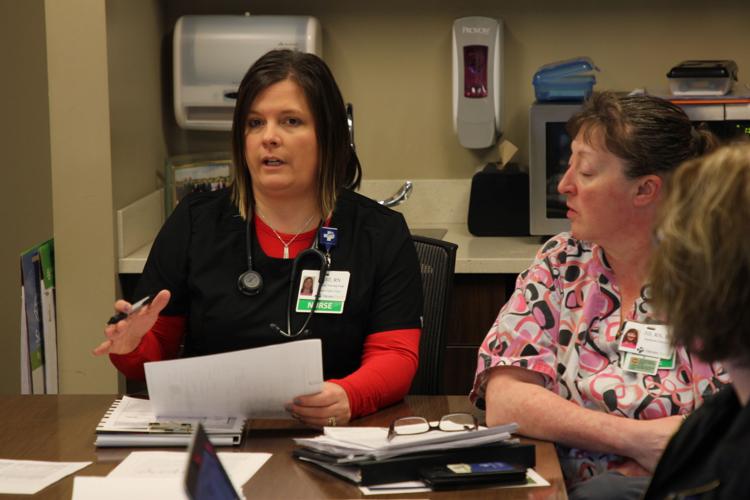 "We want the public to know we're meeting daily on this," said Jill Silver, RN, clinical nursing lead at HFH. "We have the most up-to-the-date information from the Iowa Department of Public Health and the CDC. We know what we're going to do and we're very comfortable with that plan. We're ready to take care of the community."
Friday morning's meeting – or huddle, as it's called – focused, in part, on what the hospital can do to segregate patients who are exhibiting COVID-19 symptoms from patients who are at the hospital for other care.
"Before you come in, if you think you have COVID-19, you need to call and talk to someone," said Jill Schafer, RN, the hospital's infectious controls specialist. "We don't want people coming in and slowing down our care for other patients who are really sick with heart attacks, strokes or car accidents."
Schafer said it takes about two hours to clean an exam room that's been occupied by a patient who's suspected of having COVID-19. Patients who think they may have the virus will be met at the door of the hospital and shown to a separate area where they can be seen by a health care provider.
On Thursday this week, HFH Chief Nursing Officer Lori Krenos said that while Hansen Family Hospital has COVID-19 tests, it was not allowed to use them without permission from the Iowa Department of Public Health. That directive had changed by Friday. Now, if a patient exhibits COVID-19 symptoms and if a medical provider, after going through a set of questions with that patient, believes a test is necessary, it can be administered. The tests are sent to the Iowa Hygienic Labs, and the results are reported back to the patient's provider.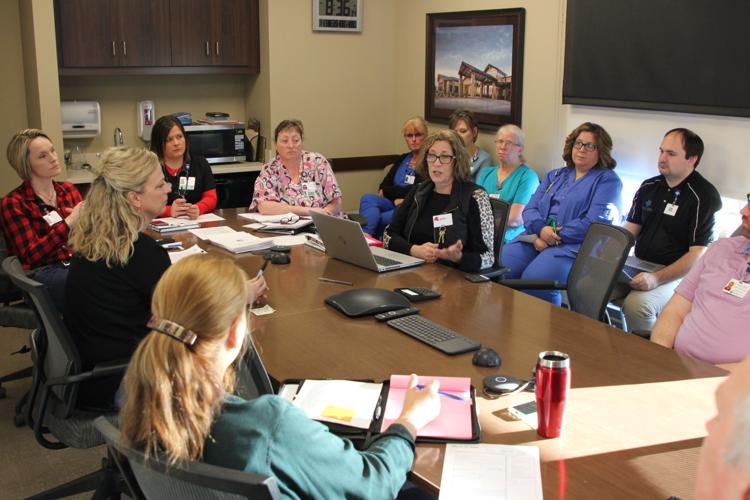 Other patients – those who are attending appointments, or those who need to use the emergency department – are urged to continue to use the hospital.
"We aren't encouraging people to cancel appointments," said Darla Nederhoff, Director of Clinics at the hospital. "We're encouraging regular use. And we're taking all the precautions to keep patients safe."
One of those precautions is cleaning. HFH CEO Doug Morse said the hospital maintenance staff is using special chemicals and cleaning procedures all over the building.
In addition, Schafer said the hospital has all of the personal protection equipment (PPE) that's needed to safely treat patients with COVID-19. That includes goggles, masks, gowns and gloves.
"There have been reports of shortages of n95 masks, but we have an adequate supply here now and we do have sources that we can reach out to if we need more," Schafer said.
Addressing a question about whether the public in Hardin County should be concerned about COVID-19, the HFH leaders said they're taking these precautions to keep the public safe.
"That's why we're being proactive," said Silver, " so it doesn't become a big blow-up in our community. So we can not increase the spread of it."
Morse said the key to reducing COVID-19's spread is the local response to the global pandemic.
"We want to have a rational, sound approach so we don't get overwhelmed," he said. "If we all work together we can manage it well and not have a facility that's overwhelmed.
"A plan is power," he added. "There's a lot going on in the world we're powerless over. But having a good plan that we're ready to execute is power. We're planning for the worst and hoping for the best."