The number of COVID-19 cases in Hardin County has continued its upward climb. On Monday morning the state's coronavirus website was reporting 168 cumulative cases in the county. At least 81 of those people have recovered, which means 87 Hardin County residents are still infected with the disease.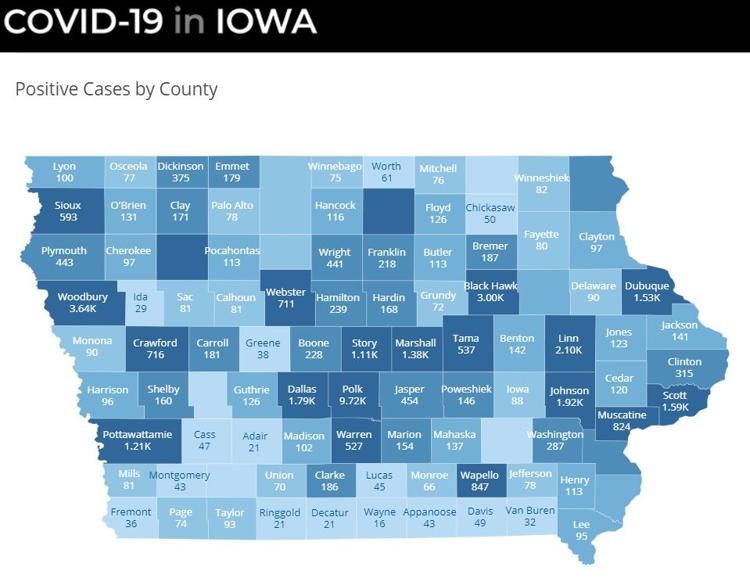 On Monday last week the county stood at 138 cumulative cases since testing began in March. At least 16 of the 30 cases added to the county's total in the last week are tied to an outbreak of COVID-19 at the Boys State Training School in Eldora. Last Monday, the Iowa Department of Human Services had reported 17 cases at the school, and on Friday it was reporting 33 cases among students and staff.
The DHS has reported that the first positive test at the school was in a staff member on July 20. Additional positive staff tests followed, and the first student tested positive for COVID-19 on July 23. There are currently 70 students living at the school, and 20 of them - 28 percent of the total population - are infected with COVID-19. No new students are being admitted at this time. The DHS reports that 13 staff members have tested positive.
Among the Hardin County residents who currently have COVID-19, two are reported as being hospitalized. Statewide, 878 Iowans have died of COVID-19. No Hardin County residents are included in that total.
The age breakdown of the Hardin County residents diagnosed with COVID-19 since last week was not immediately available on Monday. Two weeks ago, Greenbelt Home Care/Hardin County Public Health announced it would no longer provide daily updates on case numbers and the ages of those patients. Instead, Public Health Coordinator Rocky Reents directed the public to the state's coronavirus website (coronavirus.iowa.gov), which provides real time data on testing, positive cases, deaths and other information. Confirmation of the county's case number and the ages of the newest patients is released on Mondays.
Public health officials have urged the public to take precautions to prevent hte spread of COVID-19, and bars and restaurants face new penalties if they do not follow state guidelines for mitigating its spread. Individuals are advised to take the following precautions: 
Stay home if you feel ill

Cover coughs and sneezes

Disinfect frequently-touched surfaces

Avoid touching your eyes, nose, and mouth with unwashed hands

Avoid contact (less than six feet of distance) with people who don't live in your household

Cover your mouth and nose with a cloth mask when around others

Wash your hands often with soap and water for at least 20 seconds.
People with COVID-19 have reported a wide range of symptoms including fever or chills, cough, shortness of breath or difficulty breathing, fatigue, muscle or body aches, headache, new loss of taste or smell, sore throat, congestion or runny nose, nausea or vomiting and diarrhea. If you are experiencing any of these symptoms, you're instructed to call your health care provider before going into the office. They will walk you through a series of questions and may ask you to report to a testing site. Hansen Family Hospital in Iowa Falls is able to test for COVID-19, but patients should not show up at the hospital. Call the HFH COVID-19 phone number at 641-648-7113 first.
Testing is also available through the state's TestIowa sites and clinics. Complete an online assessment at TestIowa.com and you may be prompted to schedule an appointment at a TestIowa site. The TestIowa sites closest to Hardin County are in Waterloo and Marshalltown.