Another Hardin County resident has tested positive for coronavirus, bringing the local case total to 67 since testing began in Iowa in March.
The case was announced by Greenbelt Home Care/Hardin County Public Health Coordinator Rocky Reents on Wednesday evening. The person is reportedly between the ages of 61 and 80.
The state's coronavirus website was showing 64 COVID-19 cases in Hardin County on Thursday morning, but Reents said the number 67 is correct. The website has often shown the wrong case count for Hardin County - sometimes higher, sometimes lower - as patients' home addresses are entered into the state database, or corrected through contact tracing.
"Our numbers don't always match the state," Hardin County Public Health Nurse Rachel Loyd said last week. "We might have a patient tested two or four weeks ago and they're negative and then they're re-tested because of exposure or symptom and we have to go back into the system to check their status or we wouldn't know it's changed."
As of Thursday morning, 1,764 Hardin County residents had been tested for COVID-19. That's one of 10 residents, or 10.4 percent of the county's total population. Testing of local residents, which ramped up to well over 100 tests per day for three days on June 20, 21 and 22, has declined. One hundred twenty-three people were tested on June 27, but in the days since then (June 28-July 2), an average of 44 Hardin County residents have been tested each day.
Of the 67 people who've tested positive for COVID-19 since March, 34 are listed as recovered. As of Monday, no Hardin County residents were hospitalized with COVID-19. And while 717 Iowans have died of the disease, no Hardin County residents are included in that total.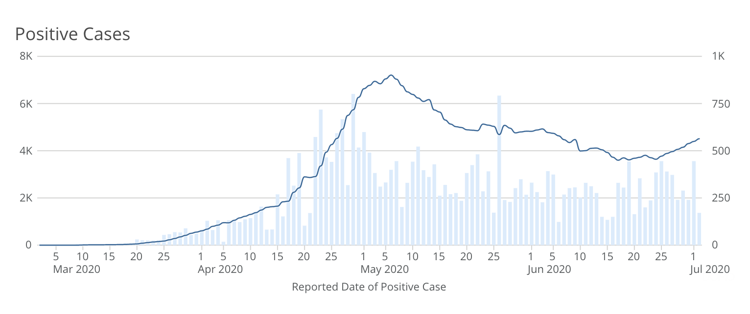 While new cases of COVID-19 had been declining since May 6, they began to climb up again last week. On Wednesday, The Des Moines Register reported that in 28 Iowa counties, the average number of daily cases reached a new high within the past week. Hardin County was not among those 28 counties.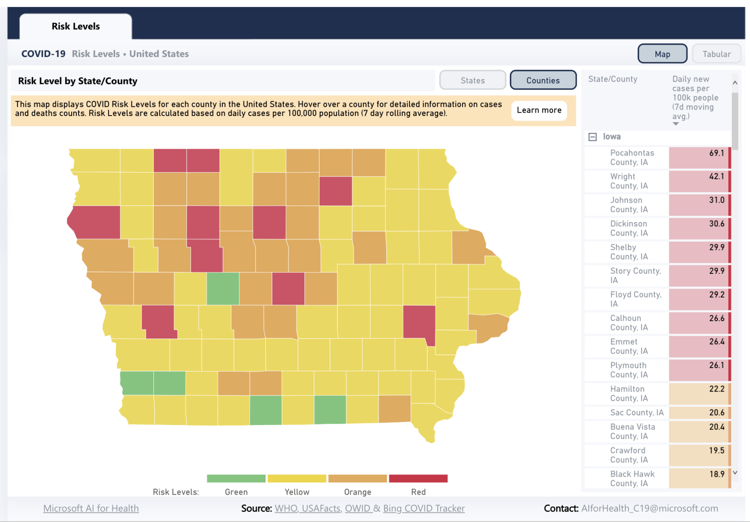 The Harvard Global Health Institute, in partnership with the Rockefeller Foundation and other health researchers and institutes, announced the launch of a COVID risk level map this week. The map assigns a color - green, yellow, orange or red - to every state and county in the U.S. It reports the seven-day average of new COVID-19 cases per 100,000 people, and is intended to be used to determine the level of suppression efforts needed in an area. According to the map, Hardin County is orange, which is an "Accelerated Level" because it has reported a daily average of 11 new cases per 100,000 people over the last seven days.  
In announcing the new Hardin County case on Wednesday, Reents reminded the public to take precautions to prevent the spread of COVID-19, especially entering the July 4 holiday weekend.
"Hardin County Public Health continues to remind residents to stay home when sick or not feeling well, to wash hands, to wear a mask when social distancing isn't possible, and especially this upcoming holiday weekend to keep your group gatherings small and outdoors," Reents wrote. "If you must gather in a large group, consider limiting the time you are among the group as the more people you interact with, the higher potential risk of becoming infected with COVID-19."