Hardin County, which has seen a steep increase in the number of active COVID-19 cases over the last two months, is a hot spot for the disease – ranking second among Iowa's 99 counties for the average number of new cases per day, adjusted for population.
Maps published by the New York Times show Hardin County averaged 20 cases per day Sept. 14-21, which equates to 117 new cases per 100,000 population. Only Adams County in southwest Iowa recorded more with an average of 138 cases per 100,000 population during the same week. Statewide, Iowa averaged 52 cases per 100,000 population per day.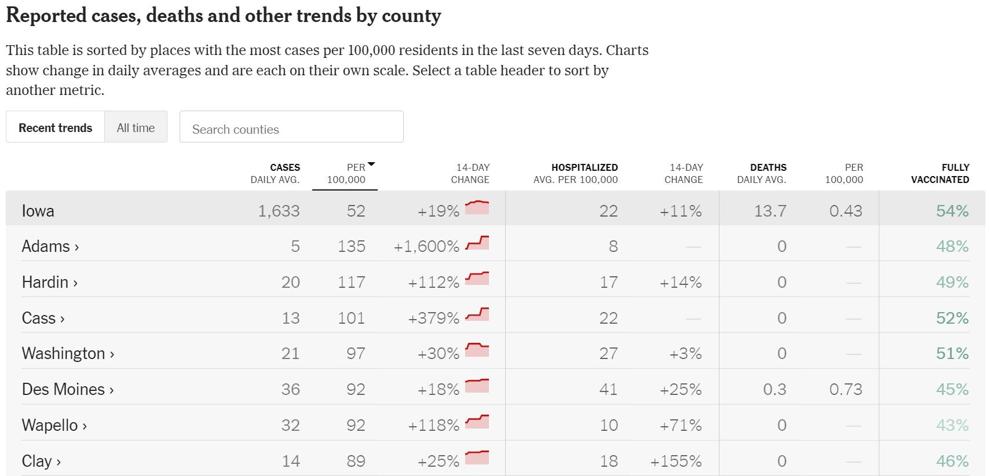 Hardin County has seen a rapid increase in its number of COVID-19 cases in recent weeks. The upward trajectory began mid-summer. On July 27, the Iowa Department of Public Health was reporting Hardin County had 31 active cases of COVID-19, up from a low of seven in late June. Four weeks later, on Aug. 24, the county had 151 active cases. Last week, on Sept. 21, there were 372 known active cases of the disease in Hardin County.
Spread of the disease has been so widespread, it qualifies as an area of high transmission, according to the Centers for Disease Control and Prevention. The CDC recommends that all people in areas of high transmission wear face masks when they're inside public places, regardless of vaccination status. Hardin County has been an area of high transmission since July 27.
Three ZIP codes see double-digit increase in cases
Hardin County Public Health released its weekly COVID-19 report on Friday. It includes the number of new cases during the previous week and the total case count per ZIP code in the county. As of Friday, Sept. 24, the local public health agency was reporting a total of 2,482 cases of the disease since testing began in March 2020. That's an increase of 37 from the Iowa Department of Public Health's weekly report, which counted cases through Tuesday, Sept. 21.
The county public health agency's report also lists the total number of COVID-19 infections per ZIP code. According to the list, three ZIP codes in the county saw double-digit increases between Sept. 17 and 24: Iowa Falls with 52 cases, Eldora with 35 cases, and the Hubbard ZIP code with 16 cases.
Hardin County Public Health Coordinator Rocky Reents said the Iowa Falls, Eldora and Hubbard increases weren't due to any identified outbreaks, but to "substantial school spread and household spread."
The Iowa Department of Public Health will release county-level COVID-19 case data here on Wednesday morning, Sept. 29.