As cases in the county continue to rise, the Hardin County Jail now has at least four detainees confirmed to have tested positive for COVID-19. 
According to a press release issued Monday, a symptomatic detainee tested positive on Monday. Subsequently, all 15 detainees in that pod of the jail were tested, resulting in three additional positive results. 
Hardin County Sheriff Dave McDaniel said jail staff has not been tested, but is monitoring their temperatures regularly and taking the same precautions as they have since March. 
McDaniel said contact tracing in this case is relatively easy.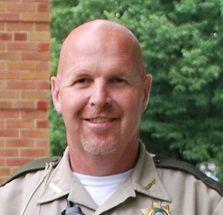 "The detainees in this particular pod were held elsewhere prior to coming to Hardin County and would have been monitored and quarantined at the previous location," McDaniel said. "This is something we put into place at the onset of COVID. Anyone that was in custody in another facility had to be monitored for 14 days prior to Hardin County assuming custody of them."
The Hardin County Jail also serves as a ICE holding center.
McDaniel confirmed that staff is required to wear a mask at all times when interacting with detainees. He said the building is cleaned and sanitized on a regular basis and anyone arrested or coming in off the street is monitored and quarantined before being housed with others.
These were the first COVID-19 cases to appear among jail detainees or staff to McDaniel's knowledge. 
"I don't know that it was inevitable, but with there being so many unknowns about COVID I don't think the odds were in our favor," he said. "Since day one we've done everything in our power to ward it off, and I couldn't be more proud of our staff for being successful for eight-plus months."