Hardin County welcomed the new year with continued spread of COVID-19. The number of new cases identified in the last week is down from the previous week, but the number of tests being administered to Hardin County residents has also declined.
According to data published by the Iowa Department of Public Health, as of Monday morning, 1,465 Hardin County residents have tested positive for the disease caused by the novel coronavirus since testing began in March. That's an increase of 36 cases from last Monday, when the total cumulative case count was 1,429.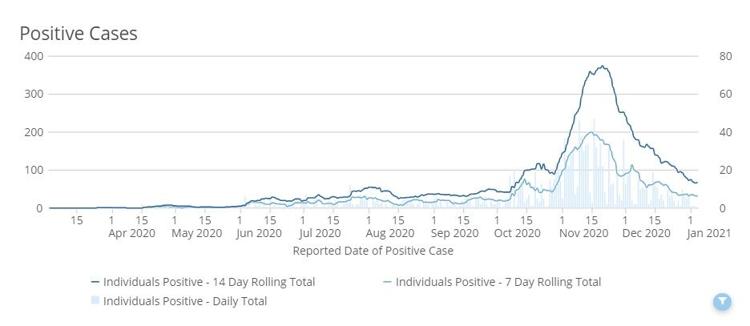 Of the 1,466 Hardin County cases, 1,265 are classified as having recovered, and 26 people have died – an increase of one death since last Monday. That leaves 175 people currently infected with the disease.
The total number of tests performed on Hardin County residents has declined in recent weeks after reaching a peak in November. According to data on the Iowa Department of Public Health's coronavirus website, a total of 914 tests were performed on Hardin County residents between Dec. 25 and 31. Previous weeks' testing totals were as follows:
Dec. 19-24: 999
Dec. 12-18: 1,163
Dec. 5-11: 1,252
Nov. 28-Dec. 4: 1,316
Nov. 21-27: 1,197
Nov. 14-20: 1,585
It is likely the Christmas and New Year holidays contributed to the decline in testing late last month.
The number of Iowans hospitalized for COVID-19 has held steady in recent days. As of Monday morning, 571 Iowans were hospitalized for COVID-19, down from 577 the day before. There were 117 Iowans in ICU for COVID-19, down from 120 the day before. The most recent report on hospitalizations by county shows that as of Sunday, Jan. 3, four Hardin County residents were hospitalized for treatment of COVID-19 symptoms.
The state's website lists one outbreak of COVID-19 at a long term care center in Hardin County. The facility is identified at Eldora Specialty Care, which the state reports has had 15 cases of COVID-19. Last month, Susan Eichmeier, the administrator of Eldora Specialty Care and Valley View Specialty Care, both located in Eldora, told the Times Citizen that there were outbreaks of the disease at both facilities, although only one was listed on the state's website.
ZIP code map updated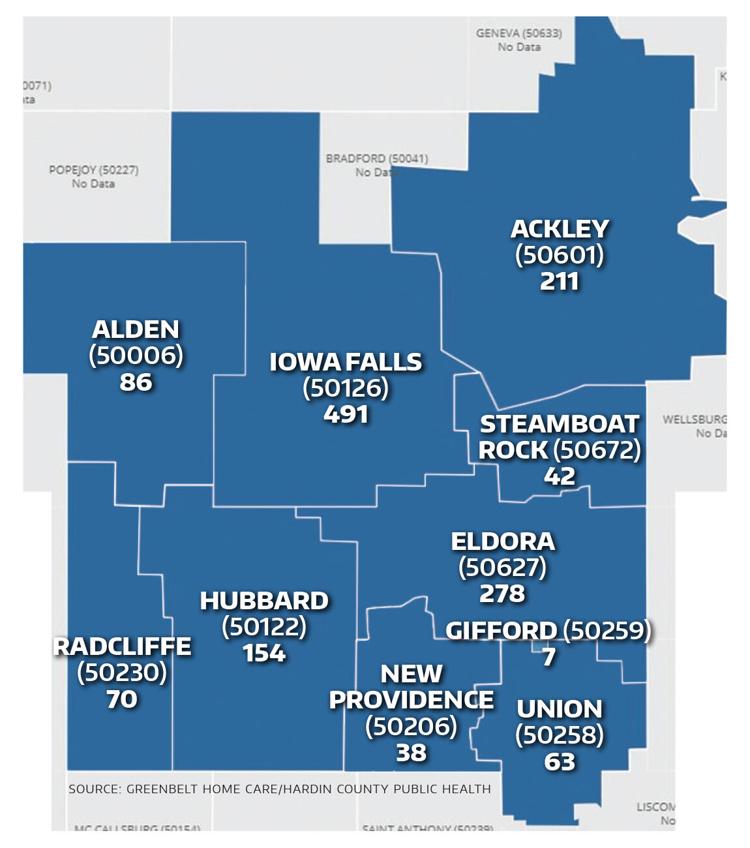 On Saturday, Hardin County Public Health released an updated list of COVID-19 infection totals by ZIP code. The ZIP code list totals 1,440 cases for the county since last March, but a total of 1,466 Hardin County residents have tested positive.
According to the list, between Dec. 25 and Jan. 2, the Iowa Falls ZIP code (50126) saw the most new cases of COVID-19, increasing by 16, from 475 to 491. That ZIP code is Hardin County's most populous. Even with that increase, the 50126 ZIP code still has seen only 34.1 percent of the total cases in the county, compared with it being home to 36 percent of the county's population.
The Ackley, Eldora and Hubbard ZIP codes have seen more COVID-19 cases than they have shares of the county's population. All three communities have also been the site of outbreaks of COVID-19 in congregate settings, which have likely contributed to the number of cases in those ZIP codes. Ackley's Grand JiVanté reported an outbreak, in Hubbard there was an outbreak at Hubbard Care Center, and Eldora has seen outbreaks at Eldora Specialty Care, Valley View Specialty Care and at the State Training School.