Nineteen Hardin County residents tested positive for COVID-19 in the last week. That's according to a report issued by Greenbelt Home Care/Hardin County Public Health on Monday afternoon.
The 19 new cases increase the county's cumulative infection total to 280 since testing began in March. Of those 280 people, 211 people have recovered and one person has died, which leaves 68 people still infected with the disease that's caused by the novel coronavirus. One Hardin County resident was hospitalized for treatment of COVID-19 as of Monday.
Along with the report on new infection numbers, the county public health agency also released a map showing cumulative infection totals per ZIP code. The ZIP code map was released for the first time last week, but at that time the total number of mapped infections (255) did not equal the total number of reported infections in the county (261). That discrepancy carried over to this week. The map shows 276 total infections, but the county is reporting 280. Hardin County Public Health Coordinator Rocky Reents said she has not received an answer from the Iowa Department of Public Health about why the numbers don't add up.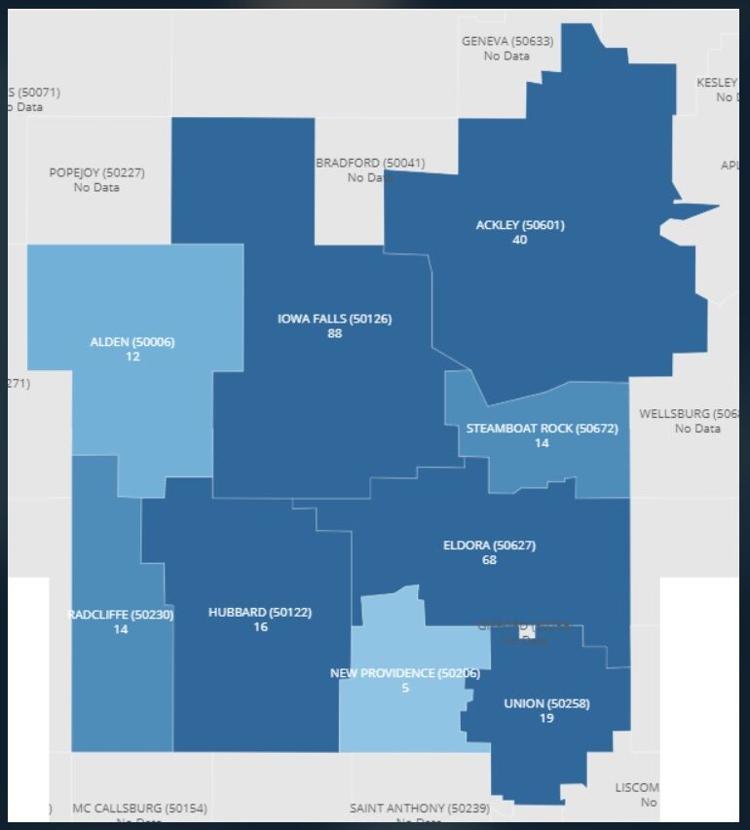 As of Monday, the county's ZIP code COVID-19 case totals were:
Ackley (50601) – 40
Alden (50006) – 12
Eldora (50627) – 68
Hubbard (50122) – 16
Iowa Falls (50126) – 88
New Providence (50206) – 5
Radcliffe (50230) – 14
Steamboat Rock (50672) – 14
Union (50258) – 19
According to the map, the Ackley ZIP code saw the biggest jump over the last week, from 29 infections last Monday, to 40 this week. Iowa Falls' infection total grew by six cases. The ZIP codes for Alden, Eldora, Hubbard and Radcliffe increased by just one case each, and the totals in New Providence, Steamboat Rock and Union remained unchanged.
The schools in Hardin County have reported new positive COVID-19 tests over the last week. All local school districts and Ellsworth Community College are issuing weekly infection reports, although they do not distinguish between cases in students and staff. For the week of Sept. 14-18, the reports showed at least one new case of COVID-19 in every school district:
Iowa Falls-Alden: 1 positive
South Hardin: 1 positive case
AGWSR: 1 positive case
ECC: 2 positive cases
There have now been a total of 14 COVID-19 cases reported at Hardin County schools and ECC.
Testing of local residents is continuing, as is the state's practice of removing past tests for people who've been tested more than once. On Monday this week, the state was reporting that 3,413 Hardin County residents have been tested since March 11. That's an increase of 93 over last week's testing total of 3,320. However, a review of the daily testing total number for Hardin County on the state's coronavirus website reports a total of 286 tests between Sept. 14 and 21, the dates included in the weekly report.
Iowa Department of Public Health spokesperson Amy McCoy told the Times Citizen last month that when an Iowan is tested more than once, the latest result is used and the older result is removed.
"For a person with multiple positive tests, we count the second positive only if the positive occurs greater than 90 days from the previous positive test (per CDC guidelines for an individual who tests positive multiple times)," McCoy wrote in an email on Sept. 2. The practice was criticized by a University of Iowa infectious disease doctor, who said it's standard epidemiological practice to leave data unchanged so it can be evaluated. McCoy has not replied to follow-up questions about the implications of that policy, or where guidance for the practice came from.
More COVID-19 data can be found on the state's coronavirus website.