The number of active cases of COVID-19 in Hardin County climbed again over the last week with the diagnosis of 58 new cases. It's the highest number of new cases in a week in nine months.
The Iowa Department of Public Health updates COVID-19 data for cases, testing and vaccination rates every Wednesday. This week's update reported that the total number of COVID-19 cases since March of last year rose from 2,125 on Aug. 31, to 2,183 on Sept. 7, an increase of 58 cases. The state also reported one additional Hardin County death on Wednesday. It's the third consecutive week that the state has reported the death of a Hardin County resident from COVID-19.
Of the 2,183 total Hardin County COVID-19 cases, the state reports there have been 1,947 recoveries and 47 deaths. That leaves 189 known active cases of the disease in the county. The number of active cases has steadily increased in recent weeks with totals over the last six week as follows:
Aug. 4: 55 cases
Aug. 11: 100 cases
Aug. 18: 112 cases
Aug. 25: 151 cases
Sept. 1: 170 cases
Sept. 8: 189 cases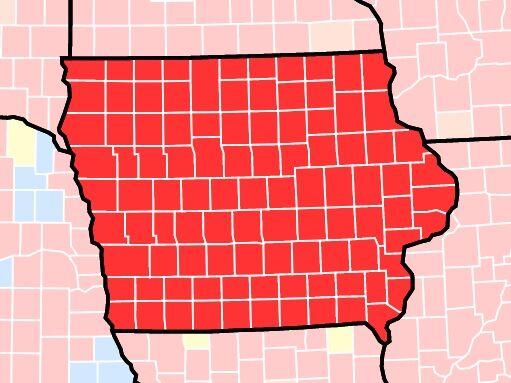 Hardin County's virus activity over the last week qualifies it as an area of high transmission according to the Centers for Disease Control and Prevention. Counties that have 100 or more cases per 100,000 population, or that have a positivity rate of more than 10 percent are identified as having a high rate of transmission. People in areas of high transmission are advised to wear masks when they're inside public places, regardless of vaccination status. Hardin County's case count for the last week puts it at 344 cases per 100,000 population.
The state also updated vaccination numbers on Wednesday. According to the data, 8,024 Hardin County residents – 47.6 percent of the total population – are fully inoculated against COVID-19. That's an increase of 99 people from last week.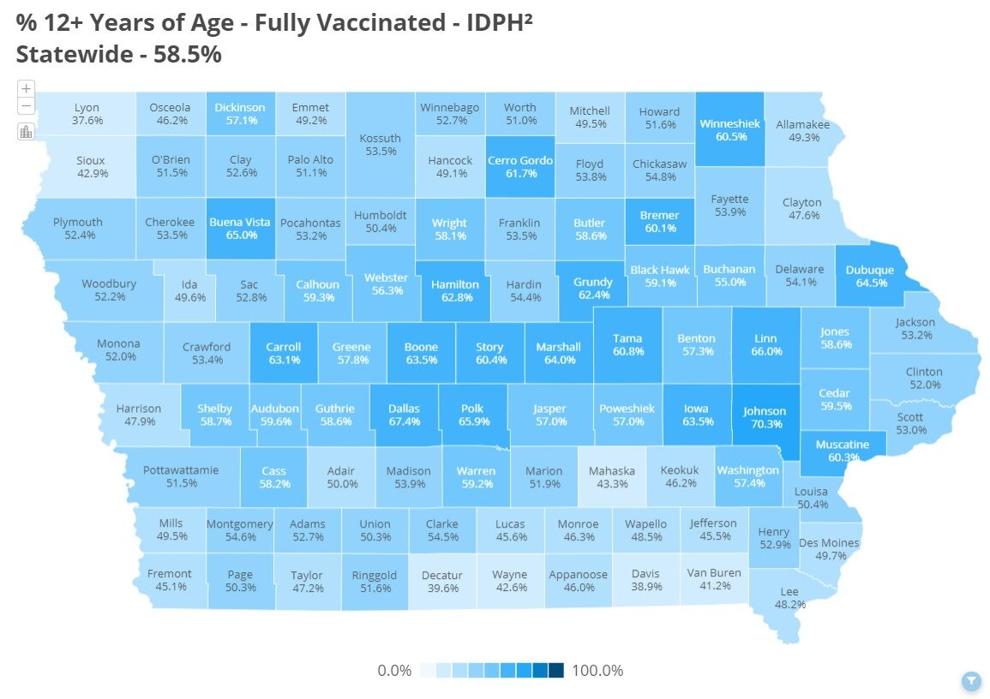 A redesigned page on the state's coronavirus website displays vaccination rates by county. It can be sorted by age and by whether the data are people who've had one dose of vaccine or are fully vaccinated. According to the map, of the Hardin County population that can receive a COVID-19 vaccine – those who are age 12 and older – 54.4 percent are fully vaccinated.
COVID-19 in the schools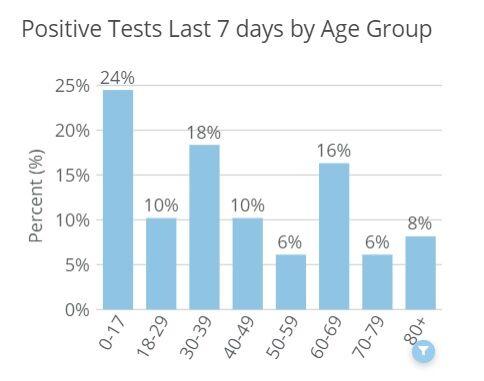 A graph on the Iowa Department of Public Health's coronavirus website reports that of the new Hardin County cases in the previous week, 24 percent were in children age 0-17. Beyond that, it's impossible to know how active the virus has been in area schools, which returned to the classrooms on Aug. 23.
Last year, school districts in Hardin County issued weekly reports on the number of people who'd tested positive for COVID-19. This year, the districts are not making that information available.
Iowa Falls and Alden Superintendent Tony Neumann said his districts are still tracking COVID-19 cases as they're reported by families, but the contact tracing of last year – identifying and informing people who'd been in close contact with a COVID-positive student or staff member – is a thing of the past.
"We not allowed to contact trace," Neumann said, citing rules issued by the state.
This year, families in the Iowa Falls and Alden districts whose student tests positive for COVID-19 work with school nurses to plan a date of return to the classroom. Families of other students are still notified when there's a positive case, but the notification is much wider. When there's a COVID-19 case at the elementary school level, a letter goes out to all of the families of children in that student's grade notifying them of the test result. When a case is reported at the middle or high school, the notification goes out to families of every student in the school.
While Neumann hasn't released the number of COVID-19 cases in the schools, he said there's been more during the start of this school year than there were at the end of the last school year.
"We're definitely seeing a more steady stream than we've seen," he said on Wednesday. "This year we have a little bit of a surge going on."
The district is required to notify the state if 10 percent of the student body of a building is out due to illness, but that's not new – it's a rule every year, especially when flu cases start to show up. Neumann said the Iowa Falls and Alden school districts haven't reached 10 percent yet this school year. He said Tuesday's absent-due-to-illness numbers ranged from 3 percent at one building, to almost 7 percent at another.