Hardin County's COVID-19 infection rate leapt to new levels over the last week, setting a record for the number of cases reported in any seven-day span since the pandemic was detected here in March 2020.
On Wednesday, the Iowa Department of Public Health reported 219 new cases of COVID-19 in Hardin County during the week of Jan. 12-18. The previous high mark for cases was 206 during the week of Nov. 7-13, 2020. In total, Hardin County has recorded 3,610 COVID-19 cases since March 2020. Subtracting the number of reported recoveries (3,006) and the number of deaths from COVID-19 (56, which is one more than last week), leaves the county with 548 known active cases of the disease as of Tuesday, an increase from 370 last week.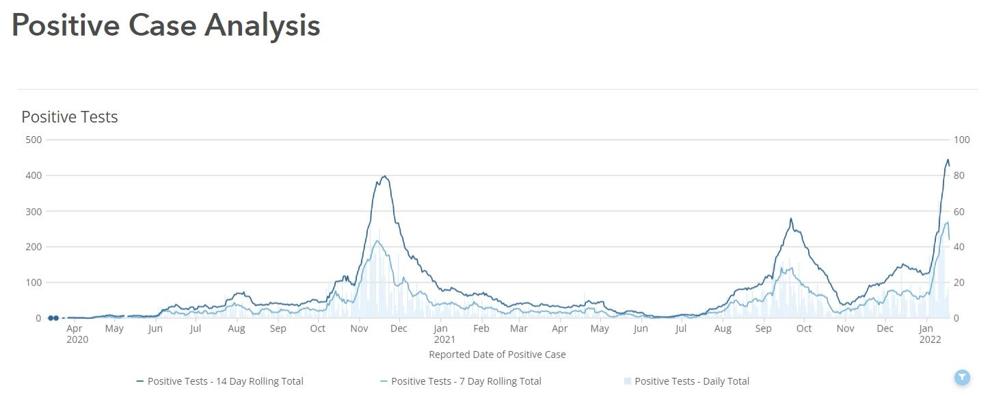 But as the availability of at-home COVID-19 tests has increased - including the government's offer to provide them to every U.S. home - the true picture of coronavirus infection rates in Hardin County and across the state may never be known. While the results of PCR tests, conducted at health care facilities or through mail-in at-home TestIowa kits, and some antigen tests are reported to the state, it's unclear who - if anyone - is tracking the results of Iowans' rapid at-home COVID-19 tests. 
In December, Iowa Public Radio reported that Polk County Public Health was asking residents to report positive results of rapid at-home COVID-19 tests. But Hardin County Public Health Coordinator Rock Reents said that while her agency has received some phone calls from residents who've tested positive through rapid tests at home, there's been no guidance about how to report those to the state. Sarah Ekstrand, a spokesperson for the Iowa Department of Public Health, said health care providers and local health departments are only asked to report rapid at-home results if they coordinated with the patient to get tested.
Advice from local health care providers differs, too. While Hansen Family Hospital CEO George Von Mock's suggestion follows the CDC guidance to contact a health care provider after testing positive on a rapid test at home, McFarland Clinic Marketing Director Shelley Goecke said a positive at-home test should be reported to IDPH or local public health departments because that information "helps our state know the percentage of COVID cases and helps in decision making".
Ekstrand said Iowans who get a positive result on a rapid at-home COVID-19 test should contact their health care provider, notify close contacts, and follow CDC isolation guidelines. The CDC has also issued guidance about self-testing for COVID-19.
Hospitalizations strain resources
Along with the continued surge in COVID-19 cases, there's been a steady increase in hospitalizations across the state. IDPH reported that as of Monday, 1,010 people were hospitalized in Iowa for treatment of COVID-19. That's an increase from the previous week, but still lower than the peak of 1,527 hospitalizations in Iowa in November 2020.
It's unclear how many Hardin County residents are hospitalized for treatment of COVID-19 – the state stopped collecting and reporting that data in November – but Iowa Falls' hospital is feeling the strain caused by the current COVID-19 surge.
HFH's Von Mock said the hospital has been "feeling the same pain points" as other hospitals: many patients and not enough staff.
"As far as transferring patients to other hospitals, that is a challenge for us as it is for others, especially for patients who need a higher acuity of care. Beds are full," Von Mock said on Wednesday. "And of course the staffing side as well. We're trying to ensure we have the right staff at the right place at the right time. As staff fall ill or whatever the case may be, we're trying to still provide that high level of care."
Von Mock said the hospital has "gotten creative" to fill staffing vacancies, moving nurses from the clinic to the inpatient unit, and vice versa, as needed. The hospital is also currently employing eight "traveling", or freelance, employees, almost all nurses, to fill vacancies.
Vaccinations stagnate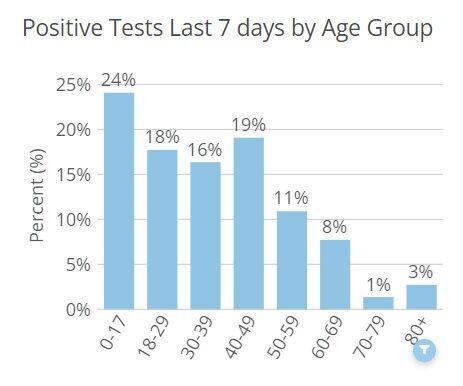 Even as health officials promote vaccines as a way to prevent severe illness from COVID-19, Hardin County's vaccination rate has grown only slightly in recent weeks. As of Tuesday, the Iowa Department of Public Health reported that 9,085 Hardin County residents were fully vaccinated. That's 53.9 percent of the county's total population, and an increase of just 25 new fully-vaccinated people in the last week. This month, 110 Hardin County residents have become newly fully-vaccinated.
Von Mock said the majority of the people who've tested positive at Hansen Family Hospital in recent weeks have been unvaccinated. Between Jan. 9 and 15, HFH conducted 495 COVID-19 tests. Of those, 192 were positive, and of those positives, 142 were unvaccinated. The state reports that of the 991 people hospitalized in the state on Tuesday, 68.4 percent were not fully vaccinated.
"It's really important for folks to get vaccinated. You're safer with it than without it," Von Mock said.
Esktrand, at IDPH, said vaccination is "the most important thing Iowans can do to prevent serious illness, hospitalization and death from COVID-19." She referred the public to vaccinate.iowa.gov to find a provider and schedule a COVID-19 vaccine appointment.
ZIP code data released
Data released last week by Hardin County Public Health shows coronavirus is active in every ZIP code. The weekly reports, issued on Friday, detail the number of new cases by ZIP code in the county.
According to the report, during the week of Jan. 8-14, the Steamboat Rock ZIP code had the highest infection rate with nine new cases, or 1,549 per 100,000 population. Iowa Falls had the second-highest infection rate with 91 new cases, or 1,347 per 100,000 population. In third place, the Eldora ZIP code recorded 38 new COVID-19 cases for 1,197 per 100,000, and the Alden ZIP code was fourth with 17 new cases, or 1,030 per 100,000 population.