The number of active COVID-19 cases in Hardin County has dropped from last week, but the disease is still spreading at a consistent rate, infecting 26 people since last Monday.
The Iowa Department of Public Health was reporting on Monday morning that a total of 1,632 Hardin County residents have tested positive for COVID-19 since March 2020. Last Monday, the total stood at 1,606. That's an increase of 26 new cases. Of those 1,632 positive cases, 1,493 people are classified as having recovered and 33 Hardin County residents have died of the disease. That leaves 106 active cases in the county. For the last two weeks, the number of active cases has stood at 118. 
Testing declined last week, possibly due to the winter weather on Thursday and Friday. Some TestIowa sites were closed because of Thursday's blizzard, and travel was not advised. According to the Iowa Department of Public Health, a total of 753 tests were administered to Hardin County residents between Jan. 30 and Feb. 5. Recent weekly testing totals for Hardin County are as follows:
Jan. 30-Feb. 5: 753
Jan. 23-29: 1,005
Jan. 16-22: 1,048
Jan. 9-15: 1,012
Jan. 2-8: 1,141
Iowa continues to rank last among U.S. for weekly testing per 100,000 people, according to data tracked by the Washington Post.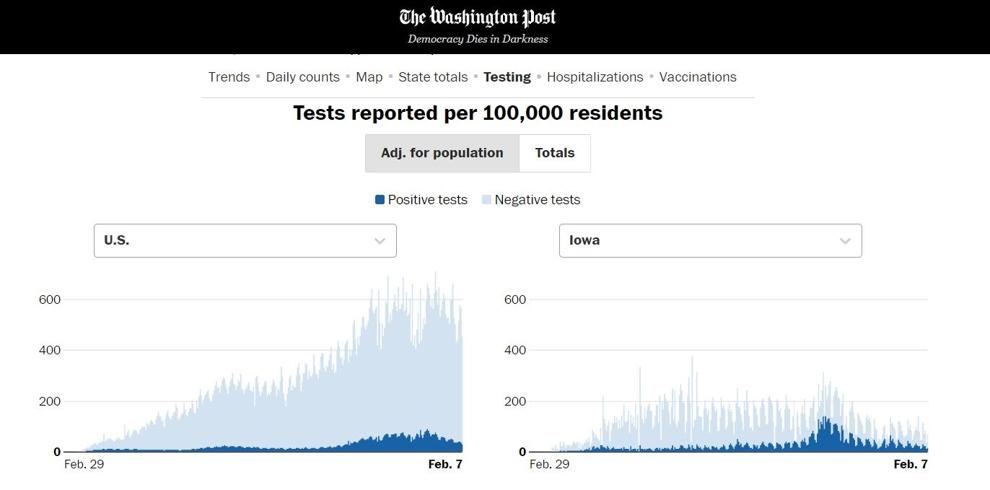 On Friday afternoon, Gov. Kim Reynolds issued an updated coronavirus emergency proclamation that lifted many of the restrictions and mitigation efforts that she put in place last fall amid a statewide surge in cases and hospitalizations. The new rules, which went into effect at 12:01 a.m. on Sunday, lift her limited mask mandate and remove restrictions on occupancy of bars and restaurants and social gatherings.
Schools issue latest reports
Hardin County's schools saw very little spread of COVID-19 last week. According to reports issued by the public school districts' superintendents on Friday, Iowa Falls-Alden schools had one new positive case last week; both South Hardin and AGWSR reported no new cases.
South Hardin Superintendent Dr. Adam Zellmer, in his weekly district letter, addressed Reynolds' new proclamation.
"...these changes do not impact the way we currently operate at South Hardin Schools," Zellmer wrote. "We must continue to follow the Iowa Department of Public Health, Hardin County Department of Public Health, and CDC Guidelines for schools at this time. We have been so blessed to be in school and stay in school throughout this school year, we want to make sure we are able to keep that up."
Zellmer wrote that the district has had "some of the lowest rates of absence for other typical cold and flu season rates that we have had in years." The district, like Iowa Falls, Alden and AGWSR, requires face coverings in the buildings when social distancing cannot be maintained.
Vaccination of Hardin County educators has begun. Last Friday, employees of Medicap Pharmacy in Eldora conducted a clinic at South Hardin High School to vaccinate 120 educators. Hardin County Public Health Coordinator Rocky Reents said last week that 60 doses of the vaccine would be provided for Iowa Falls-Alden staff today, and a clinic will be offered to AGWSR educators on Friday, Feb. 12.
Ellsworth Community College reported one new case among students last week. It is the first positive case at the school since the week of Nov. 14-20. Most students left campus for Thanksgiving break and did not return before Christmas because many classes were moved online. On-campus classes resumed Jan. 19.
Vaccinations continue
A small but steady stream of COVID-19 vaccines is still coming into Hardin County. The local public health agency, working with Medicap Pharmacy in Eldora, has been conducting clinics to vaccinate K-12 educators and people age 65 and older. As of Monday morning, Hardin County had initiated vaccines of 1,610 local residents, and it had completed (administered first and second shots) to 437 residents. The total number of Hardin County residents who've received vaccine doses is higher than those totals because some local residents have received doses through their work out of the county, or as residents or employees of long term care facilities. As of Monday, 2,191 Hardin County residents had received a first dose of vaccine, and 615 residents had received two doses. Find more vaccine data on the state's website here.
ZIP code map updated
On Friday, Hardin County Public Health released updated data showing total number of COVID-19 cases per ZIP code in the county. According to the information published by Hardin County Public Health, on Friday there had been a total of 1,618 COVID-19 cases, but the breakdown by ZIP code only adds up to 1,596 cases. The cause of the discrepancy is unclear.
According to the updated map, of the 18 new cases reported by ZIP code, 14 were in the Iowa Falls ZIP code, two were in the Radcliffe area, and there was one each in Ackley and Eldora.
The Iowa Falls ZIP code, which is the most populous in Hardin County with 36.2 percent of the total population, has seen 35.5 percent of the total cases. The Eldora and Hubbard ZIP codes have had more cases than they have shares of the total population. The Eldora ZIP code area has reported 306 COVID-19 cases, which is 19.2 percent of the total, and it is home to 17 percent of the population. The Hubbard ZIP code, which has recorded 164 COVID-19 cases, or 10.3 percent of the total, is home to 7.3 percent of the population.