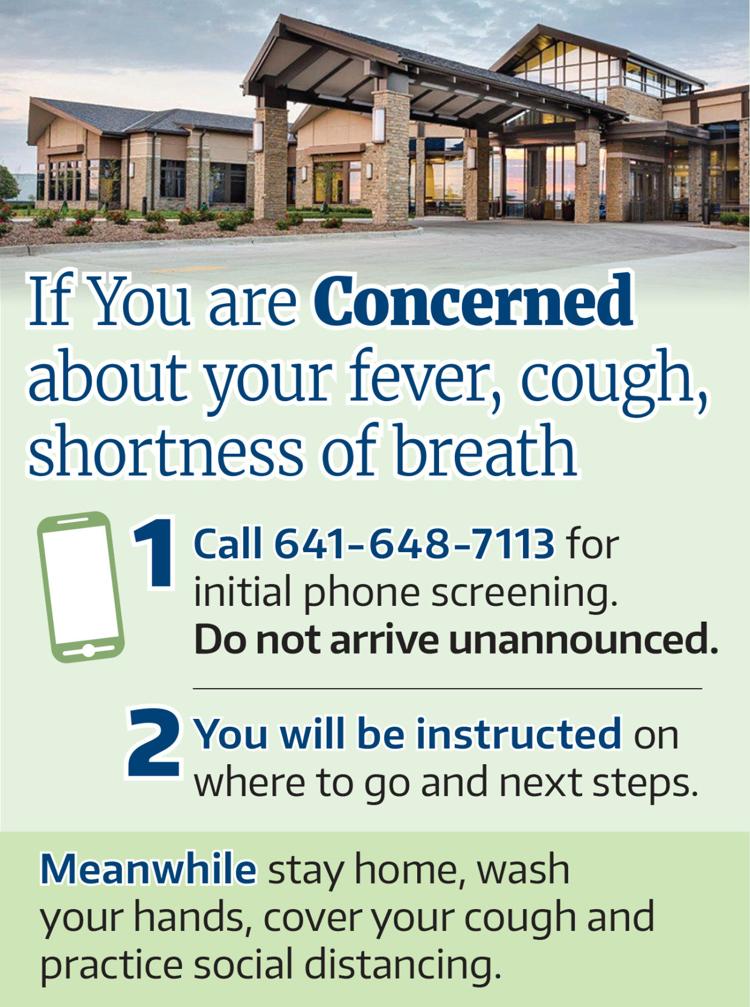 An increase in the number of people requesting COVID-19 tests is prompting a reminder from Hansen Family Hospital that it is not a TestIowa site, and it cannot test people for the illness without an appointment.
HFH CEO Doug Morse said Monday that the hospital has been fielding more calls lately from people wondering whether they can get a test at the Iowa Falls hospital. But, Morse said, the protocol for HFH testing remains the same.
"We're not a TestIowa site and, contrary to what you may see on Google, not everyone can come here to be tested," Morse said. "We still want people to call that 648-7113 number. We can serve people better if they call first."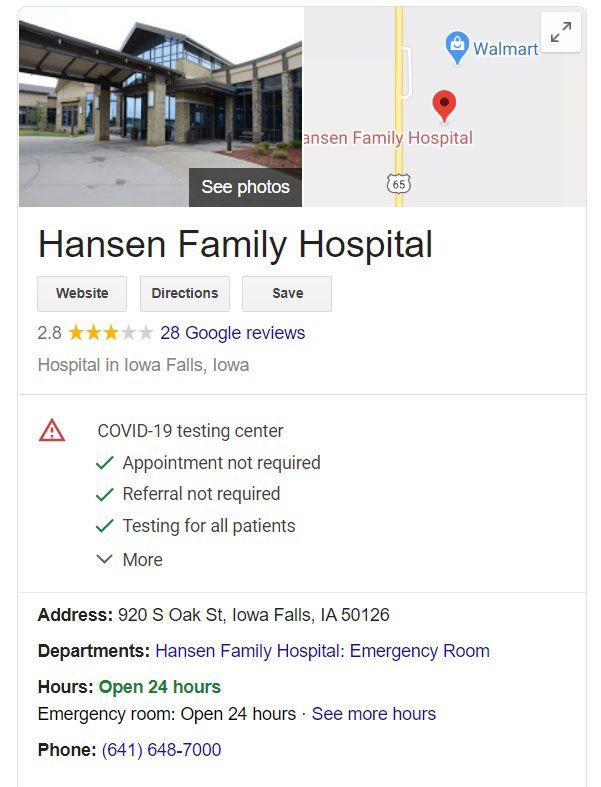 Part of the problem is that a Google search for Hansen Family Hospital turns up a result that tells internet users that testing is available for all patients, and appointments and referrals are not required. And even though that's false, Morse said the hospital has had no luck getting the information corrected by Google.
Morse said there's also been confusion over whether the hospital is a site for TestIowa. That's a coronavirus testing program contracted through the state. Iowa residents are asked to complete an online assessment, and if they qualify to be tested for COVID-19, they can set up an appointment through the website at one of the TestIowa sites or clinics. There are currently no TestIowa sites in Hardin County. The closest site is in Black Hawk County.
"People are rightly confused," Morse said.
Hansen Family Hospital has not changed its COVID-19 testing protocol since it was implemented in March. People who think they may have COVID-19 or know they've been exposed to the virus are asked to call a special COVID phone number – 648-7113. They'll talk with a provider about their situation, and they may or may not be directed to report to the hospital for testing. Only people who have been pre-approved for a COVID test can be tested at the Iowa Falls hospital.
Morse said testing at the hospital has increased in recent weeks, but didn't have exact numbers of how many people have been tested through Hansen Family Hospital. As of Tuesday morning, a total of 1,852 Hardin County residents had been tested for COVID-19. That's about 11 percent of the total population. Seventy-six local residents have been confirmed to have COVID-19, and of those 45 are classified as having recovered.