The coronavirus pandemic is far from over - Iowans are still testing positive for the virus and dying of the disease every day. But after more than two months of shutdowns and self-isolation, many of the key indicators show the state has avoided a surge in cases. And, as a result, Iowa Gov. Kim Reynolds has given permission for businesses, organizations and government to move into a new phase: learning how to live, work and operate amid the spread of COVID-19. Hansen Family Hospital in Iowa Falls is no different.
In March, after community spread of COVID-19 was detected in Iowa, the hospital put a number of special practices in place. Most visibly, a COVID-19 testing tent was erected in the parking lot. Patients who were experiencing symptoms of COVID-19 were asked to call ahead before showing up. If they got approval to be tested, they were directed to the tent, where they drove through and a medical professional conducted the test.
But now, as the number of people using the testing tent has declined over the last week, and the hospital has slowly expanded the services it is offering inside the building, HFH is making COVID-19 testing part of its daily processes.
"We're trying to make it so it's still safe for patients and for our staff - they come first," said Jill Schafer, RN, who's in charge of infection control at HFH.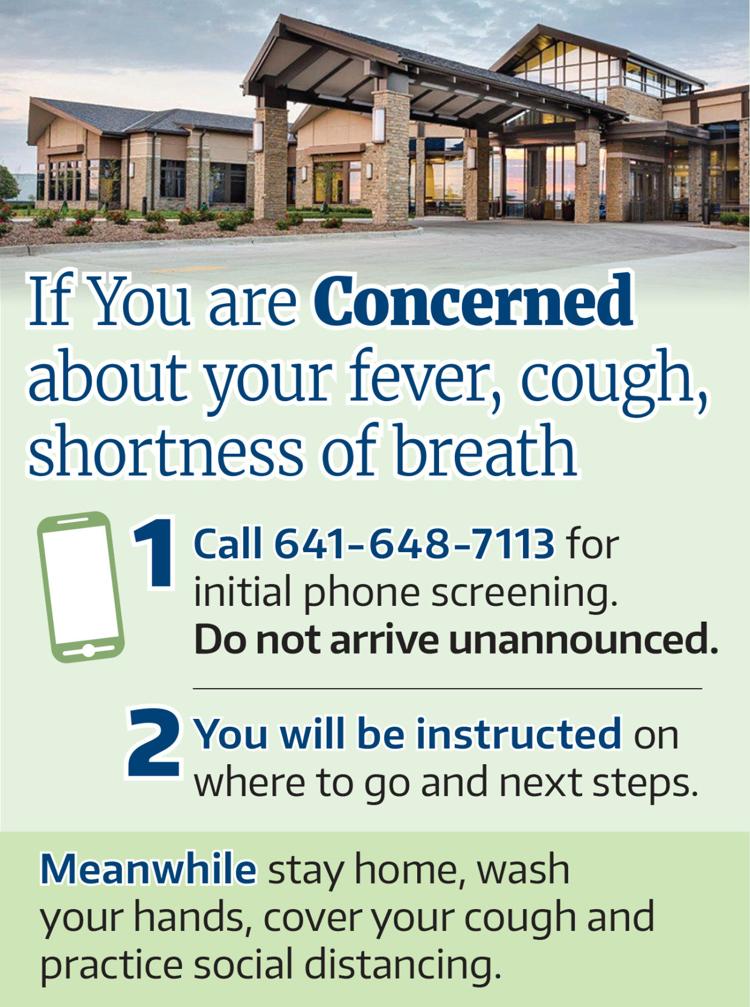 The only real difference in the hospital's response is the COVID-19 testing tent and trailer will disappear from the front parking lot. The hospital is still asking patients with COVID-19 symptoms to call ahead (to a special number (641-648-7113). They'll speak with a medical provider, and if they're approved for testing they'll be directed to go to the back of the building, where they'll drive through the hospital's ambulance bay for testing.
"The reason we're doing this is we've seen a decrease in the number who've come through there in the last week," Schafer said. "If we saw a high number of patients coming through [the tent], then we would definitely not even consider taking it down. For the number of patients coming through, that's something we can handle in the back in the garage and still utilize employees in-house."
Having the tent out front has required employee time to either staff it, or to go out to the tent when a patient is coming through to be tested. As services are expanded in the hospital, and those employees are needed inside to treat patients with non-COVID needs, Schafer said this new process will help with staffing.
"This way those employees can do more than just test. They can take care of patients," she said.
Not only that, the tent has been difficult to maintain. The hospital, located south of town on Highway 65, is susceptible to high winds. Two tents have been damaged, and they've also been taken down when strong storms are predicted.
Schafer said all other protocols put in place by the hospital to prevent the spread of COVID-19 will remain in place. A staff member will be stationed at the entrance to the hospital's parking lot during business hours to meet people and relay their arrival to staff inside the building. When a person arrives at the door, their temperature is taken and their health is assessed. Everyone is required to wear a face mask in the building. No visitors are allowed.
Schafer said the public should still call the hospital (641-648-7000) if they need medical care. If it's an emergency, no call is necessary - go directly to the hospital's emergency department. And if you're experiencing COVID-19 symptoms, call the designated COVID number at 641-648-7113.