Having both children and an academic career is already challenging, but now many teachers are juggling multiple jobs as their classroom has moved into their homes.
Iowa Gov. Kim Reynolds announced last Friday that schools would remain closed through the rest of the school year, and many districts have turned to online education for students.
Jenniffer Konomi, a transitional kindergarten teacher at Eldora-New Providence Elementary School, judges the success of her new daily routine based on the sleeping habits of her 3-year-old daughter Khat.
"With the routine we are starting to get into, it's been easier. It all boils down to Khat's attitude and whether she takes a good nap," Konomi said. "If she sleeps well, the rest of our day kind of falls in line. When she doesn't, tasks can be a lot more difficult."
One of Konomi's advantages is that her 9-year-old son Theo is more self-sufficient and can handle more instruction. The E-NP teacher said when the staff was informed they would be offering online instruction, one of her first priorities was creating a daily routine her kids could follow.
A typical day includes waking up and eating breakfast before transitioning into literacy learning.
Konomi said she keeps "office hours" and works those into her daily schedule. During lunchtime, Khat takes a nap. That's when Konomi focuses on putting resources together for her school kids. She also prioritizes outside time for her own kids to play.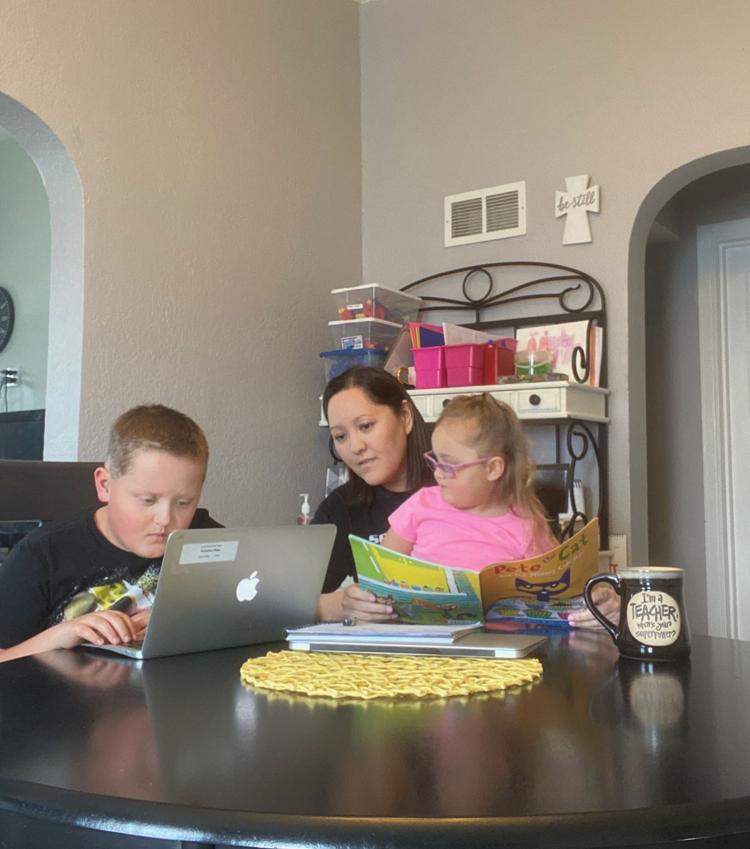 The E-NP kindergarten teachers meet with Konomi every Wednesday to discuss the types of learning they want to incorporate into their lessons. They record videos of themselves teaching literacy or a math lesson, and post those videos to Facebook. Google classroom is another tool that has been helpful.
"I would say our biggest disadvantage is students don't have access to the internet," Konomi said. "We get paper packets out to them if they are able to. With special needs students, we can't go into their homes and work with them. That is a big frustration because they are so used to working one-on-one. On the other hand, one big advantage to distance learning would be students are in their own environment at home and take time to do things at their own pace."
Courtney Roll, a family and consumer science teacher at Iowa Falls-Alden High School and Riverbend Middle School, said her biggest challenge with distance teaching is helping her three young children - Peyton, 6, Lyla, 5, and Gemma, 3 - with their own learning.
Roll and her husband Taylor live in Radcliffe and their kids attend Hubbard-Radcliffe Elementary.
"I knew it would be a learning adjustment for me as well," Roll said. "I would say the biggest thing I've noticed is how much time my own kids take for their schooling. Since they are younger, they are not really what I would call independent learners yet. They are still learning how to read, so their lessons are something we sit down and read through together."
Roll said her routine varies from day to day. She may begin by teaching students online before focusing on her own kids' needs in the afternoon. That schedule may flip the following day.
As a teacher used to working with middle school and high school students, Roll said she's become even more appreciative of the work elementary and preschool teachers do every day.
"Since I'm a secondary teacher, it's interesting to see the lesson planning preschool and kindergarten teachers go through. It's a new perspective for sure," Roll said. "There are times when I try to get my youngest to color or watch a movie while I'm working with my school students, but she likes to get involved with my Zoom conferences. My students and staff members probably think it's hilarious that I've got three kids popping up on calls."
The Schmitt household is a two-teacher operation, which creates a unique situation. Lori Schmitt teaches fifth grade at Rock Run Elementary, while Jeff Schmitt is the Iowa Falls-Alden High School band director. The couple has three children – Tara, 5, Luke, 4, and Emma, who will turn 2 in June. Lori said their biggest challenge was figuring out how to schedule each other's Zoom conference meetings so one would be available to watch the kids.
"Planning the Zoom meetings was interesting because we would start to overlap," Lori said. "I would schedule something for 10 a.m. and tell Jeff I would be done at 11. So he would schedule something for 11:30 and then mine would run right up until then or over that time."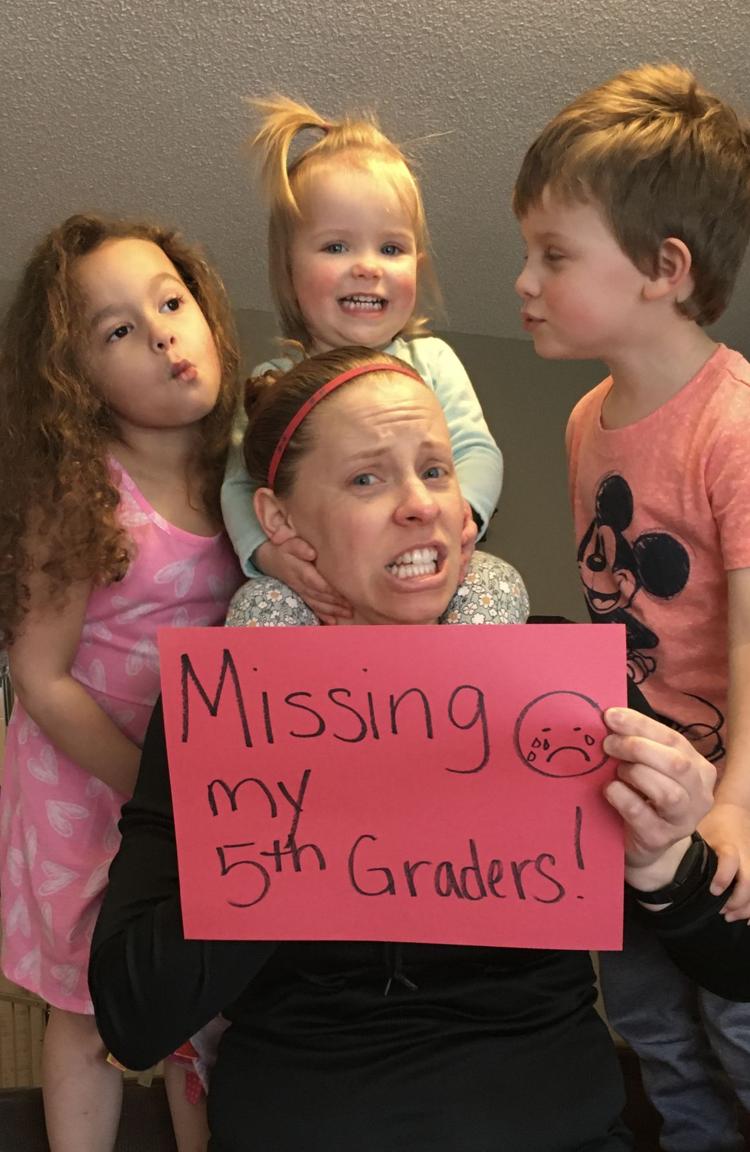 Lori said they agreed to keep their kids at home from daycare to do their part to practice social distancing.
The couple set up their work areas in different parts of the house. Jeff is more often in the basement working, while Lori does her work in the bedroom.
One positive to having more family time is witnessing key moments in the growth of their kids. While Emma is starting to talk more, Tara is beginning to read.
"It's really cool to be able to see those moments more," Lori said.
If anything can be gleaned from the current situation, Konomi said she's hopeful that both parents and teachers appreciate the roles they each play in the lives of their kids and students.
"I think it does help some families because they are in driver's seat now," Konomi said. "Now they are teachers as well."