Becca and Jeremy Leitzen resorted to chocolate chip cookie bribery to convince their three oldest children to hold still while their dad gave them at-home haircuts last week.
According to Becca, baking the treats was worth the effort.
In the coming days and weeks, it's likely that others will be testing their barber skills. Last week, Iowa Gov. Kim Reynolds extended the closure of hair salons through April 30. It's part of an effort to slow the spread the novel coronavirus and COVID-19 in the state.
For people who've grown accustomed to regularly scheduled haircuts and color, the temporary closure has created unforeseen issues.
The Leitzens have four children - Caleb (11), Alex (9) and Eli (6) and Julianne (4). Becca said they take the kids to Cedar Falls for haircuts at Great Clips.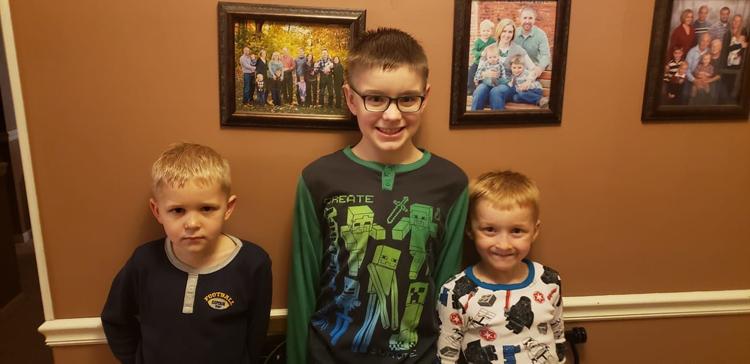 With that option gone for at least another month, Dad became their new barber. To prep for the haircuts, Jeremy watched a "how-to" video on YouTube.
"Jeremy cuts his own hair, but he shaves it. Obviously, we can't go to Great Clips right now and they were in desperate need," Becca said. "It actually turned out pretty good, but one of my children did not look pleased. Alex had a scowl on his face. He just didn't think it looked as good as it normally does, but I told him he just has very high standards."
While just the Leitzen boys received haircuts, their sister still wanted to be a part of the process. Jeremy performed the haircuts while the kids sat in the bathtub. Becca also put Julianne in the tub and pretended to cut her hair by making scissor noises.
"We did promise cookies as an incentive because they were not crazy about Dad cutting their hair," Becca said.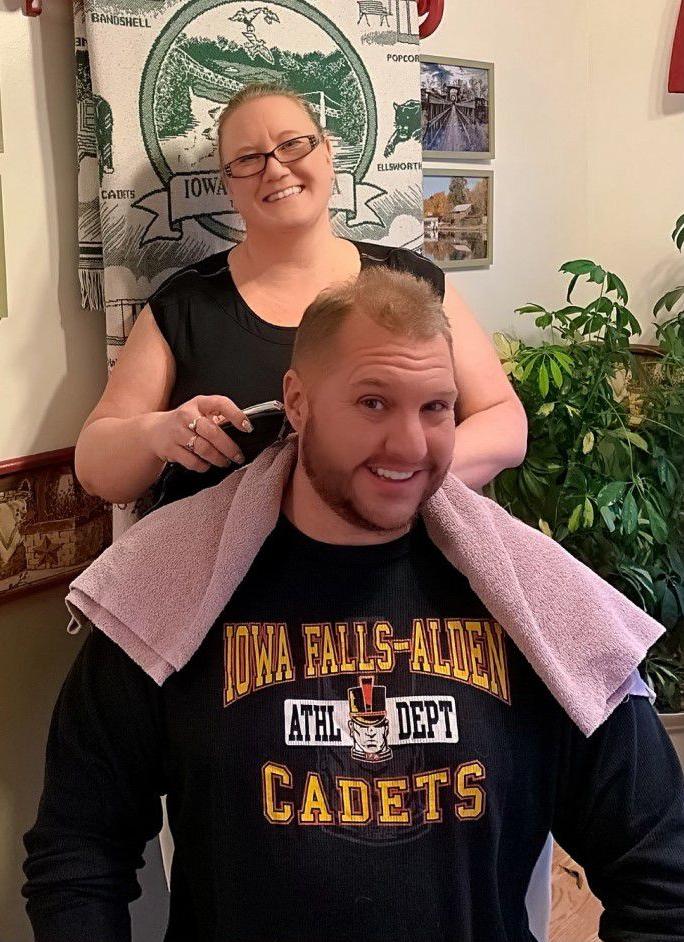 Rebecca Heitland has been cutting her husband Jason's hair for a number of years, but recently, her daughters – Cheyenne (20), Sierra (18) and Sage (14) have been asking her to do the same for them.
"My daughters have cut each other's hair - the ends - just so it's not as bad for them. The first time I was nervous and scared to death," said Rebecca. "I cut my dad's hair after my mom passed away way back when. Then I started doing Jason's hair."
She said the biggest takeaway from cutting her husband's locks is rookie barbers need to be aware of how short the clippers will trim the hair.
"Once you go to the grooming kit, you want to go longer because you can always cut shorter. But you can never put the hair back on his head," Rebecca said with a laugh. "Jason said he needs as much care as possible up there."
Jason said Rebecca's haircuts have improved over time, but occasionally there will be an interesting trim.
"The first time she cut it was a long time ago. There were times along the way they didn't turn out very good. But generally, she does a good job," Jason said. "The first time was a little bit scary. We just thought we would try it out."
If anything, Rebecca said her daughters could put their hair up in ponytails and buns if they don't want to resort to haircuts at home. She said that would also curtail urges to cut it all off.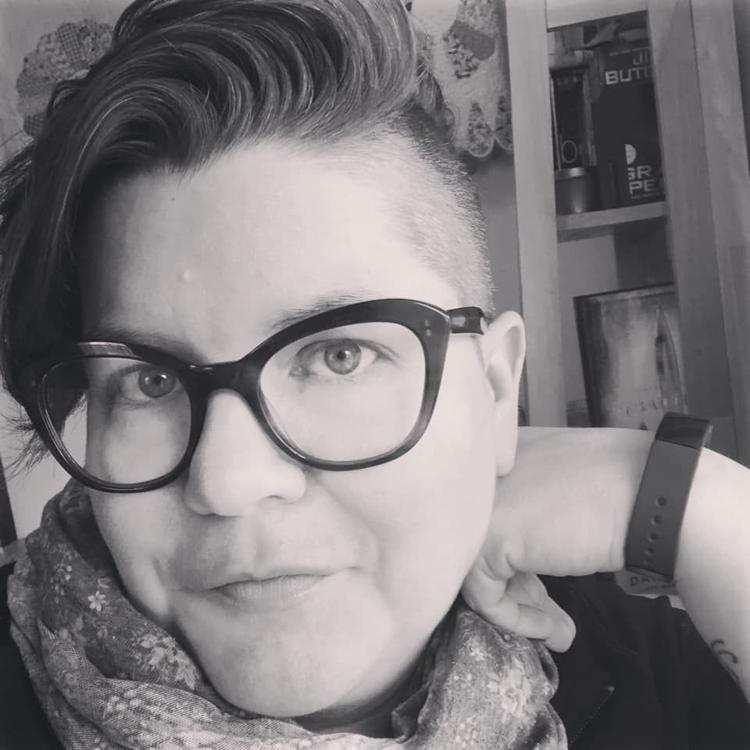 Iowa Falls resident Sarah Day usually gets a haircut at Trends N Traditions every four weeks. Her hairstyle includes a shaved undercut that needs attention more often than a long hairstyle. Her hairstylist, Nichole Miller, trims the sides, and Day said the top of her hair instantly looks better. But with salons temporarily closed, Day said she's had to shave her undercut with her own barber tools.
"The sides are pretty easy because I can see them. I think it helps to have an art background. Your hairstyle is another form of art. My husband shaved a four-inch square patch on the back of my head because I can't see that," Day said. "I'm going to let the top do its thing but I will continue to shave the undersides. Once you have an undercut, you never want to go back. The grow-out process is really not that fun."
Miller said hair salons like Trends N Traditions are taking things day by day, but she's hopeful she can start seeing clients again in May.
For perspective, Miller said she usually sees between eight to 10 customers per day on a five-days-a-week work schedule. She said people with shorter hairstyles will likely have more difficulty trimming their own hair, as opposed to those with longer hair.
"Those will longer hair, if you have someone you trust with a pair of scissors to take off a half inch or inch only off the bottom, I think that would be easier," Miller said. "I would think the more intricate shorter haircuts would be tough. The ones I see having the most difficulty are the ladies that come every Friday - the older ladies that get their hair set on rollers. Both of mine have shoulder issues, so it's hard for them to do that themselves. As it gets longer, it's harder to roll."
While she has been in the barber industry for nearly 30 years, Miller said there are no concerns that her skills will deteriorate during the shutdown. She said cutting hair is akin to riding a bike.
"I don't see my skills getting rusty. Maybe someone that's out of school recently and beginning to work, I can see that being an issue," Miller said. "We all just want to re-open our doors as soon as possible."