A national shortage of personal protective equipment coupled with recommendations from health officials that Americans wear protective face masks, has resulted in a demand for the masks - at homes, at businesses and in health care settings.
On Friday, Iowa public health officials issued an order aimed at stretching the supply of personal protective equipment (PPE) in the state.
"We're in a position where we are preparing for a time when we might not have enough of these supplies," Iowa Department of Public Health Deputy Director Sarah Reisetter said at a press conference last week.
The order lays out steps to decrease the demand for PPE in Iowa. It allows health care providers in hospitals, clinics, public health agencies, and other medical and response organizations that treat patients to use or reuse equipment beyond its "shelf life." It also allows health workers to keep wearing the same PPE between patient visits and it urges facilities to discharge COVID-19 patients once they're stable. The order also allows for homemade masks, which can be used in combination with face shields.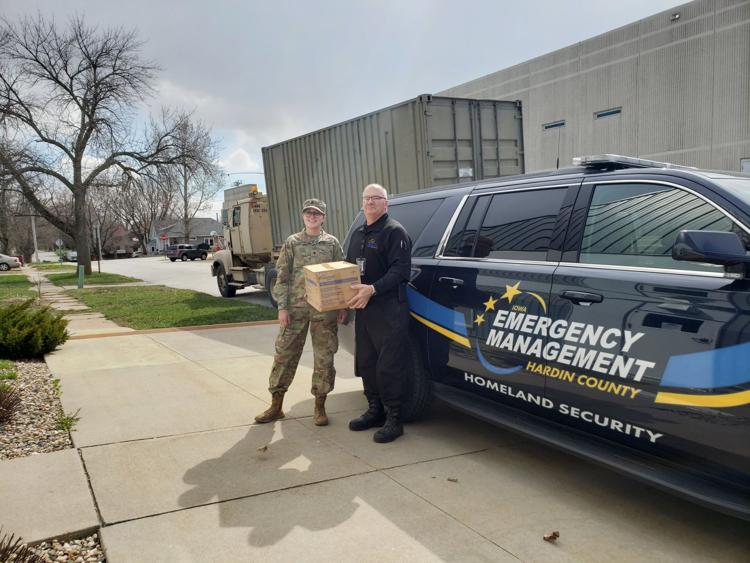 In Iowa Falls, Hansen Family Hospital - like other medical facilities - has received deliveries of personal protective equipment (PPE) through Hardin County Emergency Management Coordinator Thomas Craighton. Craighton spoke about the process at a meeting of the county supervisors last week, and said he's made deliveries throughout the county.
Lori Krenos, chief nursing officer at HFH, said last week that the hospital has PPE, but not an abundance of it.
"Right now we're doing OK," she said. "I wouldn't say we have a lot of it."
The hospital has implemented a policy that requires masks be worn in the building by everyone at all times. Those people who are in direct patient care roles use the hospital PPE. The rest of the staff - those working in reception, administration and other roles that don't put them in close physical contact with patients - are wearing cloth masks that were made and donated by the public.
But they need more.
"Right now we have enough for every person to have one," Krenos said. Each day, the person who wears them takes theirs home and launders it.
Homemade masks must follow specifications distributed by the MercyOne network. Those specifications can be found here. Mask donations for the hospital can be dropped off in Iowa Falls at Dale Howard Auto Center.
As for the public, Krenos said the hospital cannot give out masks - a request that's been made in recent weeks. There are, however, a number of online guides that provide step-by-step instructions for making a mask (even if you can't sew).