An already good day got better for remote Hurts Donut Co. customers on Friday. The 6-year-old Missouri-based doughnut maker, with a franchise in Cedar Falls, delivered more than 100 orders of donuts, maple-bacon bars, apple fritters and cinnamon rolls at the Alden Legion on Friday afternoon.
But what made it even better was that an anonymous donor added a free cinnamon roll on top of most of those orders.
"We call them 'Bless You Cinnamon Rolls' because somebody bought them for others to pay forward," said Cedar Falls franchise general manager Jenny Nelson. "That just makes our deliveries extra special."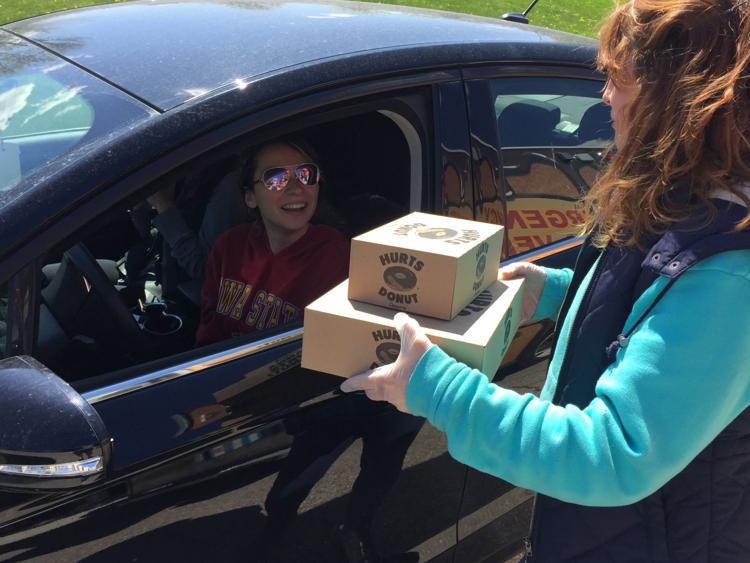 Hurts Donut Cedar Falls owners Scott and Janelle Wilkes converted an old ambulance into an Emergency Donut Vehicle that they use to make large deliveries. When their six-month-old shop was forced to close on March 17 due to the coronavirus pandemic, their delivery area grew. Alden was just the latest stop.
"We've put on at least 1,000 miles since we started going to other towns," Nelson said. "We did it ice cream truck style for a while, but that just wasn't suitable for COVID. We started it and people would comment on Facebook that we should go to their town. So, here we are."
The Cedar Falls location is the northern-most franchise. Alden has been the western-most delivery stop. Others have included most towns around Waterloo/Cedar Falls. Eldora was a stop last Wednesday and the response was incredible, Nelson said.
"It's just taken on a life of its own and we're so thankful for it," Nelson said. "We don't have any indoor seating anymore because of COVID, so this has really helped."
Nelson said the plan is to repeat the delivery route once the first run is finished. Iowa Falls-Alden will likely be on that route again, as long as the pandemic continues. Orders must be placed by 11 p.m. on Thursdays. Contact information can be found on the Hurts Donut Co.-Cedar Falls Facebook page.
Alden's Greg Lascheid, who happened to be working near the Alden Legion when the colorful old ambulance showed up, said he missed his ordering opportunity. He was still grateful that the franchise came all that way. And, he added, he will be sure to get his order in on time next time.
"This is great that they came to a small town like Alden," Lascheid said. "Especially now when we're not supposed to go to them."
Nelson said she hopes the pandemic ends, but added that she has really enjoyed the deliveries.
"It's been a fantastic reaction everywhere, and we're just so grateful," Nelson said. "Families come together in their car for a little outing. They sit in their car and we hand the boxes to them. People have been happy and excited. They have been so kind and grateful that we're coming out. There's tons of smiles. We'll keep doing it as long as our in-store traffic is slow. I foresee us doing this a long time. It's donuts, let's have some fun."