An impassioned and, at times, emotional conversation about whether to require face coverings on students and employees in the Iowa Falls School District ended Monday night with a 4-1 vote to support a mandate recommended by district administrators.
Superintendent Tony Neumann predicted last month that the face coverings issue would make other recent controversial issues seem like "really small potatoes," and he wasn't wrong. About two dozen people attended the meeting, and many others contacted board members directly by phone and email. About a dozen people spoke to the board Monday, most in opposition to the proposed mandate.
Under the rules approved by the board, the district will require a face covering of some sort – a mask or a face shield – on all students, district employees and school event spectators when social distancing is not possible in school buildings and on buses. Medical exemptions will be accommodated, and Neumann said the district is willing to order alternative types of face coverings if they are requested by students or employees.
Many of the people who spoke to the issue Monday night are parents. Several said their children have special circumstances – asthma, allergies, diabetes or anxiety – and wearing a face covering would exacerbate those conditions. Others, like Jarah Ackerman, said that students fidgeting with the masks will present more risks than not wearing a mask at all.
"When you walk down the halls and you have a mask on or a shield on, those kids are going to flick it and flip it, they're going to wear it backwards, they're going to throw it. Kids are going to rip them off other kids' heads and throw it," she said. "We all know that happens. We would be in denial if we didn't think these things happen."
Others spoke of the difficulty teachers will face getting the youngest students to wear face coverings.
"Trying to get 20 preschoolers just to sit on a carpet is a job on its own, without trying to get them to wear a mask," said Ashley Silvey, a mother.
Those who spoke in support of a mandate pointed to medical professionals' recommendations.
"I've talked with physicians in our town and they recommend masks," said Kaitlyn Hoversten, a mother of four children. "They recommend them not only to protect our students, but our teachers."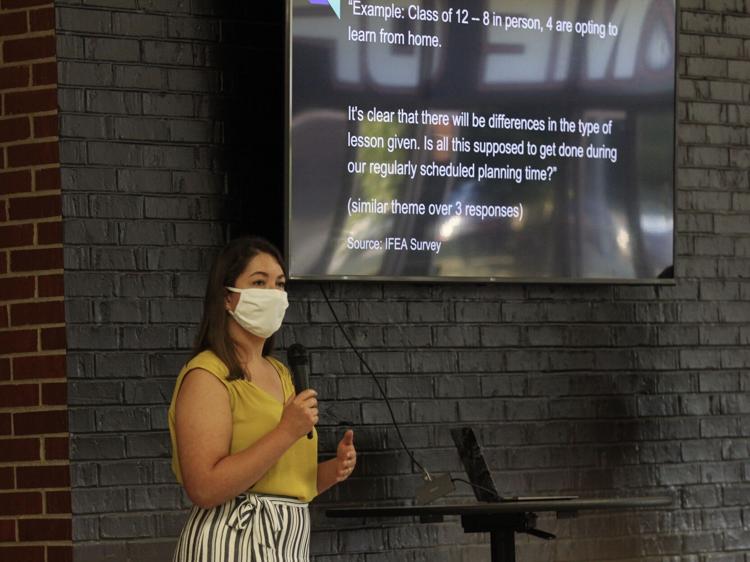 Iowa Falls-Alden High School teachers Heather Chamberlain and Jessica Nystel, representing the Iowa Falls Education Association, presented the board with the results of a faculty survey at Monday's meeting. They said many of the 68 teachers who responded to the survey support masks, and at least one said they will not teach in person in the district if face coverings aren't required.
Part of the mandate approved Monday requires spectators at school events wear face coverings. IFAHS Activities Director Pat Norem said parents who argue students won't wear masks are underestimating their students' ability to adapt. He said leadership from adults will show young people that the masks are an important part of keeping people safe and keeping schools open.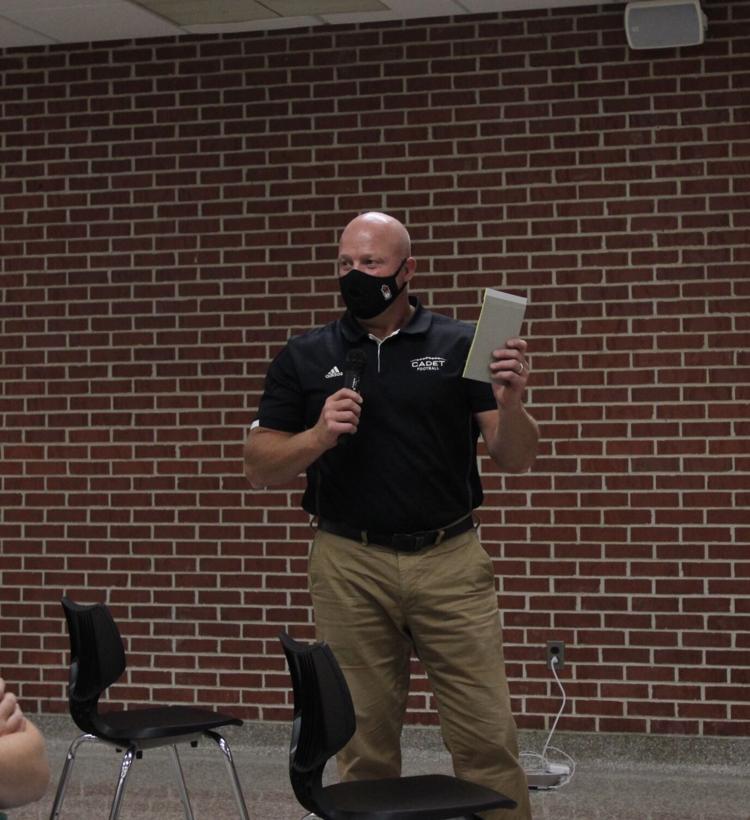 "If I can keep someone from being sick by wearing this, then I'm going to," Norem said, referring to the mask that he wore during the meeting, which was held in the high school student center to accommodate social distancing. "I [wore it] for three and a half hours this morning in football practice. It was soaking wet, it was nasty. I took it off, I took it home and I washed it. I didn't like it, but I felt it was best for the young people I was working with."
Neumann walked those present at Monday's meeting through the process that led to the recommendation to mandate face coverings.
"If we decide to not wear masks and we are correct in our decision and the spread doesn't go any more than it would have, great, we did well," Neumann said. "If we decided not to wear masks and we were wrong in our decision and the spread gets worse and we have to close down schools and people get sick, that's a really, really big risk.
"Now if you flip it, and we require masks and we are correct, then great, the masks stopped the spread, we can keep all of the kids in school as long as possible," he continued. "If we require masks and we are wrong, well then it didn't matter because the most kids were in school every day."
For administrators, which includes Neumann and the building principals, Kyle Hutchinson, Jeff Burchfield, Kyle Fett and Jill Wachal, the goal was to find a way to get all the students to school as much as possible.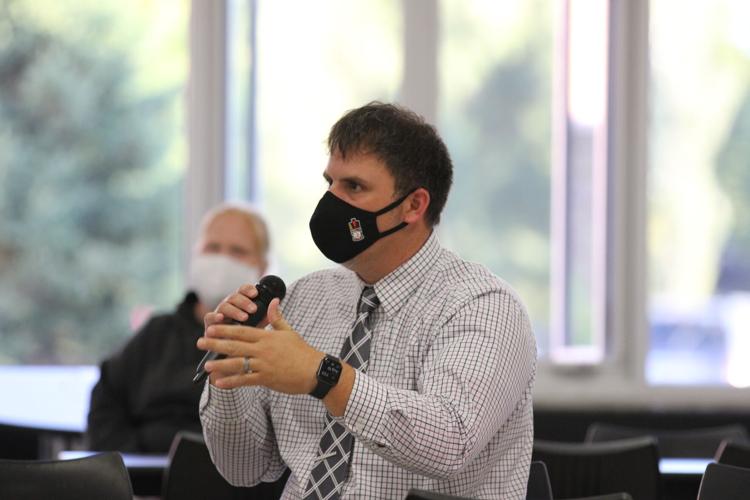 "For the administrators, what it really came down to was how do we get all of the kids here every day," Neumann said. "We just felt the two things all of the medical experts are saying - wear a mask, social distance – social distancing with all the kids in the building is impossible. We know that."
If the face coverings recommendation wasn't approved by the board on Monday night, Neumann said the administration would recommend a move to hybrid education, with students alternating days at school to reduce the number of people in the buildings each day.
Four of the five board members voted to approve the administrators' recommendation and require face coverings on all students and employees when social distancing is not possible. The district has said that students will be able to take breaks from face coverings – outside, during lunch and at other times throughout the day.
"We're going to do everything we can to get them off as often as we can, but understand that when we have them on, we have them on," Neumann said.
The lone vote against the mandate came from board member Chris Stauffer. A father of seven, he said he was voting with his conscience.
"I can support a choice. I can support that parents have a choice," said Stauffer. "I'm going to have a hard time supporting this. I'm concerned with so much being done that we are moving our students further and further away from normal. I think it's going to have a much greater effect in the long term. This is not normal."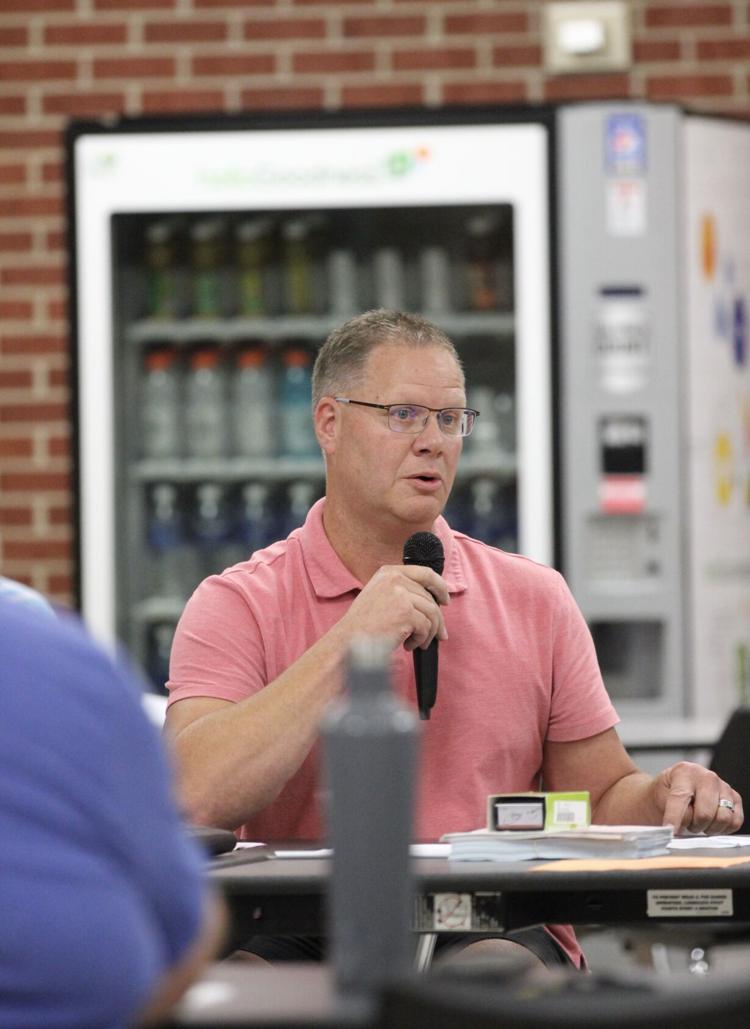 Todd Bicknese, president of the board and its longest-tenured member, said his decisions was fueled by two things: the recommendation from the administration, and the need to get kids back in school.
"When we have to make decisions we're always leaning on other experts to help us in the quest and I think as leaders of the school district, we also need to make sure we're taking into account what our administration is telling us."
Board member Dave Moore said that while he doesn't always wear a mask – he relies on social distancing when it's possible – he knows others feel safer when masks are worn, and he wants students and staff to feel safe.
"This mask isn't for me, it's for the other people around me that are afraid," Moore said about the face covering he wore intermittently during Monday's meeting. "I don't want kids to go around being scared of other kids because they don't have it on. There's a lot of fear out there. Whether it's real or not, it's still fear."
Neumann said the district will release the district's face covering mandate guidelines this week.