For months, local schools have done what they can to keep students in school amid a worsening pandemic. But an increase in the number of cases and in the number people in quarantine has prompted a change at Iowa Falls-Alden schools. Administrators announced today that starting Monday, students will attend classes under a hybrid model. It will last until the start of winter break on Dec. 21.
The decision was made on Wednesday, after the districts saw a spike in school-related cases, coupled with a high county positivity rate. 
"I feel like we're fighting it from all angles," IF-A Superintendent Tony Neumann said of the virus. "We're going to try to limit our chances for exposure in school."
Since early September, Neumann has issued weekly reports on new COVID-19 cases in the Iowa Falls and Alden districts' schools. The reports do not distinguish between cases in students and those in staff, and they also do not report the number of individuals in quarantine due to COVID-19 exposure. As of Nov. 6, the district had reported a total of 14 cases since Sept. 11.
But this week, things shifted. Neumann said there had been 10 new cases between last Friday and this Wednesday, and the number of people in quarantine as a result of exposure to COVID was more than two dozen. He said that case investigation has determined spread of the disease is happening at gatherings outside of school. He predicted that around 10 percent of the study body would be absent on Thursday due to illness or quarantine.
On Wednesday, Hardin County's 14-day average positivity - the number of new cases over the previous 14 days divided by the number of individuals tested during that same time - topped 20 percent for the first time since the pandemic started. On Thursday morning it stood at 20.7 percent. The Iowa Department of Public Health was reporting that 367 Hardin County residents are known to be currently infected with COVID-19.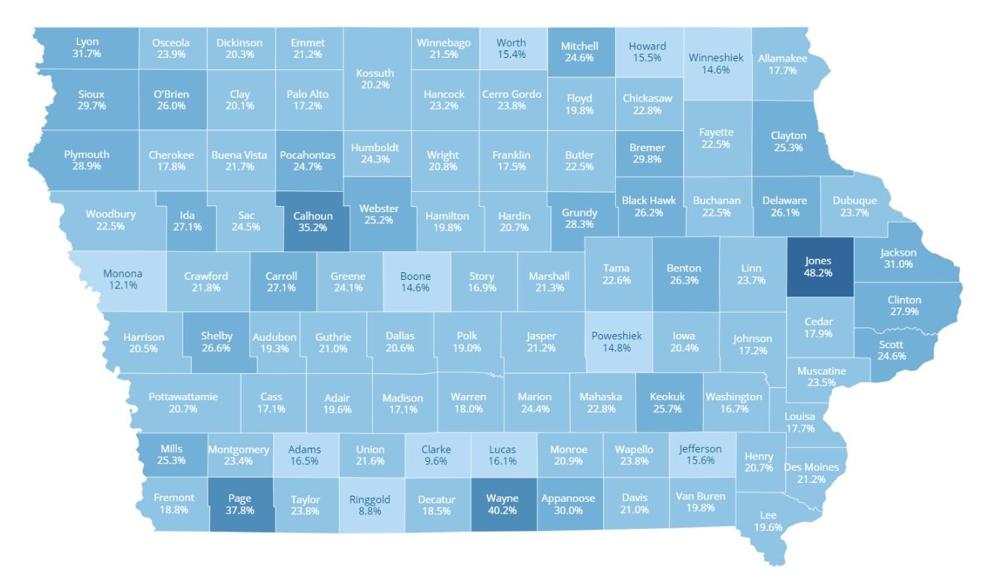 A county's positivity rate is one of the metrics used by school and government leaders to measure spread of COVID-19 and determine whether schools should close to in-person learning. Under guidelines released by the Iowa Department of Education in July, districts can request a waiver to shift to remote online learning if their county's positivity rate is at least 15 percent and 10 percent of the students who are expected to be there are absent (the 10 percent absenteeism does not include students who are out due to quarantine). As of Thursday morning, 23 Iowa school districts have received waivers to move classes online.
Neumann said he's been evaluating the district's situation beyond the county's positivity rate and the number of students absent from school due to illness. He also looks at the number of positive tests per day and over the previous seven days. And the school speaks with families who've had a positive test or an exposure to determine where the spread is happening. He said the disease is not spreading inside the schools, but at social gatherings outside of school.
Dr. Adam Zellmer, superintendent of the Eldora-New Providence and Hubbard-Radcliffe school districts, said he – like Neumann – is not seeing spread of the illness in the school buildings.
"One or two or three people in the same family are getting it and it was based off of something that happened outside of school," Zellmer said during an E-NP School Board meeting on Monday. "Right now a hybrid model, to me, doesn't make any sense. I don't have any reason to say, 'Yes, we should do that because we haven't seen that spread.
"The numbers in my opinion are going to have to increase drastically to be able to see a justification to put an application in to go 100 percent online," he added.
The Iowa Falls, Alden, Eldora New Providence and Hubbard-Radcliffe school districts have all had face covering mandates in place since August.
On Monday, Iowa Falls-Alden schools announced new event spectator guidelines. On Tuesday, Gov. Kim Reynolds announced her own. They limit the number of people who can attend, and they require masks.
"Our number one priority is learning in person," Neumann said. "I don't want to go virtual, but we will if we have to. Hybrid will cause hardships."
A letter went out to families in the Iowa Falls and Alden school districts on Thursday morning, outlining plans for implementation of the hybrid model. Students will be split into two groups based on last name, and they will attend school in a two-week rotating schedule, with three days of attendance one week and two days the next week. The district does not need state approval to move to hybrid learning because it meets Reynolds' requirement that Iowa students receive in-person instruction at least 50 percent of the time.
The change will also lengthen Iowa Falls-Alden's Thanksgiving break. It was scheduled to be three days (Nov. 25-27), but will now last the entire week (Nov. 23-27).
The letter also requests cooperation from everyone in the district.
"We are asking for everyone to do their part and help stop the spread of this virus," Neumann wrote. "Our decision to make this change was not an easy one and we also realize it may be a step closer to remote learning. We are asking for everyone to stay home when they are sick, do what you can to avoid large gatherings, and follow other guidelines to help us return to in-person learning five days a week. There are a lot of hard decisions that will have to be made moving forward, but we firmly believe if we all do our part, we can limit the disruption to our lives."
Times Citizen reporter Matthew Rezab contributed to this story.