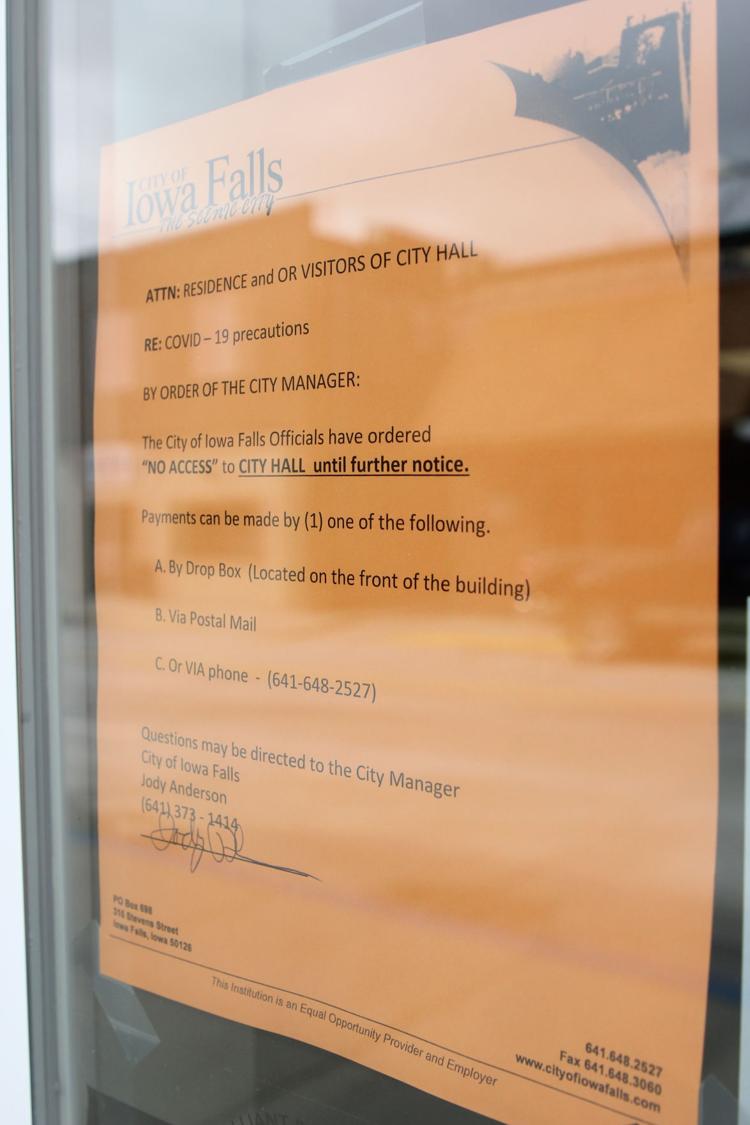 The City of Iowa Falls is separating departments into teams and sanitizing work spaces twice a day in an effort to keep essential services operating for Scenic City residents.
City Manager Jody Anderson said Friday that he has directed employees in some city departments to split into two teams that can operate independently to prevent the spread of COVID-19 and to ensure that services can still be offered should a city employee become ill and expose coworkers to the virus.
"It's the city's desire to make sure we're doing everything we can to make sure trash will be picked up, water and wastewater will be available to citizens and to make sure the police department, fire department, and ambulance crews all have personnel to make sure we're taking care of residents during this very trying time," Anderson said.
Anderson said each department head has put together a plan for carrying out their duties.
"We're also looking at worst case scenarios for water, wastewater and trash pickup if the whole department goes down," Anderson said. "Can we bring in people from other departments and continue to provide services?"
Anderson said the city has hazard mitigation plans in place, and they may note a pandemic, but the measures implemented this week – closing the library and City Hall, and splitting departments to avoid mass exposure – don't come from those plans. They've been developed this week as the situation has developed.
"This is something that probably has caught all forms of government a little off guard," he said. "Luckily at the local level we're able to make really fast decisions and change and adapt basically overnight."
City employees – even those in the shuttered City Hall and Barlow Library – are still working, but traffic is limited to only those employees who work there. Parks and Recreation Department staff are repairing picnic tables and planning a revamp of the city's mini golf course. Library personnel are undertaking planned projects at their facility. And if anyone runs out of work, Anderson said there's more to be done to prepare to move City Hall to its new building this summer. That includes scanning and digitizing city documents that date back to the 1860s.
Building and Zoning Director Joedy Dennis, who has taken on the role of city safety coordinator, said in-person meetings have been suspended and replaced with email and phone calls. In addition, Dennis has implemented a safety campaign.
"It's based off of a three-phase motto that I developed. Be educated, be flexible and be clean," Dennis said. "We're trying to minimize panic by focusing on being educated, being flexible and being clean."
While the plan to split departments works well for some, like water, wastewater and sanitation, it's more difficult for the police, fire and EMS crews.
"We've closed the fire department to any casual visits by family members or people who do not have business at that time," Anderson said of the building that houses both the fire and EMS departments. "On a normal basis only the EMS personnel will be there, and the fire chief and possibly one of his assistants. In case of a fire, the fire department will respond."
EMS Director Corey Larson has implemented mandatory hand washing and sanitizing of the building and the ambulances. Beyond that, Anderson said they're doing the best they can to stay safe and healthy.
"Your police are still police. They'll respond to calls. Fire will respond to calls," he said. "Some of these folks will encounter uncontrolled situations and we'll do the best we can.
"We don't really have work that people can do from home," Anderson added. "So we're trying to isolate people in their departments and do the best job we can."