For 33 days, the staff at Hubbard Care Center worked around the clock as an outbreak of COVID-19 swept through the building. They spent 13-hour shifts in full protective equipment – masks, gloves, gowns and face shields – pushing themselves past dehydration, exhaustion and anything they previously thought possible, to fight against a virus that was relentless. By the time it was over, 38 of the center's 41 residents had contracted the disease, and 34 employees tested positive.
What started on Oct. 5 ended on Monday this week, when the outbreak was officially declared over. It's been 14 days since a resident there tested positive. Now, with the time to reflect on the last month, Administrator Angie Kuda-Bruns knows who to thank.
"It was community support and staff dedication and our residents' families," she said, speaking publicly for the first time since the outbreak was reported by the state on Oct. 12.
The first positive test at the facility was on Sept. 21, in a resident who days earlier had left for an X-ray and returned about five hours later. That person was isolated according to protocol and state guidelines, but that couldn't keep the coronavirus out of the care center. On Oct. 5 the nursing home reached the Iowa Department of Public Health's benchmark for an outbreak: three residents testing positive within a 14-day window.
"Then it really took off," Kuda-Bruns said. "Say you have a handful of residents test positive, and then a couple days later you have a handful of staff test positive. Then the staff are out starting their quarantine. You test a few days later and different staff test positive.
"It all went fast."
Hubbard Care Center, like other long term care facilities across the state, had prepared for this scenario. Staff there have spent months learning proper hygiene, training for COVID-19 responses, drafting plans and cross-training staff. Earlier this year, a portion of the building was walled off to create a six-bed COVID unit to quarantine residents. It was at capacity in a week.
"Eventually we made one whole hallway the COVID unit because everyone there had it," Kuda-Bruns said. But there was no containing the virus. It moved to another hallway and, eventually, throughout the building. Its last stop was the center's Alzheimer's unit.
As staff tested positive, they were sent home to quarantine. While some employees had symptoms, others remained asymptomatic. In some cases, because help was so desperately needed, the care center implemented "crisis staffing" through which COVID-positive staff who were asymptomatic were able to work with COVID-positive residents. But that didn't solve the staffing shortages. Kuda-Bruns said employees covered for each other, working 12- and 13-hour days, seven days a week until quarantined staff had recovered and could return to work. Some ill employees were out of work for as many as 20 days. Staffing schedules, which are usually done a month in advance, were drafted day-to-day, and sometimes even hour-to-hour.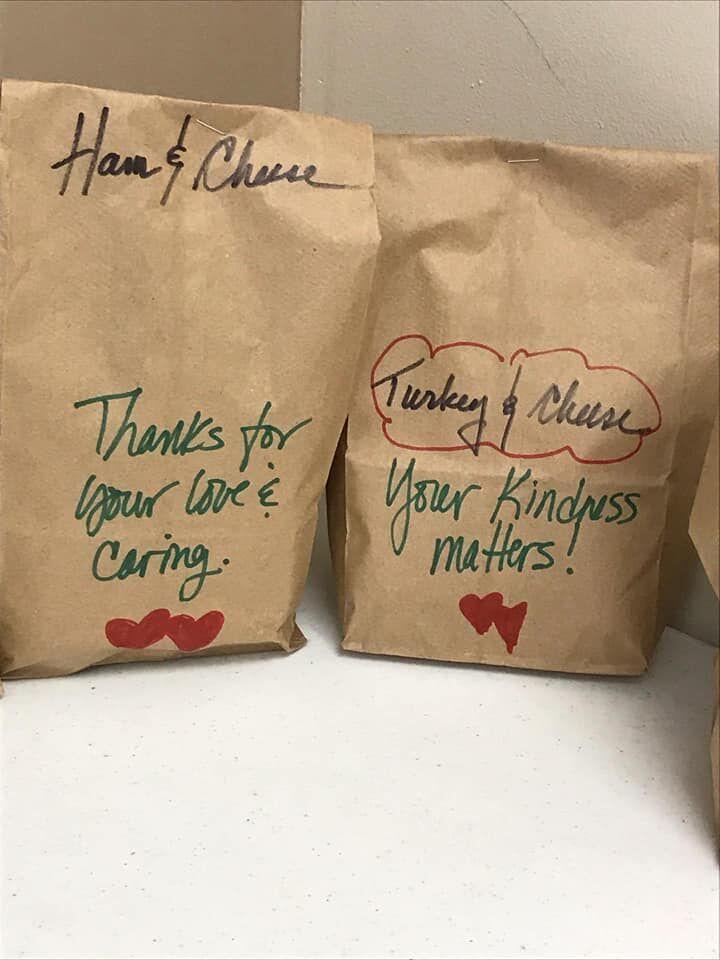 As news of the outbreak spread, the community looked for ways to help. The obvious answer was food. Staff were so busy for so many hours, they didn't have time to prepare meals before their shifts, and they could only manage brief breaks from their PPE. Every day for four weeks, volunteers delivered two meals to the center: sandwiches, drinks, chips, bars, cookies. Kuda-Bruns said those deliveries made it possible for employees to eat, which gave them the energy to keep working.
"I just can't say enough how important it is to have a granola bar when you walk in the door when you know you have something to eat on the run," Kuda-Bruns said.
But it wasn't just the food that powered them.
"Every single bag had some sort of praise or some sort of encouraging message on every single meal," Kuda-Bruns said. "Just knowing that the community support what you're doing and with the little notes on the bags always helped."
There was other help, too.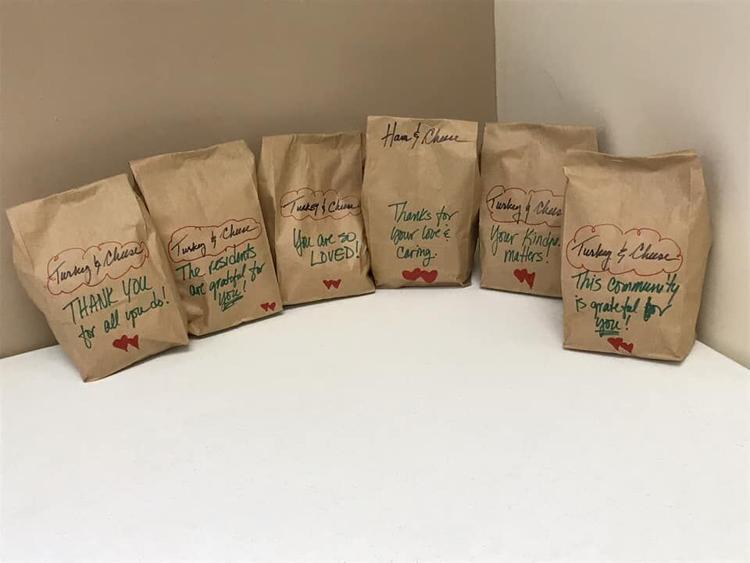 "I told people, 'Just keep praying for us,'" Kuda-Bruns said. "That's truly what we needed. God's not going to let us fail. He knows what tomorrow brings."
Kuda-Bruns is one of only a few employees who did not test positive. She worked 33 days straight through the outbreak. But it wasn't just her. Every employee pushed themselves because they knew their work was important.
"We worked our tails off," she said. "This is where our hearts are."
Looking back now, Kuda-Bruns said she and others know it was a lot. The experience was exhausting - mentally, physically and emotionally - but no one gave up.
"The situation in itself was overwhelming, but you can't let it overwhelm you," Kuda-Bruns said. "You wouldn't be able to get through it."
Part of the emotional toll was the loss of residents who often become like friends or family to care center employees.
"We lost a lot of people," Kuda-Bruns said. She doesn't have an exact number of residents who died as a result of COVID-19 - many of the people who died had comorbidities that may be listed as the ultimate cause of death. But others - Kuda-Bruns estimated around five people - would not have died if not for the coronavirus.
When the Hubbard Care Center outbreak began on Oct. 5, the state was reporting outbreaks at 61 care centers across the state. On Tuesday, 102 facilities were reporting outbreaks, including Grand JiVanté in Ackley. Kuda-Bruns said Hubbard Care Center sent some of its supplies - garbage and laundry bins and red bags - to Grand JiVanté to help them get through the coming days and weeks. She said Rocky Reents, the public health coordinator at Greenbelt Home Care/Hardin County Public Health, and Hardin County Emergency Management Coordinator Thomas Craighton were indispensable during the outbreak, delivering PPE and other supplies seven days a week.
Unfortunately, Kuda-Bruns predicts other care centers will experience outbreaks, in the weeks and months to come.
Being out and about in the community, Kuda-Bruns said she's noticed a perception in some people that Hubbard Care Center isn't a safe place or it didn't do everything it could to prevent the outbreak, or respond after it started. She said that hurts, and it's false.
"They don't understand that we were literally doing everything we knew to do and we still got it," she said of the facility's preventative measures. "We went seven months without it. It's not a matter of if, it's when."