In a proclamation issued last week, Gov. Kim Reynolds gave libraries in 77 Iowa counties permission to reopen their doors after more than a month of closures to slow the spread of COVID-19. But how should they go about reopening? And when should they do it? Those decisions were left up to each library. The result is a patchwork of plans, from curbside service, to full openings that allow access to books, computers and toys.
Eldora Library Director Joan Grothoff said she was caught off-guard by the governor's decision. It was part of a proclamation signed April 27 that allowed restaurants and retail businesses to reopen under some restrictions. But unlike the other openings, libraries weren't mentioned by the governor during her morning press conference. The news came a couple of hours later when the text of the proclamation was published online.
"I feel the governor was too quick to open us back up," Grothoff said last week, as she prepared to open her doors. "We're not ready. We don't have enough cleaning supplies - rubbing alcohol, wipes, hand sanitizer." While Grothoff has been able to buy some hand sanitizer and rubbing alcohol, she said the wipes are on backorder. Other area librarians have described similarly low supplies of cleaning products.
Nevertheless, Eldora's Grothoff said the library, which has been operating a curbside materials checkout program since the building closed on March 17, will open on May 15. It'll follow a schedule of gradual phased-in schedule of openings until the library is fully open to the public on July 13. 
The story's a little different in Iowa Falls, where the Barlow Memorial Library Board of Trustees decided on Monday this week to not open the library to foot traffic. However, it will begin curbside checkouts. The library closed down all of its services - and its doors - on March 17, although the building's community room has been opened to the public twice since then for in-person city council meetings.
"The board decided at this time they feel that we're not ready to open our doors," said Barlow Director Erin Andrews. She added that "the safety of our patrons, staff and families is our highest priority."
All local libraries said they are using state guidelines for sanitizing materials as they're returned to the library - and all are requiring that materials be returned in drop boxes. Libraries' staffs collect the materials carefully - while wearing gloves. They wipe off the outside of the book or other material with rubbing alcohol or a disinfectant wipe, and then leaving that material to sit for anywhere from 72 hours to a week. That, said Grothoff, means the turnaround - especially for popular books - is a little slower.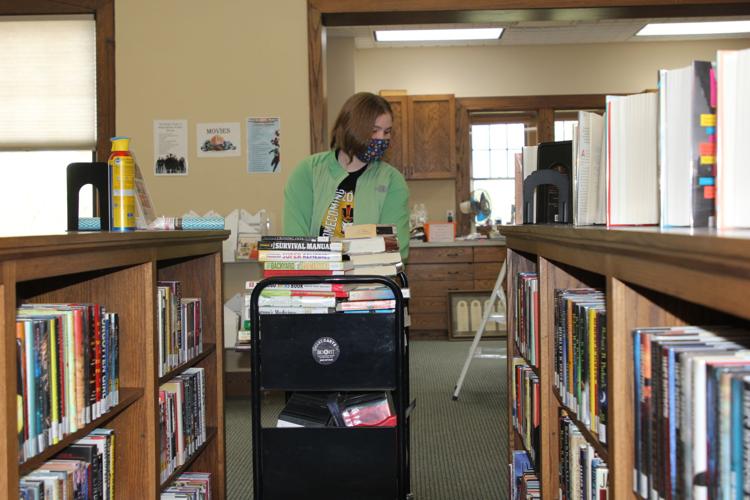 Lisa Liittschwager, director of the Dr. Grace O. Doane Public Library in Alden, said her staff - like those at the other libraries - has been busy cleaning during the shutdown. And that won't stop now that the doors are reopening.
"It'll be challenging, it'll be different," she said of welcoming the public back to the building under the heightened social distancing and hygiene guidelines. "But I am going to be happy to see patrons again."
And, Liittschwager cautions, the library will be a different place than it was before, when students gathered one early dismissal days and patrons lingered to read materials.
"This is not for social gatherings," she said last week.
Being closed hasn't been all bad for the libraries' staffs. They've spent the last six weeks cleaning, taking on long-delayed projects, and teaching patrons how to use online catalogs to request books, and e-book checkout services. Grothoff said her staff has also reached out to elderly patrons by phone to check in on them.
Now, as libraries - a community gathering place - open their doors, they're doing so cautiously, with the safety of their patrons and their employees in mind.
"We want our patrons to come back," Grothoff said, "but in the safest way possible."
Hardin County area libraries' plans for reopening are as follows: