While popular community hubs like public libraries remain closed due to the novel coronavirus pandemic, a few area directors are finding ways to stay connected to patrons.
When COVID-19 forced libraries to close their doors to the public, Alden Library Director Lisa Liittschwager said her staff immediately began to shift toward promoting the library's online resources.
Those updates include information about how to access the library's books – physical copies, ebooks and audio books.
The Alden Library is also offering a virtual after-school program activity for youth every Wednesday. That weekly activity has replaced the in-person program that was offered before the pandemic.
"We are so used to seeing people come into the building," Liittschwager said. "It's just way different to socialize with them in person. This has been a challenge for sure, but it was important for us to provide library services."
To begin online activities for the after-school program, the Alden Library offered a Lego challenge last week. This week, a craft activity includes a creative way to use an item that's garnered a lot of attention during the COVID-19 crisis – toilet paper.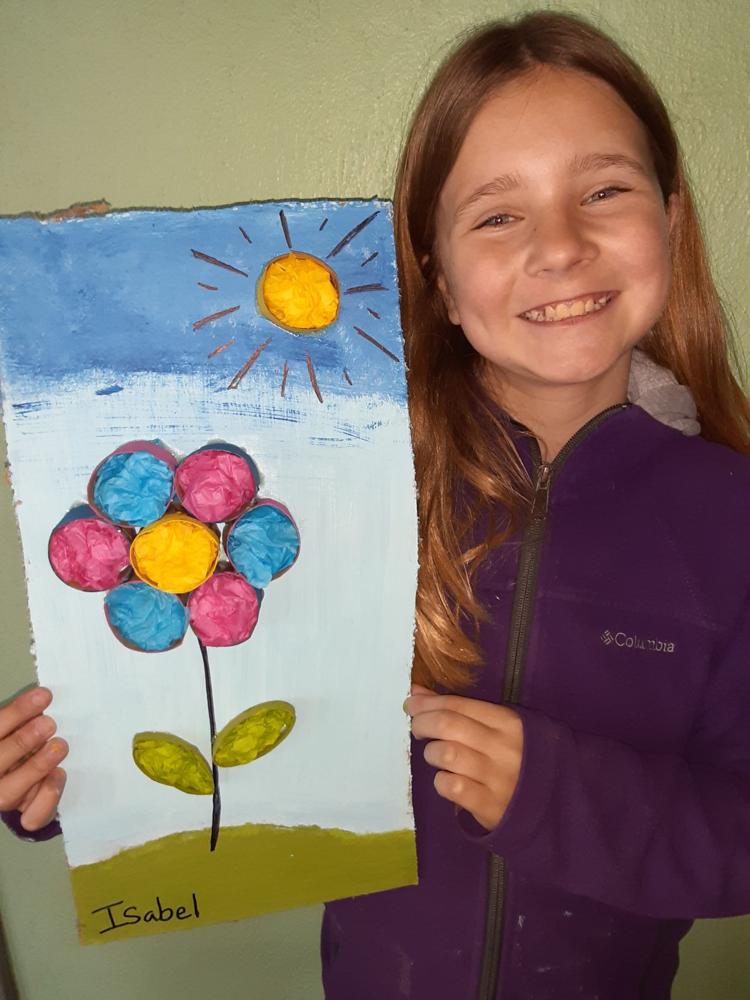 Kids were asked to use old toilet paper rolls to create works of art.
Liittschwager said participants post their submissions on social media or email them to the library. Weekly winners are selected as a means to keep more kids involved.
In the near future, the Alden Library director said one option is to create at-home scavenger hunt activities as well.
The Alden staff had been visiting Alden Elementary to read to the students once per month. In order to keep that activity going, Liittschwager said the library delivered books for March, April and May so that kids could have them in case the closure was extended through the remainder of the school year.
Liittschwager said the Alden Library received copyright permission from Usborne, a company that publishes children's books, that will allow them to post videos of staff and volunteers reading to the kids on the library's Facebook feed. She said the videos must be removed from the feed by mid-July.
Iowa Falls Library Director Erin Andrews said the Robert W. Barlow Memorial Library is not currently offering any scheduled programming, but children's librarian Rebecca Wood is keeping an active presence on social media by creating and sharing videos.
"We try to stay engaged as much as we can just to remind people that we are and will still be here when all of this situation ends," Andrews said. "Checking in with kids via prerecorded videos from our children's librarian. Maybe a story hour online from publishers rather than us doing it."
Andrews said she recently participated in a webinar with the state children's librarian. Those types of sessions have also sparked ideas for programming if or when the pandemic extends into the summer and fall months.
The summer is an important time for area libraries because of the summer reading program. Both Andrews and Liittschwager said they are in the process of making plans despite not knowing when their facilities may re-open to the public.
"I think we all realized this is a whole new ballgame this summer. We may create some reading challenges that can be done at home. Everything is a work in progress," Andrews said.
Liittschwager said the Alden Library is also looking into some adult programming online, but that may depend on how long the pandemic lasts. For those people who are not able to get out and about, Liittschwager said the library is offering a form of curbside service. People call the library and request a specific book, and a member of the staff will leave the book outside the front door to minimize contact.
The Alden librarian admitted that her patrons are going through a lot more books as families are forced to hunker down at home due to the coronavirus.
"We are checking out a lot more books. Patrons going through them much quicker," Liittschwager said. "So if someone needs something, call us to make arrangements."