Hardin County saw continued rapid spread of COVID-19 over the last week, mirroring trends at the state and national levels. And while the number of new cases is slightly down from previous weeks, it's still well above the threshold used by public health officials to determine dangerous spread of the disease.
New positive tests over the last week pushed Hardin County to 1,057 cases since testing began in March, passing the threshold of 1,000 total positive tests. Between Monday, Nov. 16, and Monday, Nov. 23, 156 Hardin County residents tested positive for COVID-19. The previous week, there were 196 new cases, and the week before that there were 147 new cases.

Of the 1,056 total cases as of Monday morning, 469 of those people are classified as "recovered" and there have been 10 deaths. That leaves 578 people currently infected with the disease, according to the state's coronavirus website.
Hospitalization numbers are also still very high. As of Saturday, 11 Hardin County residents were hospitalized with COVID-19 – the most since the state began reporting county level hospitalizations earlier this year. Statewide, 1,333 Iowans are hospitalized. That's a decrease from an all-time high of 1,527 hospitalizations on Nov. 17, but still above the threshold that prompted increased mitigation efforts by the state.
Last week, the Hardin County Sheriff's Office reported four of its jail detainees had tested positive for COVID-19. On Monday morning, the Sheriff's Office reported that the entire jail population was tested and three more detainees were positive for the disease, increasing the total number of infections to seven. It reported that "all mitigation procedures remain in place."
Schools prepare for holiday break
Thanksgiving is this week, and public health officials are advising the public to avoid gatherings that would put them in close contact with people outside their household and could lead to further spread of COVID-19. Many schools are asking students, staff, families and communities to heed this advice, or prepare for virtual learning should case numbers continue to increase.
Last week, South Hardin Schools Superintendent Dr. Adam Zellmer published a video on Facebook, imploring the community to stop the spread of COVID-19 to keep students in school.
"I know Thanksgiving is coming up and we've made so many sacrifices since last spring, but we are getting closer and closer to a vaccine. I can see the light at the end of the tunnel," he said in the video. "But right now we really do need to consider what those gatherings look like, what our Thanksgiving looks like. If we don't, I'm afraid that when we come back from Thanksgiving we might be in a position where we're not going to have a choice to shut down, we are not going to have the staffing to be able to successfully and safely run a school."
Iowa Falls and Alden schools started a hybrid learning model next week, with plans to continue with it until the winter break on Dec. 22. The plan also canceled all classes during Thanksgiving week.
On Friday, local school districts released updated COVID-19 infection numbers. The numbers do not distinguish between COVID-19 cases in students and staff. The following new case counts were reported for last week:
Iowa Falls-Alden: 14
South Hardin: 10
AGWSR: 2
Ellsworth Community College: 3
As of Monday morning, Hardin County's 14-day positivity rate - the number of positive cases over the last 14 days divided by the total number of COVID-19 tests over the last 14 days - was 20.7 percent. 
ZIP Code numbers updated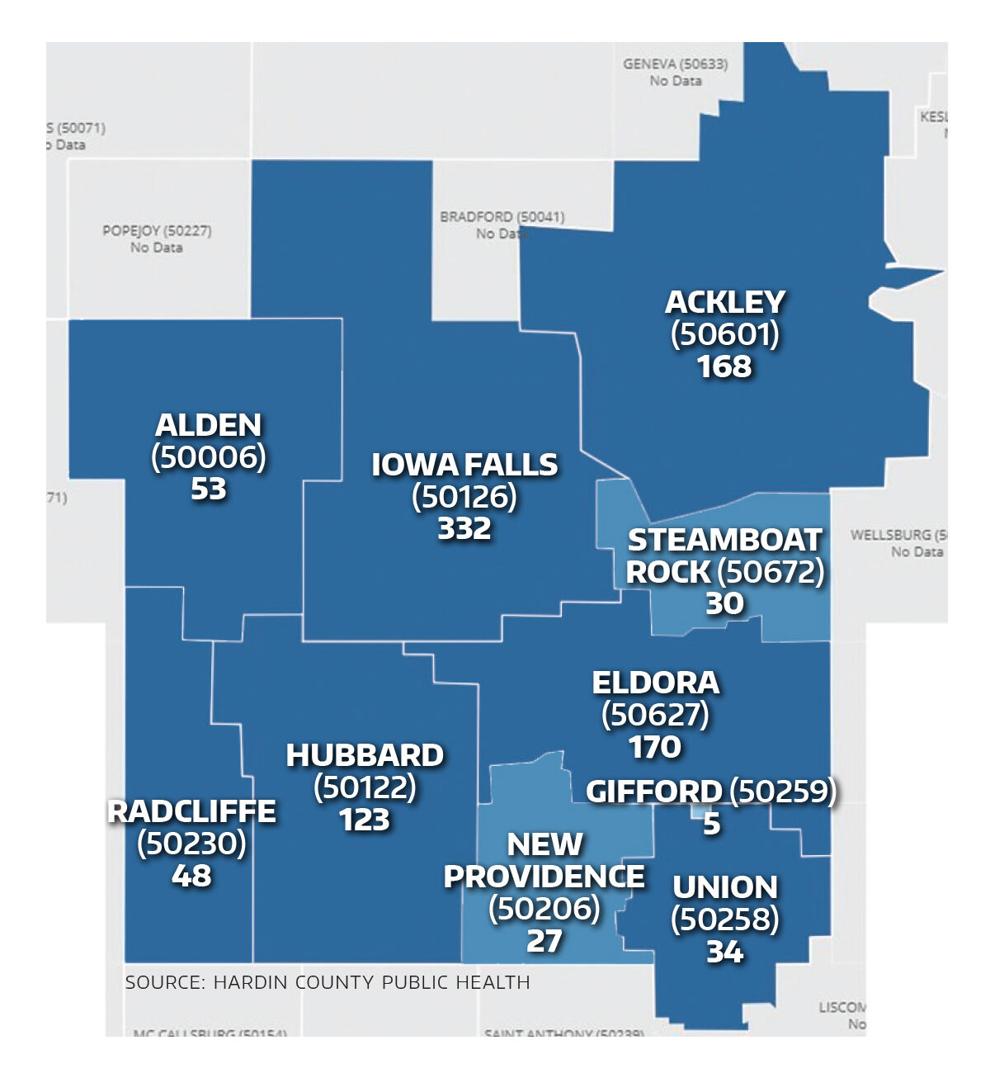 Also on Friday, Greenbelt Home Care/Hardin County Public Health released new infection data per ZIP code in the county. The updated list reports a total of 502 cases, while public health officials were reporting a total of 990 Hardin County cases at the time it was updated. The total number of cases on the map has never matched the number of total cases at the time of its release, and officials have not explained the discrepancy.
According to the data, the Iowa Falls ZIP code (50126) has seen the most cases at 332, and it saw the greatest number of new cases in the last week, with 67. However, that ZIP code is also the county's most populous. It contains about 36 percent of the population, and has seen about 33 percent of the COVID-19 cases. 
The Ackley (50601) and Hubbard (50122) ZIP codes have had the most cases proportional to their populations. Ackley's ZIP code has reported a total of 168 cases, and Hubbard has reported 123. However, both ZIP codes are also home to long term care facilities that have reported outbreaks of COVID-19. Hubbard Care Center's outbreak in October infected 38 residents and 34 staff members. And, as of Saturday, Grand JiVanté in Ackley had reported 34 infections, with 26 of those people having recovered.
Find more COVID-19 data on the state's coronavirus website.