School's out for a month. Churches have canceled services. Hansen Family Hospital is setting up a drive-through tent to test patients for COVID-19. For many people, the global pandemic hit home this week. And that concern was front and center at the Iowa Falls City Council meeting Monday night.
People arriving at the library's community room for the council's regular monthly meeting were greeted by City Building and Zoning Director (and city safety coordinator) Joedy Dennis. He welcomed each guest, asked them a series of questions about their travel history and health, and requested that they sanitize their hands before entering the room, which he had personally cleaned.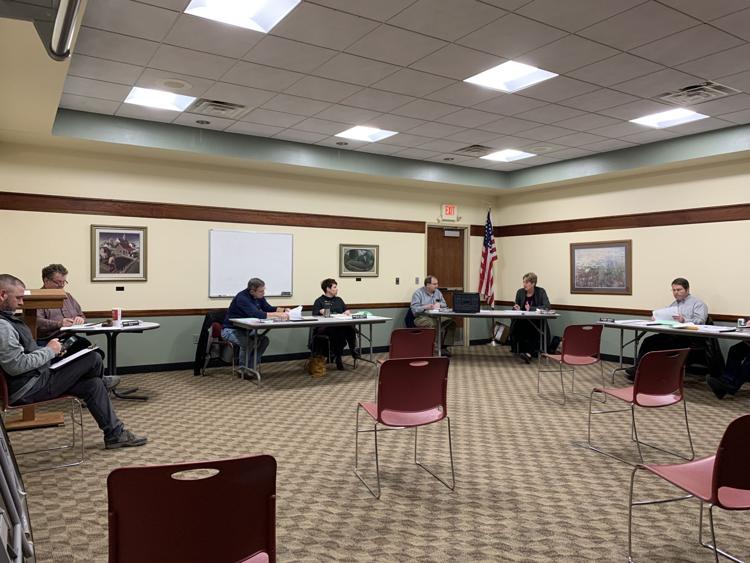 Inside, where two dozen people usually gather for the government meetings, the room was quiet. Chairs were arranged to maintain distances of five to six feet between members of the audience. The mayor, city council, City Manager Jody Anderson, Deputy City Clerk Jolene Liekweg and City Attorney Taylor Nederhoff were seated at five tables spaced out along two sides of the room, leaving space between the tables and the two people seated at each table. Other city department heads submitted written reports - none were in attendance.
And while there was no mention of coronavirus or COVID-19 on the agenda, the disease came up in discussion throughout the meeting.
Engineer Mitch Holtz, of Fox Engineering in Ames, was in attendance to report on the progress of a number of city projects. He thanked the city for the work it's doing to prevent the spread of COVID-19.
"I want to say I commend Jody (Anderson) and Joedy (Dennis) and the city for taking the action that you're taking for things like this, and that you guys are taking it seriously is a big step," said Holtz. I'm going to let my other city clients know this is the kind of thing that you guys are doing so they do it because I think this is smart. As a guy with a family, it means a lot."
Mayoral proclamation
Earlier on Monday, Mayor Gene Newgaard signed a proclamation declaring a state of emergency. In the proclamation, Newgaard requested that all retail stores limit the number of hand sanitizer, disinfectant spray and wipes and paper products (toilet paper, facial tissue and paper towels) that can be purchased in a single purchase to two.
The proclamation also prohibits gatherings of 25 or more people on public property or public right-of-way, and asks the police chief to enforce the ban. Violating the directive could result in a misdemeanor charge. Newgaard is also requesting that private gatherings of 25 or more people be avoided.
Newgaard said earlier on Monday that the proclamation wasn't being made because of any diagnosis in Hardin County - there has been no confirmation of the disease locally - but to protect the local population. That's especially the case with the request that retailers limit purchases of key products, especially after many local stores saw their supplies depleted Monday morning.
"I think it's a good idea for us as citizens of Iowa Falls to be making sure that all of our residents are able to get the items that they need to protect themselves from contracting COVID-19," Newgaard said.
Library closure
The Barlow Library announced Monday afternoon that it would be closed beginning Tuesday, for at least a month, to prevent the spread of COVID-19. Other libraries - in Eldora and Alden - announced similar closures later on Monday. But council member Rob Wohlert wondered at the council meeting whether that was going a step too far.
"There's no March Madness on TV, there's not even NASCAR. There's nothing for people to do. If we take away the accessibility of even some reading for people, we've really shut down a lot," Wohlert said. "If somebody called in and wanted a book, why couldn't here be a way to transfer some books? They could pick the book up at the entrance."
Anderson said he'd discuss the suggestion with Barlow Director Erin Andrews. In the meantime, the library's e-book lending program, Bridges, is available to anyone who has a local library card. (Find more information about that free lending service here.)
Anderson stressed that safety is his top concern.
"We're going to try to operate as we can and adjust and adapt as we need to," the city manager said. "Everything will adjust and try to make sure our folks are safe and we keep the general public safe."
Anderson said even though full-time city employees may not be interacting with the public, they will be kept busy. Projects can be undertaken, and if those are completed, there are documents at City Hall that need to be scanned and digitized.
"We'll make sure we keep everybody busy," he told the council. "We may be doing different jobs in different areas."
Project uncertainty
The council discussed several projects at its meeting on Monday. Some are wrapping up, while others have been bid, and at least one other - improvements to intersections in the Brooks and Lawler roads and River Street area - is just about to go out for bids from contractors. But Mitch Holtz, of Fox Engineering, cautioned that in these uncertain times it's not clear how bid prices may be affected by uncontrollable factors. Some of those include material prices, while others have to do with staffing of contractors' crews.
Holtz said social distancing and the closing of schools and day cares could impact whether employees can work. And there are other issues too.
"Many of the contractors that work on these projects - especially ones like these - use migrant workers," Holtz said. "They usually figure out who's going to be working in April. So they're a little unsure yet how many workers they're going to get because of the Mexico border and some workers come out of Belize - they're not entirely sure how many employees they're going to have."
Holtz said he's been in contact with contractors about whether they'll bid on projects, and he's been assured they will, but he said there's a lot of uncertainty right now, and bid prices could come in much higher than engineers' estimates.
"We don't know how things are going to go. We don't know if contractors are still going to bid work," he said. "They're telling me they will, but things have moved really fast in the last week. I think everyone can appreciate that. I'm going to keep my thumb on things. We're still gong to move forward to bid this project, I just don't know how things are going to turn out."