Hardin County's COVID-19 infection rate has climbed over the last two weeks, continuing a trajectory that began in May after two months of minimal coronavirus activity. And, according to data released by the federal government, hospitalizations in the state are also on the rise.
The Iowa Department of Public Health released its weekly COVID-19 report on Wednesday. According to the data, during the week of May 25-31, Hardin County recorded 28 new cases of COVID-19. The week before, there were 23 new cases. Those counts are up from the two previous weeks when there were 10 and 16 new cases, respectively, and they represent a sharp increase from April and early May, when there were single-digit new case reports each week.
It's likely that even with the recent increase in numbers, the data are still not painting an accurate picture of virus activity in Hardin County and the rest of Iowa. Positive at-home antigen tests, which have become a convenient way to check for illness, are not included in the state's disease reporting. There is no way to report those test results to the Iowa Department of Public Health.
The state reported no new deaths of Hardin County residents from COVID-19 in the last two weeks. The last local death was reported on March 30. The current Hardin County death toll from coronavirus stands at 62 people.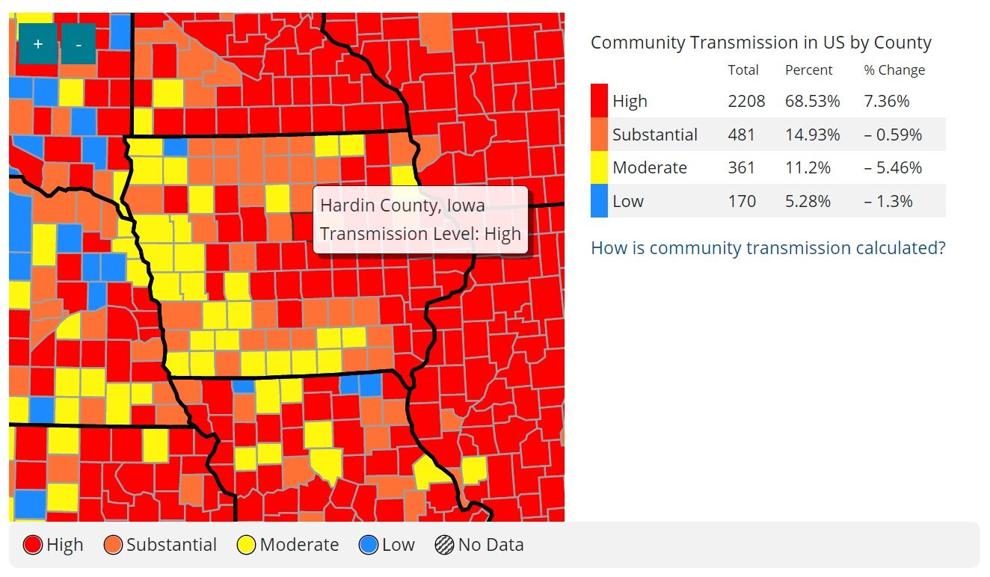 The recent uptick in COVID-19 cases has qualified Hardin County as an area of high community transmission of the virus, according to the Centers for Disease Control and Prevention. A county must have 100 or more new cases per 100,000 population in a single week to qualify as an area of high transmission. Hardin County's 23 cases May 18-24, and 28 cases May 25-31 equate to 136 and 166 cases per 100,000 population, respectively.
COVID-19 hospitalizations in Iowa rose over the last week. On May 18, the U.S. Department of Health and Human Services reported that there were 145 people hospitalized in Iowa for treatment of COVID-19. Last week, that number had fallen slightly to 139, but this week it was back up to 180.