Hardin County's COVID-19 cases climbed again over the last week, continuing an upward trend that began in early November and has now reached levels not seen since this fall, when a virus surge infected hundreds of local residents.
According to the Iowa Department of Public Health's update of the state COVID website on Wednesday, there were 78 new cases reported during the week of Dec. 1-7. That increases the county total to 2,970 since testing began in March 2020. Of those 2,970 cases, 2,720 people are reported as having recovered and 53 Hardin County residents have died of COVID-19, leaving 197 known active cases of the disease as of Tuesday this week. That's up from 143 active cases last week.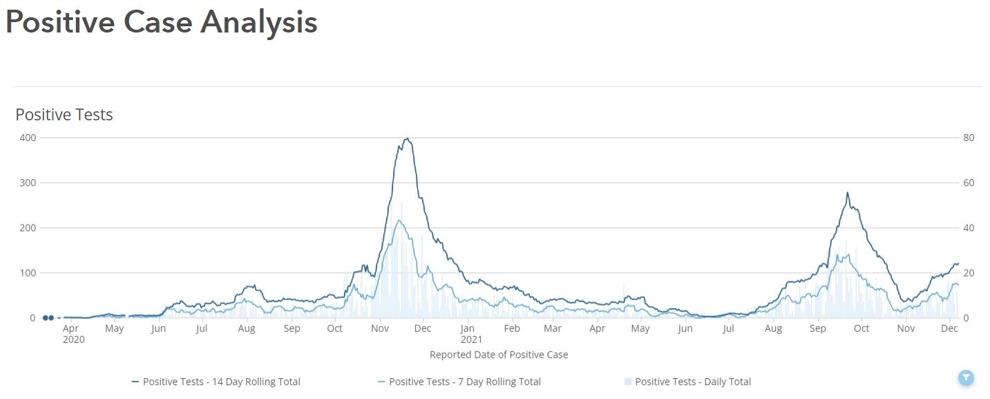 The last coronavirus surge reached its peak on Oct. 5 when there were 425 known active cases of the disease in Hardin County. As infections decreased, the county got to a low of 89 active cases on Nov. 9. But since then, it's been on the rise.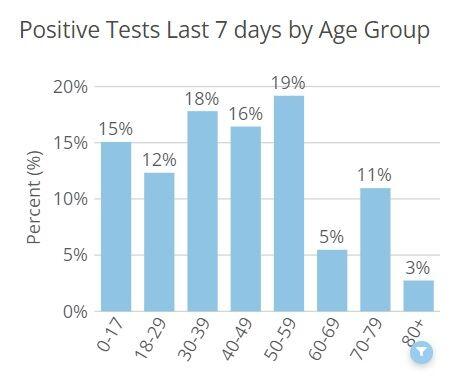 Hardin County's 78 new cases over the last week equate to 462 per 100,000 population, which qualifies the county as an area of high transmission, according to the Centers for Disease Control and Prevention. The CDC recommends that everyone – regardless of vaccination status – wear face masks when they are inside public places in areas of high transmission.
Hospitalizations for COVID-19, which have also been on the rise, continued their climb over the last week. The state reports that as of Tuesday, 777 people were hospitalized in Iowa for treatment of COVID, up from 721 the week before. The state reports that of the people hospitalized for treatment of COVID-19, 73.8 percent are unvaccinated.
In the north central region of Iowa, which includes Hardin County, 49 people were hospitalized on Tuesday, down from 60 hospitalizations the week before. It is unknown how many Hardin County residents are hospitalized; the state is no longer collecting or publishing the number of hospitalizations per county.

The number of Hardin County residents who are fully vaccinated increased over the last week by 111. It's the biggest single week increase in vaccinations since late August, a change that may be the result of children age 5-11 receiving their second vaccine dose. The Pfizer vaccine was approved for use in younger children on Nov. 4. That vaccine requires a second dose three weeks later. As of Tuesday, a total of 8,763 Hardin County residents – about 52 percent of the total population – were fully vaccinated. The state reports that 55.6 percent of Hardin County's residents have received at least one dose of COVID vaccine. Hardin County falls short of the statewide vaccination rate. IDPH reports that 54.4 percent of Iowans are fully vaccinated.
ZIP code data released
The Eldora ZIP code saw the highest transmission of COVID-19 during the week of Nov. 26 through Dec. 3, according to data released last week by Hardin County Public Health. The local public health agency releases ZIP code infection numbers weekly on Fridays. The Dec. 3 report showed the Eldora ZIP code recorded 18 new cases in a week, which is 567 cases were 100,000 population. The second-highest transmission rate was in Hubbard, which recorded six new cases, which equates to 442 cases per 100,000 population.
The Iowa Falls ZIP code, which is the county's most populous, recorded 18 new cases of the disease in a week, which equates to 267 cases per 100,000 population. The Alden ZIP code, which recorded one new cases in seven days, was the only of the county's 10 ZIP codes whose transmission rate was less than 100 cases per 100,000.