Iowa's schools, which closed for four weeks beginning March 16 to slow the spread of the novel coronavirus, found out this week that they'll remain closed through the end of April. On Thursday, Gov. Kim Reynolds announced she was ordering the closure be extended through April 30.
Thursday's order was accompanied by additional instructions. Iowa school districts must inform the state what they plan to do for educational instruction during the extended closure: educate kids remotely (making it either required or optional), or offer no learning opportunities. Districts that choose not to offer education will have to make up missed school days later.
Educators weren't given advance notice of the governor's announcement, and some were caught off-guard.
"We're going to need a few days as a district to sort out what this information means," said Dr. Adam Zellmer, superintendent of the Eldora-New Providence and Hubbard-Radcliffe school districts.
In Iowa Falls and Alden, school administrators anticipated the closure may be extended, and began planning for it last week. On Thursday afternoon, they sent emails to families informing them of those plans.
"We have teachers planning units and we'll launch a website next week," said Tony Neumann, superintendent of both districts.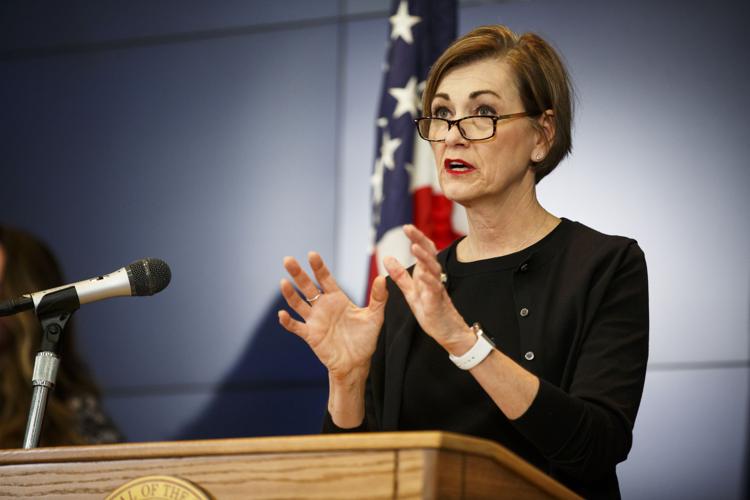 So far, Iowa Falls and Alden have not required participation in educational opportunities. Such a requirement, Neumann said last month, would force the district to provide services that it cannot make fully available. And besides, Neumann added, many families are just trying to survive this difficult time, which has been complicated by business closures and layoffs.
"My bigger concern is we probably still have families in crisis," he said on Thursday. "Either neither parent is working, or both parents are essential workers and they don't need more stress of educating their kids when they're already working full-time."
The IF-A plan
The state has presented districts with three options: provide required education online, complete with attendance, participation and grades; provide no education; or provide optional learning opportunities. Iowa Falls and Alden schools will go with the third choice.
Neumann said the districts' learning opportunities will be rolled out next week, but families should not expect it to look like traditional school. Instead, he described it as something similar to the high school's J-Term, which is built around project-based learning.
"At the elementary level there will be some home-based projects," he said. Examples include a unit on recycling, and another about chickens. "Some will be meeting online. It'll be self-paced."
The website will offer links to activities for all educational levels, from elementary to high school.
"We're doing a more hands-on approach, but leaving it voluntary just because not all kids have internet," he said. "We wanted to really make it about learning and not required stuff."
There will be offline components to the projects, and Neumann said the district will try to make hard copy materials available to students, perhaps at daily free lunch pickup locations.
And teachers will be reaching out to students to make connections - something Neumann said many are already doing.
High school students, many of whom are wondering about the fate of prom and graduation and their grades, got some answers through a video recorded by IFA Principal Kyle Hutchinson and his wife, IFA Student Success Coach Amy Hutchinson. Prom has been pushed back to Saturday, June 6, but if it can't be held that day it will be canceled. Commencement is still planned for Sunday, May 24, but if it has to be pushed back there are two alternate dates: Saturday, June 20 or Saturday, Aug. 1.
Neumann said district leaders are trying to roll with the punches and make plans that keep students engaged without adding stress to theirs or their families' lives. Look for more information to be distributed next week.
South Hardin
Zellmer, at South Hardin schools, said that district is also aware that pushing educational requirements could put families in a difficult position.
"As a district we're almost 50 percent free or reduced lunch," Zellmer said. "We know that many of our families don't have the technology to be able to be provided a sound education if it was provided completely online."
He said the district's first priority is making sure families have food, shelter and a place to sleep. South Hardin, like the other districts, will continue to provide free breakfast and lunch to anyone under the age of 18 daily. Beyond that, he said the planning is underway, and he'll be discussing the districts' options with administrators this weekend.
"We're going to try to weigh our options and try to collaborate with our school boards to decide what's going to be the best option for us at a local level, he said. "As we've talked about before, this is a marathon and not a sprint."
Like other districts, one of the main concerns is how to handle high school students' credits. That will be a question for the E-NP School Board.
"What are you offering credit for? What are you not offering credit for?" Zellmer said. "The governor and the head of the Department of Education continue to reiterate that that is a local decision.
"We need some feedback from the NCAA Clearinghouse," he added. "We need some feedback from our local colleges on what that means. There's a thousand different options out there."
The districts will be in touch with families about next steps, but in the meantime, he said the schools have another request based on guidance from the Centers for Disease Control.
"I'm going to ask that not families, no students use our playground equipment," Zellmer said.
AGWSR still planning
Like others, the AGWSR School District received Thursday's news at the same time as everyone. Superintendent Erik Smith said district leaders are working on next steps and a plan for the coming weeks.
"We are just getting the information and guidance now," he said.