It's finally here.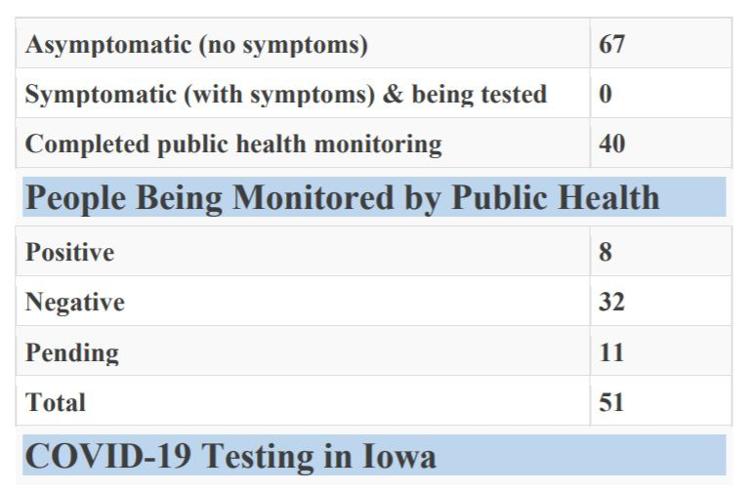 Over the weekend, Gov. Kim Reynolds confirmed that the first three cases of 2019 novel coronavirus, now known as COVID-19, had been found in Iowa. By Monday evening there were eight confirmed cases.
Locally, health officials are giving the same advice to Hardin County residents as national experts. Jill Schafer, Hansen Family Hospital RN and infectious controls specialist, advised people to wash their hands frequently, cover coughs and sneezes with a tissue or an elbow and stay home if you're ill.
Schafer said right now the hospital is following the lead of the Iowa Department of Public Health, the CDC and other national agencies. Seven of Iowa's eight cases of COVID-19 are located in Johnson County, and one is in Pottawattamie County. Seven of the eight infected individuals had recently returned from a cruise that traveled through Egypt.
Schafer said anyone experiencing symptoms, which include fever, coughing and shortness of breath, should call their doctor before simply showing up at the clinic or Emergency Room.
"The questions we're really gearing up on are the travel questions," she said. "When someone calls in to schedule an appointment we're asking if you've traveled to China, now we're doing South Korea, Italy, Iran. The registration and scheduling staff have an algorithm, which is a step-by-step determination of what we need to do with that patient."
Schafer said precautions can be taken to ensure the safety of health care providers and other patients if it's determined that COVID-19 is a possibility. Some of those precautions, like a negatively pressured examination room, take time to set up. A negative pressure exam room uses air pressure to allow outside air into the room, but prevents internal air from leaving the space.
"Call them first and if they feel it is a possibility that's what you have they will direct you on what the next steps are because we can do things differently to get you in the hospital safely," Schafer said.
Rachel Loyd, Greenbelt Home Care's public health nurse, said preparations are about getting everyone at the county level organized and on the same page.
"We've been in contact with our county emergency manager about inviting all health partners to discuss what our plan is going forward," Loyd said. "That would include Hardin County Public Health, Emergency Management, long-term care facilities, hospitals, doctors' offices. We do have a really good working relationship with them because we've worked together on things in the past."
Local school districts are keeping a close eye on the situation, but are not considering any drastic measures at this time. Iowa Falls and Alden sent an informational letter to parents explaining what is known about the virus, how it spreads and what individuals can do to stop the spread. 
Dr. Adam Zellmer, superintendent of the Eldora-New Providence and Hubbard-Radcliffe school districts, said the plan is to follow the procedures that are already in the districts' Emergency Safety Plan.
"That was an all facilities safety plan and follow our current board policies that are already written to deal with situations like this," Zellmer said. "At this point, when it becomes a concern or we have a reason to believe we need to enact that protocol, we will. Right now we're handling it just like we would every winter when flu season comes around."
Zellmer said he and staff watch the webinar put out every week by the Iowa Department of Education and the Iowa Department of Public Health to stay up to date on the latest news around the virus.
Tony Neumann, superintendent at Iowa Falls and Alden, said the informational letter sent to parents was the result of a suggestion in last week's webinar. He said they talk as an administrative team in an effort to stay proactive and educate people. 
"We have some worries about what's going to happen with spring sports, but we'll get guidance from the state on that," Neumann said. "They're constantly providing us with updates. We're reminding, especially our littlest ones, about proper hand washing and things like that."
Neumann said he's not aware of anyone in the district keeping their kids out of school due to fear of coronavirus infection.
COVID-19 is much more dangerous for the elderly and those with underlying health issues said Lori Krenos, Hansen Family Hospital's chief nursing officer. For example, of the 705 people quarantined on the Diamond Princess cruise ship last month, only six died and they were all more than 70 years old. Stay informed by visiting the Iowa Department of Public Health's COVID-19 webpage.