When the Food and Drug Administration and the Centers for Disease Control and Prevention announced last week that administration of the Johnson & Johnson COVID-19 vaccine should be halted, Colette Venteicher thought her staff would see a break after three weeks of giving shots at a breakneck pace. But that feeling lasted only two day. Venteicher, who's received 1,200 doses of the Johnson & Johnson vaccine and had no reason to believe she'd get anything different, received 500 doses of Moderna's COVID-19 vaccine late last week.
"I thought it was a mistake," she said on Friday. "They told me Moderna is so hard to get, and we're not equipped for Pfizer."
But it didn't take long for her to shift gears.
"I said 'We've just got to have a game plan. We'll start putting them in arms as fast as we have to.'"
Venteicher owns Clinic Pharmacy, which is located inside Hansen Family Hospital. Since March 25, she and her staff have administered 964 doses of Johnson & Johnson's vaccine. And she has another 235 that are ready to go as soon as the CDC and FDA complete their investigation into adverse reactions in six of the more than 7 million people who received the Johnson & Johnson vaccine since it was approved by the FDA on Feb. 27. Dr. Anthony Fauci, the country's top infectious disease doctor said on Sunday that he thinks a decision about the Johnson & Johnson vaccine will be announced later this week.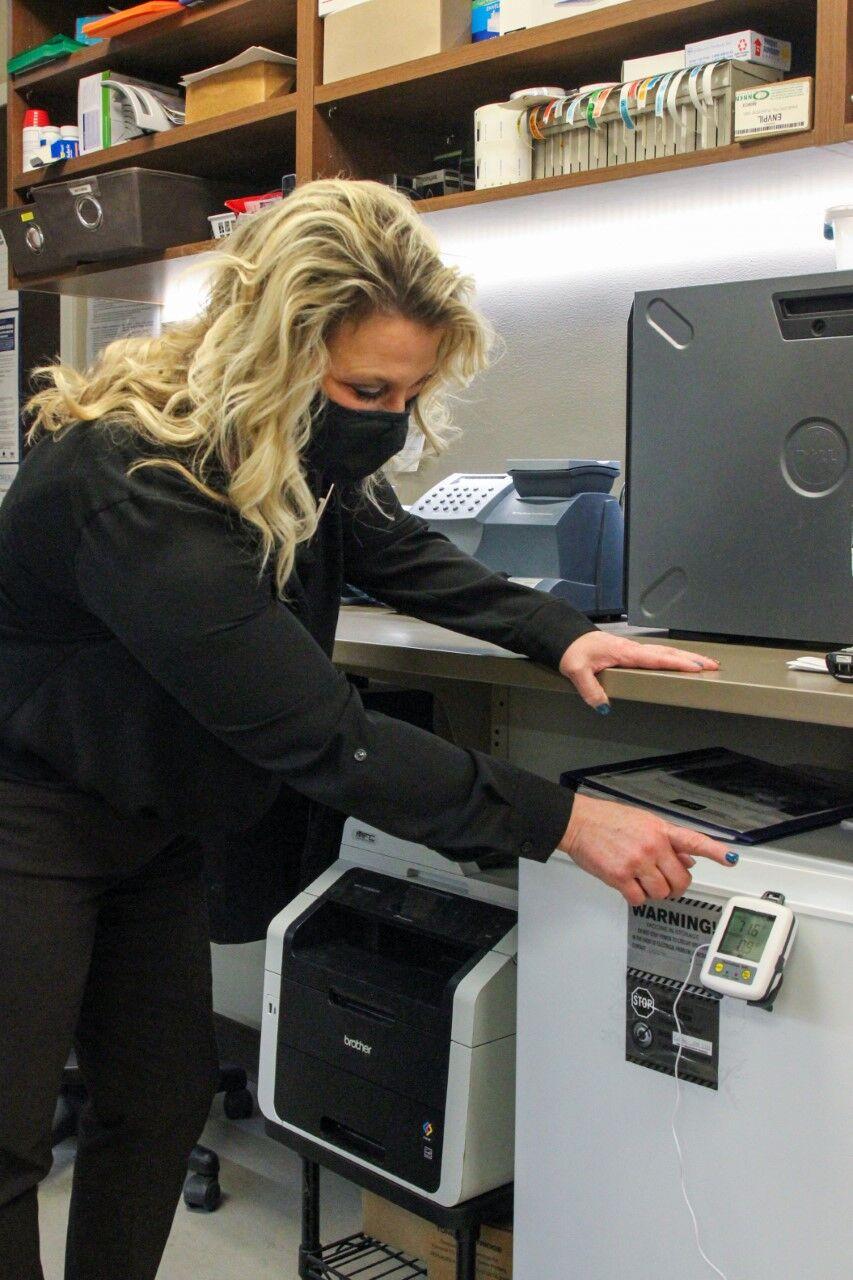 Venteicher and her staff of five vaccinators have been working seven days a week, from morning until evening, administering the single-dose vaccines to people from Hardin County and beyond. Until Hardin County Public Health received its first shipment of Johnson & Johnson vaccine two weeks ago, Clinic Pharmacy was the only location in the area administering the single-dose vaccines. Venteicher said many of the doses went to Hardin County residents, but the pharmacy has also seen a lot of out-ot-towners.
"We had loved ones of Hardin County residents and people who grew up here but live in Cedar Rapids," Venteicher said of the people they'd seen come through their vaccine clinic. "People who came from Des Moines told us they'd heard from a friend who heard from a friend who heard from a friend that we had J&J doses."
The pharmacy capitalized on those visitors from out of the area. Venteicher's husband, Brian Venteicher, who took on the job of checking people in for their vaccine appointments, used the opportunity to tell visitors about Iowa Falls – recommending restaurants and shops in the area. Chamber/Main Street provided brochures and the hospital put up a display to advertise its services.
"We've been trying to promote the hospital as well as the Scenic City," Colette said.
Venteicher said her staff had to waste just one dose of Johnson & Johnson vaccine when someone who'd had an appointment didn't show up to receive their shot, and the pharmacy couldn't find a replacement recipient in time. Each vial of Johnson & Johnson vaccine contains five doses, and can last six hours after it has been punctured.
Clinic Pharmacy's administration of the Moderna vaccine is going to be a little different, in part because of the what they learned administering Johnson & Johnson, and also because Moderna requires two doses 28 days apart, which requires two appointments.
Venteicher said the pharmacy's website will open for appointments for the Moderna vaccine on Saturday, April 24, and appointments can be made beginning April 27. The pharmacy will be administering vaccines on Tuesdays, Wednesdays and Thursdays from 10 a.m. to 3 p.m., and Saturdays from 10 a.m. to 1 p.m. Those are shorter hours than had been available for the Johnson & Johnson doses, but there will be more appointments available per hour. As was the case before, if someone needs to make an appointment for a different day or time, the staff at the pharmacy is willing to adjust. Visit the Clinic Pharmacy website here, or call 641-648-3733.