One year ago today, a test confirmed Hardin County's first case of COVID-19. In the 365 days since then, the virus has infected at least 1,741 local people and caused the deaths of 39 Hardin County residents. All six of the county's long term care facilities reported outbreaks of the disease, and students and teachers across five school districts and Ellsworth Community College were sent home to recover from the virus or quarantine after an exposure. Our medical providers worked tirelessly, and during a surge in cases in November, our hospital filled with patients suffering from the effects of COVID-19.
Working parents juggled canceled school days with work requirements, employees lost work hours or their jobs. Many businesses were forced to shutter, at least temporarily, and some are finding that it'll take years to recover. If that's even possible.
How does a community commemorate such an unforgettable disruption to its way of life? How do we appropriately mourn our losses while simultaneously working to move forward?
Last week, the Times Citizen asked readers to share their pandemic memories. Whether it was a moment in time, or the entire year, we want to create a living time capsule of stories that will endure beyond us and give future local historians a glimpse into what it was like to live through a pandemic in rural Iowa.
Below you'll find memories that were shared with the Times Citizen. Some are published in their entirety, while others are excerpts of a longer memory. All of the memories are printed in full at timescitizen.com. If you'd like to add your voice to the annals of the coronavirus in Hardin County, send them to skonrad@iafalls.com. Some may be published in the newspaper. All of them will be collected online.
***
'In his arms again'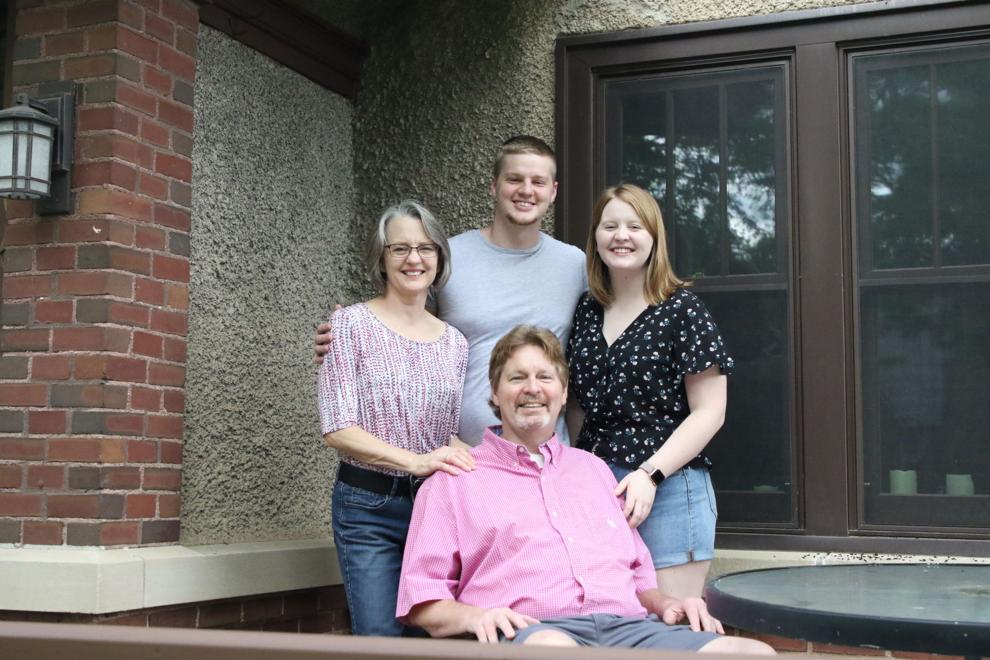 "As I reflect on the last year, May 20th stands out in my memory the most. On that day my husband, Justin, came home from Allen Hospital after a 55-day stay and a total of 64 days of fighting COVID-19. After all that time away from each other, with a full roller coaster of emotions, I wasn't sure how I would react when we finally got to see him. While he was in rehab, we talked about our emotions being somewhat 'flat' after all that we had been through as a family. When we arrived at Allen, employees lined the walls in the long entryway. We had no idea that they were also lining the walls of two more corridors which we couldn't see. After a few minutes of waiting, music began to play over the sound system and we could hear the beginnings of clapping. I instantly began to cry, knowing that Justin was making his way toward me and our children. It was overwhelming to be in his arms again and the tears of joy continued to flow! Thankfully Justin will get his vaccination on March 24, which is one year from the date he was tested for the virus, so hopefully we will never again have the need for the type of reunion we had last May."
Krista Weber, Eldora
***
'The longest and shortest year'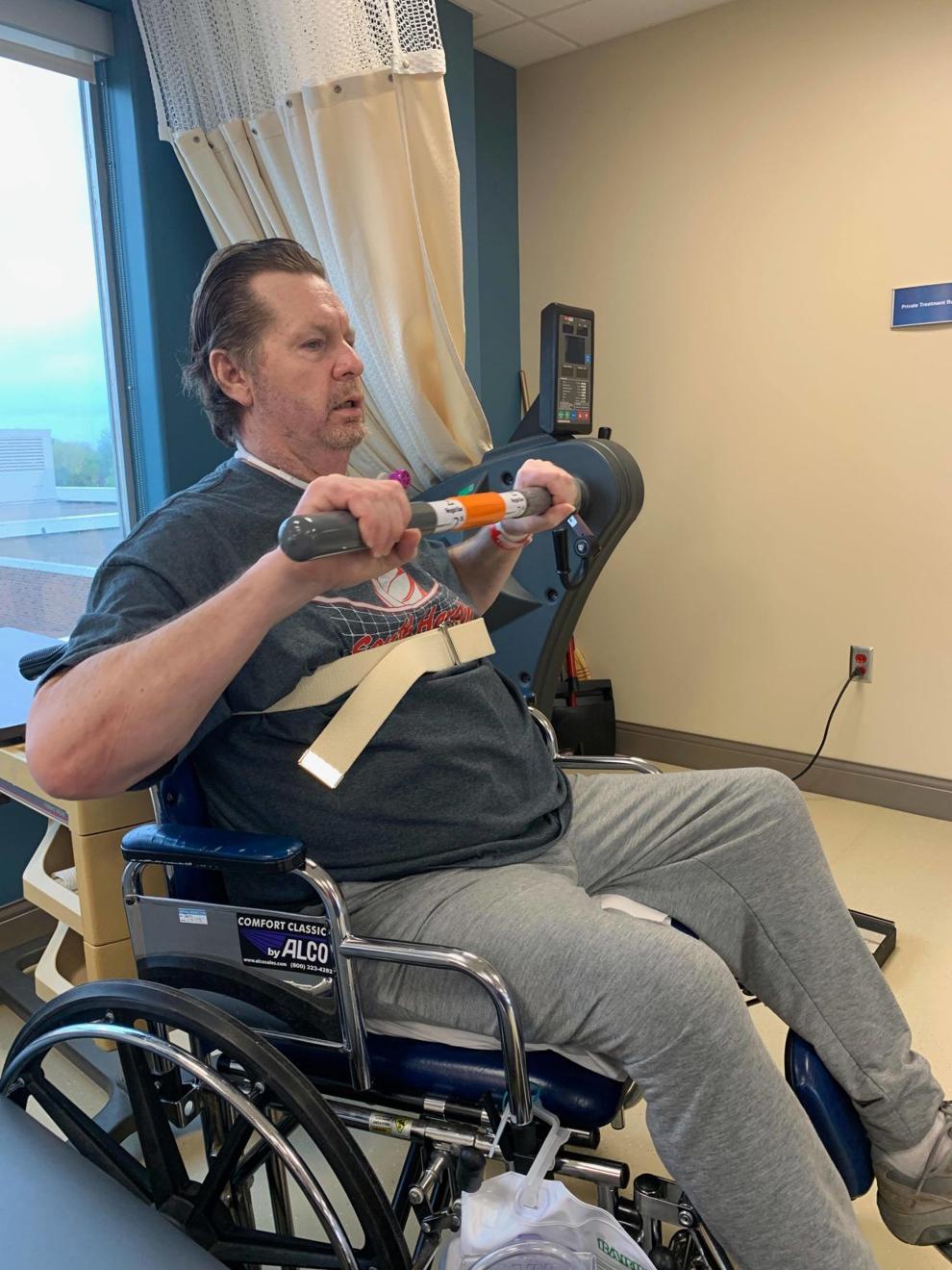 "Approaching the anniversary of the severe COVID-19 infection has left me with a number of lingering memories. The first memory is that I lost 46 days of memory from March 17, when I put myself to bed at home, until I became self-aware again April 29. That day I vaguely recall my first staggering steps with a walker and nurses as 'Eye of the Tiger' was being played. I bobbed a bit to the music. The 'night terrors' during the 17 days on the ventilator still arise occasionally. Seeing my wife and two children from the third floor of Unity Point Hospital for a few moments as I was being transported to Acute Inpatient Rehab was such a joy! Standing unassisted while doing a fine motor skill exercise and my fingers always fell short of the pegs as my brain was reawakening. The most unnerving moment was when I was beginning to read again and the letters in words were leap-frogging and jiggling. Drinking my first cup of coffee and sinking my teeth into ground beef and mashed potatoes were huge moments realizing I was moving toward normalcy. May 20th will stand out forever as I walked out of Unity Point hospital after 55 days. Walking down the corridor unassisted to the cheering health care professionals and staff who had cared for me are forever etched in my heart. Rounding the corner reuniting with my wife and wonderful children and singing the Doxology in praise of God's mercy will also remain. The beautiful people greeting me the last four miles from Steamboat to Eldora, with many driving by our home as I sat in a lawn chair and people welcomed me home. They shared their joy with me, and I with them. Some cried. 2020 the longest and shortest year I've ever known."
Justin Weber, Eldora, Hardin County's first COVID-19 patient
***
'A light at the end of this tunnel'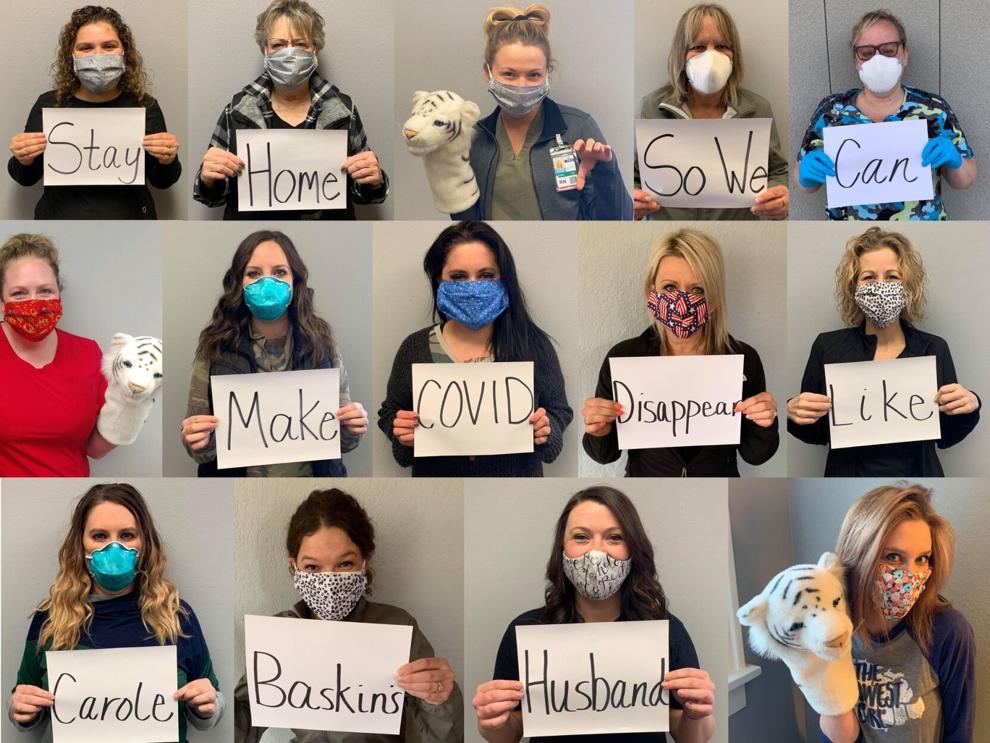 "Hard to believe it has been almost a full year since our first case of COVID-19 was identified in Hardin County on March 26th. Hardin County Public Health/Greenbelt Home Care, just like other businesses and agencies in Hardin County, have spent the past year adapting to our new normal. Weekly zoom staff meetings, office staff working remotely, restructuring annual events such as the Toys For Tots Christmas Event and pork loin giveaways. One of the best things to come out of this pandemic has been everyone's willingness to help out no matter what the circumstances are. We have built some great relationships over the past year with our community partners and look forward to continuing to build more relationships! It has definitely been a tough year for everyone and we are all learning as we go. The vaccine clinics have definitely been my favorite part as they are almost like a light at the end of this tunnel. Everyone coming in to get their vaccines have been so gracious and that is what makes everything from this past year worth it!"
Rocky Reents, Eldora, Hardin County Public Health Coordinator
***
'I passed the torch to him'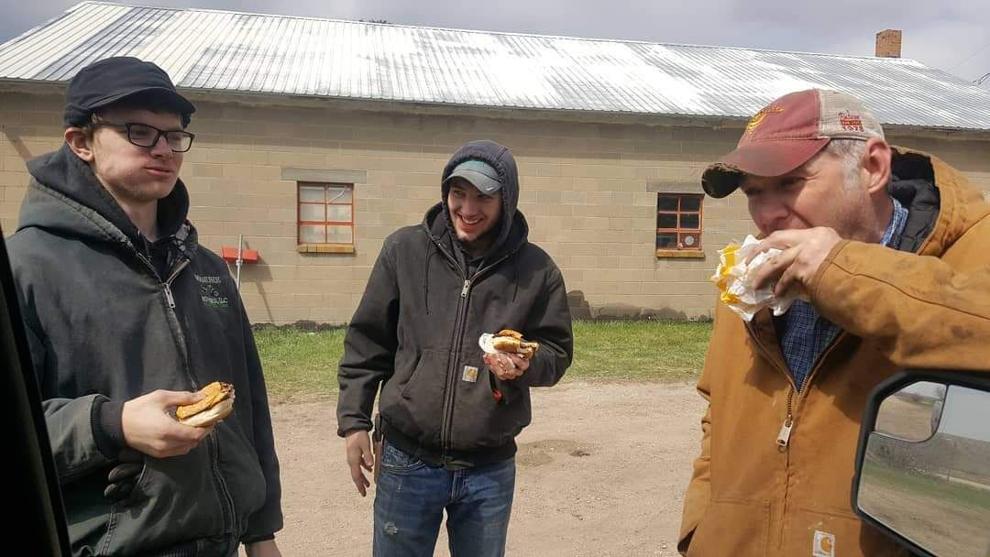 "My youngest son Chase was a senior last spring and had the traditional senior activities come to an abrupt end. We farm and he had started to do some more field work with me, but his normal schedule made it difficult to really spend a lot of time. That spring allowed him to really dive in. The exciting part is that I let him run the planter! This is a key job in farming that needs to be done right, and I passed the torch to him. In the end, he planted more acres than I did. His good friend, Garrett Cooper, from Ackley was also a senior and he was looking for something to do too. I put him in the field cultivator and those two did all of the spring tillage. It was so nice having the extra help and I had a level of enjoyment of seeing them take ownership. There were some rookie mistakes but that is how we all learn. There were also some normal bumps in the road that is expected, but their help made it so much more manageable. I think I may have created a monster because they both seem to have caught the farming bug."
Mitch Meyer, rural Iowa Falls, farmer
***
'A year of not hugging anyone'
"Last year seemed to be a perfect storm of everything that could test people's patience, physical health, and sanity. I was directing the spring play, and our last performance was Sunday, March 15. The next day, schools across Iowa shut down for what we thought would be a four-week 'break.' I stocked up on puzzles, craft supplies, and books. I am an introvert; the prospect of four weeks of alone time was not unwelcome. Instead of four weeks of recharging my mental and emotional reserves, I got a year that completely drained everything. A year of worrying, 'Is this a regular cough or a COVID cough?' A year of wondering if I'm going to get sick from going to work. A year of missed out quality time with friends and family as we tried to stave off Zoom fatigue for our get-togethers. A year of sheer panic for family members who have poorer health. A year of not hugging my parents. A year of not hugging anyone. And I consider myself one of the lucky ones - I still have my job, my house, and my physical health. So many others don't. This year, I am looking forward to the future again. I am vaccinated, and my parents are both vaccinated. I am going to give them huge hugs at Easter."
Jessica Nystel, Iowa Falls, IFA High School teacher
***
'Grateful to have made it out the other side'
"So, this isn't exactly a memory from a single point in time, but it was the lowest point of the last year and how I am grateful to have made it out the other side. Even before COVID really hit the U.S., my year wasn't starting off well. My husband had asked me for a divorce, and I had to move out. Things hadn't been good for a while so it wasn't a surprise, but it was still hard to face. Suddenly I'm leaving the first house I ever bought and leaving behind the first dog my husband and I got for ourselves as adults. The process of dividing up and packing the product of the better part of 10 years of marriage became so difficult that I could only work at it for two-hour intervals, or I got too depressed to keep working. I was also taking classes as Ellsworth and didn't want to try to move while school was in session. I was able to swing it so that I moved into my apartment over spring break. As soon as I moved into my apartment the lockdown happened and school moved to the online format. Suddenly I go from living with my husband and dog in our beautiful home, going to class, seeing classmates, meeting professors, and hanging with friends, to living by myself in a one-bedroom apartment, not seeing anyone, only hearing my professor through the speaker on my crappy second-hand laptop and only going out when I needed groceries. I was incredibly sad and very lonely. I spent many days crying on my couch. And just to pour salt in the wound I turned 40 a few months later. I did nothing and saw no one. I don't even think I got a phone call. The next day I got my one and only present. It was from my brother and sister-in-law. They knew I was getting divorced from their brother and they got me a present anyway. I cried a lot that day too. I realize that I was fortunate enough to not contract the disease or experience the death of a loved one because of this pandemic, but I will say that the death of a marriage is no walk in the park."
Nancy Klein, Iowa Falls
***
'Feeling sort of defeated'
"One of my biggest memories about COVID-19 will be how it affected the requirements of my child care business. On Nov. 18, 2020, I received an email from DHS that mandated child care providers wear masks while providing child care and 'strongly encouraged' children age 2 and up wear masks while at child care. I remember feeling sort of defeated at the time. Although I understood mask wearing in public, I had felt like we are our own little community and why should we have to? The more research I did and the more information that came in from my nurse consultant, DHS, IDPH, and CCR&R rep, I got on board with it mentally. I understood that while "I" am doing everything asked of me with disinfecting, washing blankets, wearing masks in public, social distancing, staying home . . . I cannot control 100 percent what the families are doing that I care for, so to be safe, I had the kids start wearing masks as well. My child care kids are doing GREAT with masks. My child care families all got on board but truly the kids didn't have a problem with masks, the parents had more of a problem just that it's come to this to make them wear the masks. I am happy to say that from that time in November 'til now, none of my child care kiddos have been out sick. so clearly masks work! My husband and I get our second vaccine at the end of March and will be fully vaccinated mid-April. I was sure hoping that the guidance would change for us to not have to wear masks at child care anymore, however I was just in a meeting with IDPH this week and they are still recommending them. While I am required to wear one (and the parents that step in the door to drop off their kids), I am re-evaluating the kids wearing them in the near future. IDPH recommends that children wear masks while playing outside too and I just have a hard time with that - even the schools don't require that at recess. As the weather gets warmer, I just foresee wet masks from being hot and sweaty running around in the backyard. With more people getting vaccinated, I'm hopeful these rules and recommendations will relax. So everyone please, for the sake of us required to wear masks still - get your vaccine as soon as you can so we can all stop wearing them!"
Chaeli Gerrish, Iowa Falls, in-home child care provider
***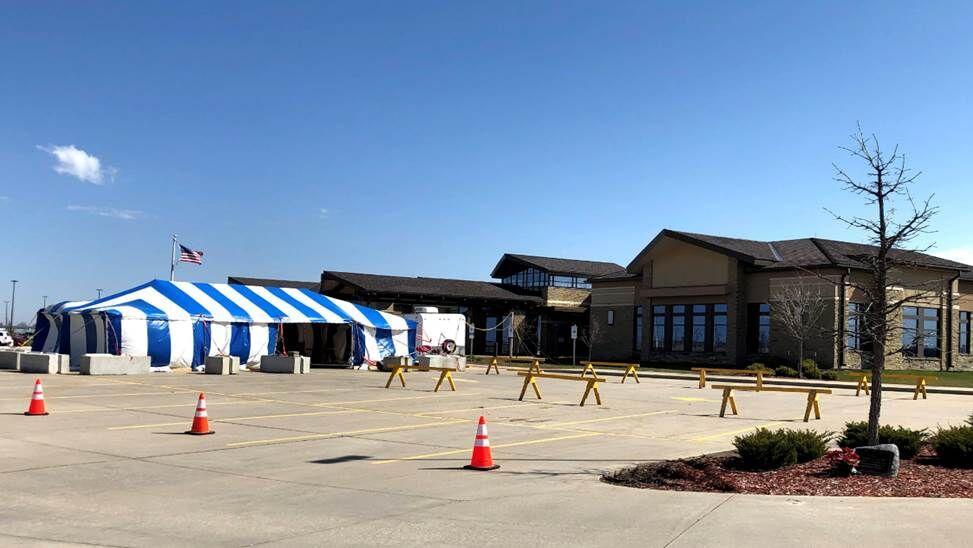 'Instant yes'
"Two words define my memories of March 2020: instant yes. A directive had come from the Governor that hospitals needed to shut down certain services quickly. To serve the community and keep everyone safe, our Incident Command team (amazing people, in my eyes) decided to build a COVID tent testing process. My role was to make telephone calls: Will the Fire Department help with a tent? Instant yes. Will other City personnel help? Instant yes. Will HFH nurses staff the tent? Instant yes. Will HFH Maintenance be available 24/7 to keep the tent and trailer functioning? Instant yes. Will Medical Staff work different hours? Instant yes. Then a call to the college: can we use your facility for rehab services? Instant yes. Calls to the Chamber looking for ideas: instant yes every time. Several calls to Walmart: instant yes. Will the Coffee Attic please stay open for our staff? Instant yes. A call to the theater for theater ropes: instant yes. A call to Calkins Nature Center for a sign: instant yes. A post to social media: will the community make masks? Instant yes. Can Board members meet on short notice? Instant yes. Etc. etc. I took this photo on a crisp, sunny Tuesday in March 2020. I had noticed the flag flying above the tent. As I snapped this image (above), I was overwhelmingly proud of HFH colleagues, the community and our rural way of pulling together when the chips are down. I will always remember this period because when I called for help, every person instantly said yes. Every. Single. Time. And that made all the difference."
Doug Morse, Iowa Falls, Hansen Family Hospital CEO
***
'The year I got time back'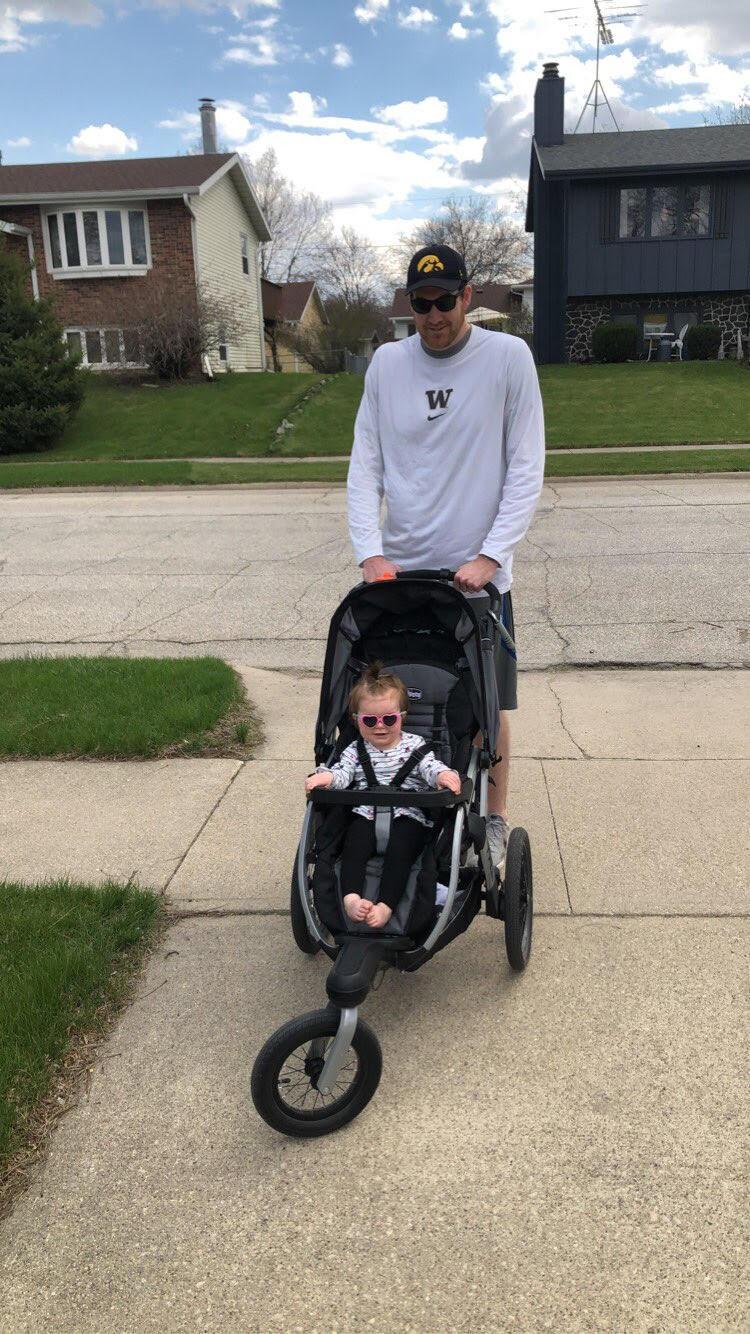 "I will always remember 2020 as the year I got time back. Basketball season was so tough for me during the 2019-2020 season. I had always missed spending time with my wife in the past, but this season I also missed out on a lot of time with my little girl, Mia. I know she was only 9 months old, but being a coach's kid means that a bunch of other kids get to see your dad more than you do. I'm thankful for technology because I was able to see videos that my wife recorded of funny 'firsts' for Mia, but there were also a lot of moments that she wasn't able to record that I had to hear about secondhand. I hated being gone from her so much that I even contemplated not coaching basketball anymore.
"And then the pandemic happened. Suddenly, I was able to be with her ALL day EVERY day. It was great! I gained back so much of that time that I missed out on during basketball season. I would rock her to sleep in my arms while we watched 'Coco' on Disney+ (It's now her favorite movie "I want to watch Coco Loco!"). I took her on long walks every day around our beautiful community and she'd yell, 'Doggy!' every time we saw a dog outside. We would sit outside in the grass and laugh as I blew bubbles in her face. Mia joined me for virtual learning with my students and virtual staff meetings - they always liked seeing her more than they liked seeing me. And of course, dad makes the best peanut butter sandwiches for lunch! Our time together became full of daily routines and I would always joke that we were in 'Daddy Daycare.'
"There were really tough days, too. It wasn't always perfect. But that was good for me to experience. My wife, Kristen, carries the Most Valuable Player award for our family all year but especially from November-March. Being home more during the initial quarantine and being able to help with the tough stuff allowed me to try my best to share the load that she carries during those hectic four months - knowing full well that I will never be on her level.
"The pandemic gave me more time that I wouldn't have had. It's time my dad or my wife's dad didn't get when they were coaching with young kids. They both tell me about how much of a blessing it was for me to spend that time with Mia. I know that the Pandemic has been a terrible world event for so many people and for so many reasons. But I will always remember this one very important positive and how it maybe refocused some things for me."
Michael Collison, Iowa Falls, IFA High School teacher and coach