Hy-Vee Store Manager Stephanie Dagel likened recent customer traffic through the Iowa Falls grocery store to "five days of blizzards without the snow."
As many people in Hardin County prepare to socially distance themselves from other people and the spread of COVID-19, stores like Fareway, Hy-Vee and Walmart have seen an increase in shoppers.
According to grocery store employees, customers have had their sights set on toilet paper, milk and canned goods.
"Our customers have been very understanding of the situation, but I would say after paper products such as toilet paper, were are selling a lot more milk, bread and frozen pizzas," Dagel said. "Our online shopping has increased over 300 percent in the past few days."
Dagel said the Hy-Vee store's daily online orders usually average 12-15, but that number has spiked to an average of 40 per day the last few days.
Monday morning, Dows residents Jim and Pauline Jass made their weekly grocery run to Hy-Vee, but they weren't planning on purchasing extra items. When the couple entered the store, they noticed the lack of carts. That alone told them the store was busier than normal.
Pauline said she wasn't sure the COVID-19 pandemic would pass quickly, but said she thought a lot of people seemed jittery.
"I thought it was hilarious when you see the toilet paper shelves empty, but then it really isn't funny at all. Some people really need it and it's gone," Jim said. "Hoarding is not good. When you see someone coming through with a cart full of one item, that's hoarding to me."
In response to the high demand for some items, both Hy-Vee and Fareway have placed restrictions on certain items. Dagel said Hy-Vee customers were limited to two 24-bottle packages of water, and two cartons of milk. Buyers were also limited to one pack of toilet paper.
Iowa Falls Mayor Gene Newgaard signed a proclamation Monday that asks retailers restrict sales of hand sanitizer, disinfectant spray or wipes and paper products (toilet paper, facial tissue and papwer towels) to two per purchase.
Christina Gayman - director of public relations for Hy-Vee Inc. - said the company is working with its suppliers to make sure there are enough supplies on hand to meet the demands of the customers.
"As always, if you are looking for a certain product and can't find it at your Hy-Vee store, simply ask one of the managers and we will do everything we can to find it for you," Gayman said.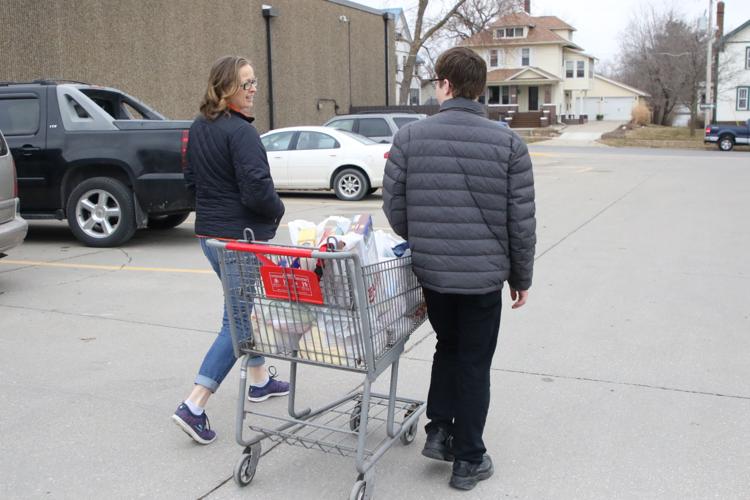 Iowa Falls Fareway Assistant Store Manager Chris Glienke said the store gets truck shipments three times a week of both dry and cold products. He said the store put out a call for any available employees to help during the recent busy days.
"A lot of the paper products, within an hour of us putting them on the shelves, it will be all gone," Glienke said. "On a normal day, there's four to six of us every hour at a minimum. Right now that's probably up to 15 people. We have to make sure the front (registers) are taken care of, and while that is happening, the rest of us are stocking shelves."
Grocery stores have also been putting extra work into cleaning and ensuring food safety.
Gayman said Hy-Vee employees are regularly cleaning and disinfecting surfaces, including high-touch areas such as door handles, PIN pads at checkout, and restrooms.
In the food service area, utensils are sanitized regularly, and self-serve buffets (pasta, fish fry, steak nights) will now be served behind the counter. Pre-wrapped or plastic silverware is now being used in dining areas.
While there is no information about when the COVID-19 spread may relent, there's an expectation that business may slow down to normal numbers in the near future. How many days, weeks or months that will be is anyone's guess.
Glienke said all the staff at Fareway can do is keep forging ahead during an abnormal situation.
"It's bittersweet," he said. "This is good for business but the employees and all the customers are all stressed out over this. It's not a fun time."