Monday is Veterans Day, and communities throughout Hardin County are planning events to honor local veterans' sacrifices. Some of those ceremonies are listed below.
ACKLEY
A program is planned to begin at 11 a.m. on Monday, Nov. 11 at AGWSR High School. Elliott-Keninger American Legion Post 252, along with students and administration, will present a program that will include performances by the band and vocal students. The public is invited to join to honor veterans and those currently serving.
All veterans and their spouses are invited to the chili lunch at the Ackley American Legion after the 11 a.m. program. Volunteers from the Ackley Heritage Center invite the public to the Depot (120 State Street) on Nov. 11 from 1 to 4 p.m. to honor the military and veterans. There will be a special gift for vets who visit the depot during the reception. On display will be military uniforms, all of which have been donated, pictures, newspaper articles and much more. Cookies and coffee will be served.
ALDEN
A Veterans Day music program will be presented by Alden Elementary fourth, fifth and sixth grade students on Monday, Nov. 11, at 7 p.m. in the Alden gymnasium. The event is free to the public and Veterans are encouraged to attend.
During the day, Alden Elementary sixth grade students will visit area nursing home facilities in Iowa Falls to perform music selections for residents.
ELDORA
The Eldora Veterans Memorial dedication ceremony will begin at 11 a.m. on Sat. Nov. 9 in Memorial Park. Fifty chairs will be available on a first-come, first-serve basis. A luncheon will be served at the Eldora Legion Hall after the ceremony. The event is open to the public.
The annual Eldora Veterans Day ceremony will begin at 10 a.m. in the Eldora-New Providence Elementary School gymnasium on Monday, Nov. 11. The event is open to the public.
HUBBARD
A Veterans Day Program at South Hardin Middle School in Hubbard will be held at 2 p.m. The event is open to the public, and will feature speakers and musical numbers.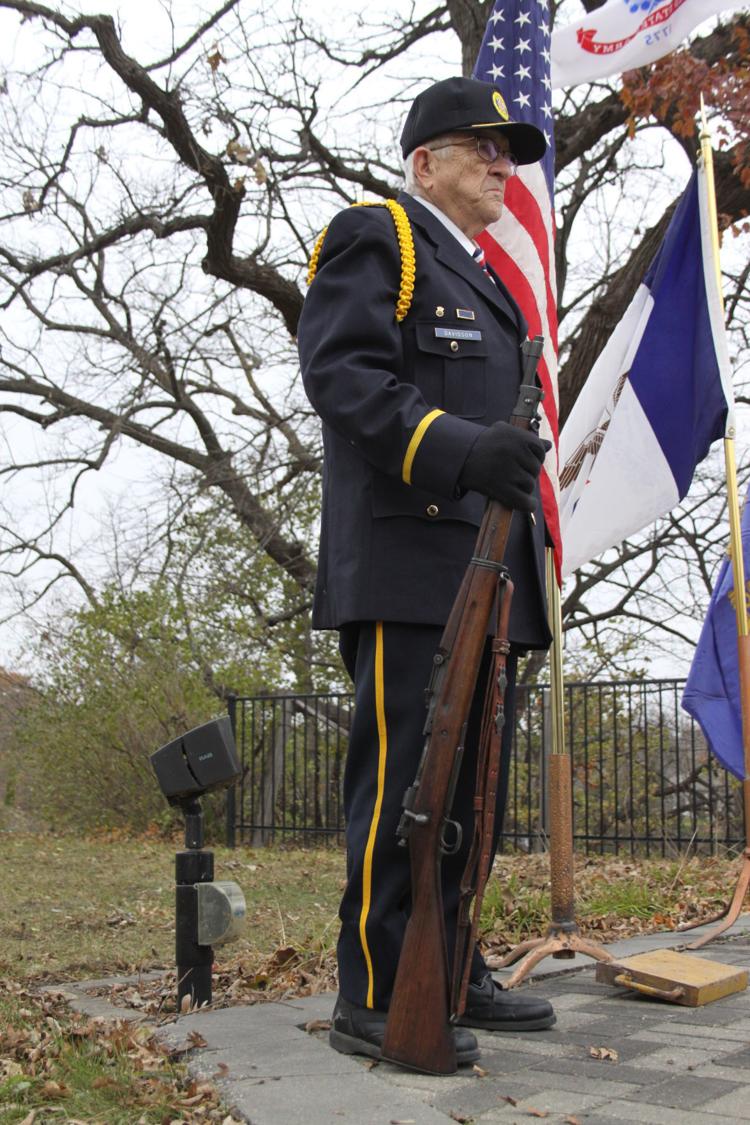 IOWA FALLS
American Legion Post #188 will lead Veterans Day activities in Iowa Falls. They will begin with a ceremony at the Veterans Memorial on Foster Boulevard at 11 a.m. It will include a short speech and a volley. Legion members will also participate in a ceremony at Pineview Elementary School later in the day, and they will be present at the Alden Elementary School program that evening.
At noon, Ellsworth Community College will host a Veterans Day program in the lobby of Kruse Main. The speaker this year will be Maj. Shenna Pluff, who in 2019 began supporting the State of Iowa Joint Forces Headquarters, where she currently serves as a state emergency officer at the Joint Operations Center. She lives on an acreage near Alexander with her husband Eric Pluff and their seven children. The schedule includes a welcome from Dr. Martin Reimer, history from Sara Jesse, speaker introduction by Wendy Valentine, speaker Maj. Pluff, VA student roll call by Mary Weaver, closing from Jesse and Taps played by Cailin Reimer and Shane Gast.
WELLSBURG
On Monday, Nov. 11, the AGWSR Wellsburg Center School will honor veterans at a program beginning at 8:30 a.m. on the north side of the building. It will start with a flag-raising ceremony and Taps, then move into the gym for a short program.