Lance Granzow doesn't sugar coat his feelings about video conference meetings.
"I don't like it," the Hardin County supervisor said.
But the coronavirus pandemic - and the restrictions put in place to slow the disease's spread - have forced most governmental bodies to find alternative methods of holding meetings, often via phone or video conferencing. And Granzow has accepted them as a necessity.
"It's not ideal, but it's a way to make meetings work," he said. "Government has to move forward."
Iowa Code requires government boards and councils to hold public meetings, and lays out rules to make them accessible to anyone who wants to attend. But as COVID-19 has spread in Iowa, rules about how many people can gather have forced changes to those rules. On March 20, Gov. Kim Reynolds issued a declaration that waives a number of rules that restrict the government's ability to hold electronic meetings.
"When we used to talk about electronic meetings it was when one individual couldn't attend," said Alan Kemp, executive director of the Iowa League of Cities. "Now we've flipped it around and it's everybody can't attend."
The League, an organization that offers advocacy and training for Iowa's communities, has issued guidance to help cities comply with open meetings rules without putting themselves or the public at risk of spreading COVID-19. That includes a guide to the new rules and instructions for using Zoom, an online teleconferencing platform.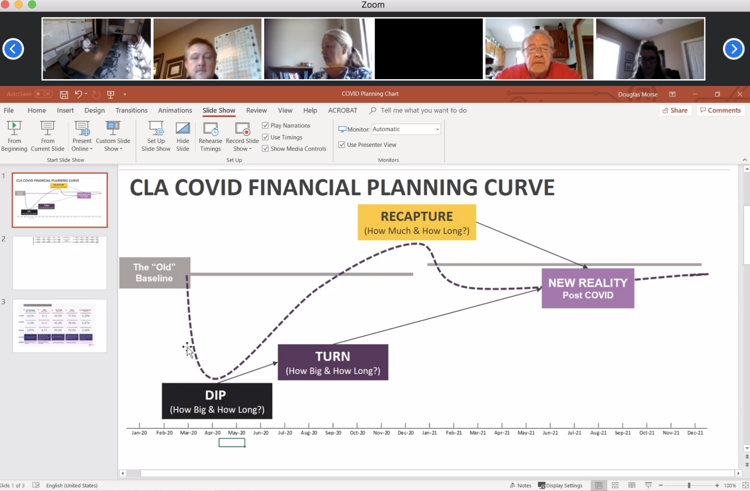 "I think most are transitioning, although some may be doing a hybrid," Kemp said of cities' switch from in-person to electronic meetings.
The Hardin County supervisors have been conducting hybrid meetings since March 25. While Granzow and Supervisor Renee McClellan (and several county employees) attend the meeting in-person, Supervisor BJ Hoffman and other county officials (and the public) join via Zoom.
But not every board has changed the way it meets. The Iowa Falls City Council has continued to hold in-person meetings. Its members met in person on March 16 and 25, and again on Monday. This week's meeting was held in the council's normal location - the community room at the Barlow Memorial Library, which has been closed to the public since March 17. The room was cleaned before the meeting, and before each person entered, they had to answer questions about their travel and health by Building and Zoning Director Joedy Dennis. There were 10 people in the room throughout the two-hour meeting - that's the maximum number of people allowed to gather according to an order issued by Gov. Reynolds. Those in attendance included four council members, the mayor, city manager, deputy city clerk, city attorney, engineer and a member of the press. Dennis - the 11th person - sat in the doorway just outside the room. Another chair was set up outside a second door to the room for any additional guests. No one else attended.
Asked about the city's decision to hold an in-person council meeting, Mayor Gene Newgaard said the question was put to council members in an email, and they decided to continue meeting in person.
"As long as we're practicing social distancing, I'm not overly concerned at this point," Newgaard said of the meeting style. "We're all pretty responsible about distancing ourselves. We're taking precautions."
The 10 people inside the room were spaced out around the perimeter of the room.
But Randy Evans, executive director of the Iowa Freedom of Information Council, said the decision to hold in-person meetings isn't just a concern for the city officials and their health.
"Citizens of Iowa Falls should not have to risk their health and wellbeing to attend a public meeting of the city council," he said. "People are legitimately worried, and city officials are being callous in brushing aside those concerns."
Newgaard said he's received no complaints from the public about the format of the meeting.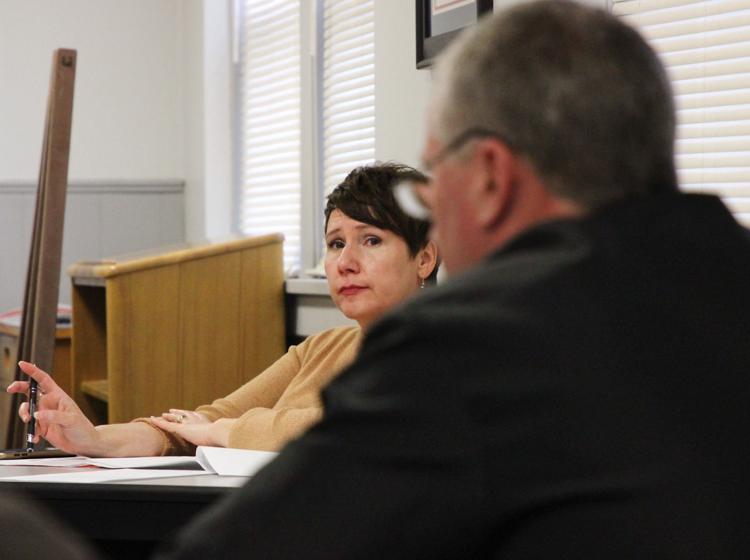 Iowa Falls City Council member Michelle Gritsch said she was willing to meet either way - in-person or electronically - and she left the decision up to other council members.
"It's hard to know the right thing to do," Gritsch said. "I'm not sure what we have at this point for a technology set up in the library.
"It's been hard in the past when council members have called in to meetings," she added. "They don't always hear everything that's being said."
Hubbard Mayor Marshall Simmerman acknowledged that there can be unique challenges in an electronic meeting that wouldn't be an issue in person, but his town's council still decided to use a telephone conference method for its meeting last week.
"Some people aren't used to being on a conference call, so they were talking over other people. But over time people figured it out," Simmerman said. "We just have to run the meetings a little differently."
Simmerman said he made the call on moving to a phone conference meeting.
"It was a decision on my part to respect social distancing rules," he said. "We could have done the meeting spread out in the room, but we have city hall closed to the general public. If people drive by and see cars there that sends the wrong message. We need to follow our own rules."
Other boards and councils have also made the switch to electronic meetings: the Iowa Falls, Alden, Eldora-New Providence and Hubbard-Radcliffe school boards, the Eldora City Council and the Hansen Family Hospital Board of Trustees.
Granzow, who sees many flaws with the electronic meetings - including the fact that not everyone has access to computers or the internet - concedes the method does have some benefits.
"Coming out of this, I believe we'll have people who want to continue to participate on Zoom, especially on drainage meetings," he said. Whereas in the past landowners who live out of state couldn't attend meetings to discuss drainage issues, now they're able to participate. "It's opened up a whole new avenue for them to attend. I think for drainage we'll do both in-person and Zoom."