Another Hardin County resident has tested positive for COVID-19, bringing the total number of local cases to 12. The new case was announced when the Iowa Department of Public Health updated statewide numbers on its coronavirus website Friday morning.
The state data released Friday also report that 307 Hardin County residents have received the COVID-19 test. That's about 1.8 percent of the county's 16,868 residents. Testing for the disease has increased in recent weeks, in part because of rollout of the state's Test Iowa program. In the last week alone, 74 local residents have been tested - that's about 25 percent of the total tests performed since March 13.
And as test numbers increase, so may positive numbers.
"I definitely think we're going to see our numbers go up as our testing goes up," said Rocky Reents, public health coordinator at Greenbelt Home Care/Hardin County Public Health.
Last week the local public health agency handed over COVID-19 case investigation and follow-up duties to the Iowa Department of Public Health. Reents said the move was made because the local public health staff is small, and each employee has multiple duties. But the change has come with a downside.
Before the county agency handed investigation duties over to the state, there had been eight positive cases in Hardin County. Because Hardin County Public Health Nurse Rachel Loyd was contacting each person to interview them and follow up with their health, more was known about each case. Of those eight, four were asymptomatic patients who received the COVID-19 test at work. Outbreaks at meat processing and long term care facilities have led to blanket testing of the employees in some of those settings. Now, details like that aren't known.
"The hard thing now is I don't know if these [new positive cases] are coming from out-of-county workers that are being tested," Reents said. "Other than the age we don't know a whole lot about these positive tests – where they're at or whether they're hospitalized."
The first local case of COVID-19 was diagnosed on March 26. It was Eldora business owner and pastor Justin Weber, who remains hospitalized, but has been moved to an inpatient rehabilitation center. Reents said Friday that two other Hardin County residents are hospitalized with the disease. 
Of the first 11 local patients, four are age 18 to 40; four are age 41 to 60; and three are age 61 to 80. The age range of the 12th patient had not been released by noon on Friday.
Statewide, 11,059 Iowans have tested positive for COVID-19, and 231 have died. 
Even as businesses statewide begin to reopen, Reents urged local residents to continue the social distancing and personal hygiene practices of recent months. Stay home if you're ill, avoid frequent trips to the store, keep six feet of distance between yourself and others, don't gather in large groups of people, and wear a mask in public if you can.
"With learning more and more about this, it sounds like people are asymptomatic but are testing positive," Reents said. "It's safer to assume it's in each community. Even though things are reopening, from a public health standpoint, we would continue to push things like carryout meals. You can continue to support local businesses, but try to do it in a safe manner."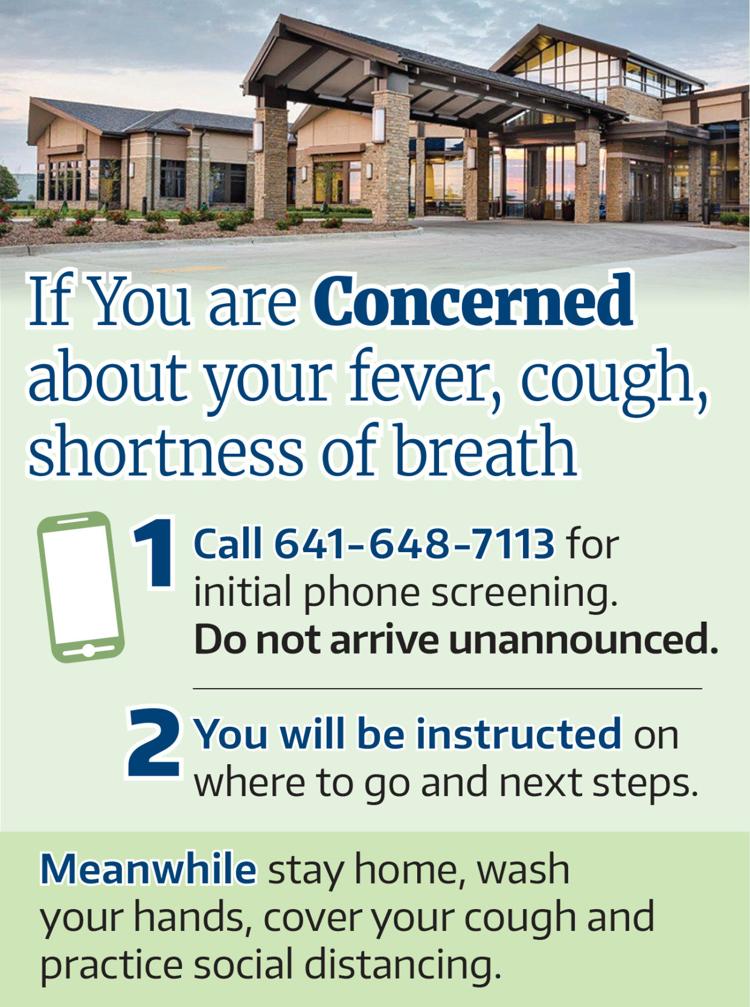 Symptoms of COVID-19 include cough, fever (100.4 or greater) and shortness of breath. If you are experiencing any of these symptoms, you're instructed to call your health care provider before going into the office. They will walk you through a series of questions and may ask you to report to a testing site. Hansen Family Hospital in Iowa Falls is able to test for COVID-19, but patients should not show up at the hospital. Call the HFH COVID-19 phone number at 641-648-7113 first. Hansen Family Hospital is not a Test Iowa site (part of a statewide rollout of testing that's connected to an online assessment tool at TestIowa.com). The public should not show up at the site and expect to be tested for COVID-19.
Find more information about COVID-19 in Iowa on the state's coronavirus website, or on the Greenbelt Home Care/Hardin County Public Health Facebook page.