The spread of COVID-19 continued last week, infecting 15 Hardin County residents. That's down from 18 infections the week before, and continues a trend of decreasing new infection numbers that's been seen in Hardin County and across the state.
As of Monday morning, the state was reporting that 1,665 Hardin County residents have tested positive for COVID-19 since March 2020. That's an increase from 1,650 at the same time last Monday. One additional Hardin County death has been reported since last Monday, bringing the total to 35 since August. 2020.
The state has made changes to its coronavirus website in recent days. One of the updates removed the page that reported recoveries from the disease. Without that number, it's impossible to calculate the total number of active infections in the county.
Two Hardin County residents were reported as being hospitalized for treatment of COVID-19 as of Saturday.
Testing declined further last week. According to the Iowa Department of Public Health, a total of 780 COVID-19 tests were administered Feb. 13-19. That's down from 925 the week before.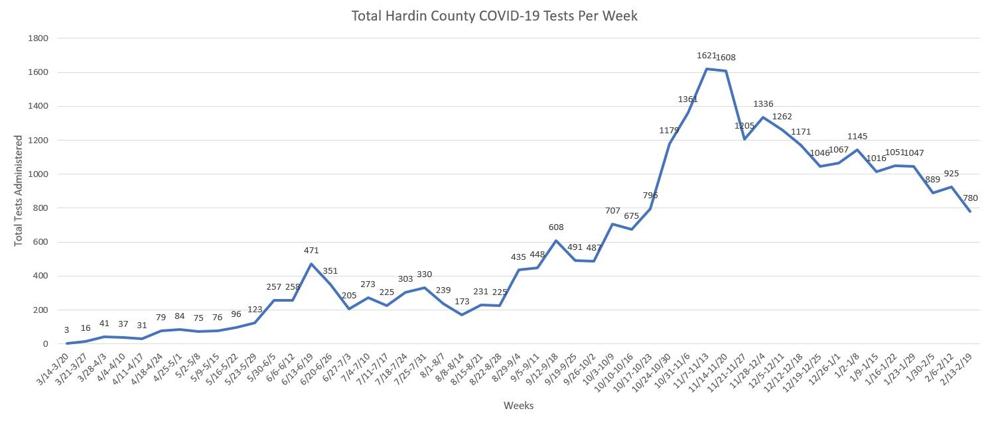 The state is still reporting an outbreak of COVID-19 at a Hardin County long term care facility. Scenic Manor's outbreak began Jan. 21. Executive Director Lisa Hoodjer told the Times Citizen last week that as of Wednesday, Feb. 17, everyone who'd tested positive had recovered and there'd been no additional positive tests. In total, 14 people tested positive for the disease, but the state's website is still reporting only four infections. Long term care facilities remain listed in outbreak status for 28 days following the last resident's recovery.
Local school district's infection reports remained minimal last week. Every Friday, the superintendents report new positive cases in the schools. South Hardin Superintendent Dr. Adam Zellmer reported two cases last week. Neither Iowa Falls-Alden nor AGWSR reported any new cases. Ellsworth Community College also reported no new cases of the disease last week.
ZIP code update released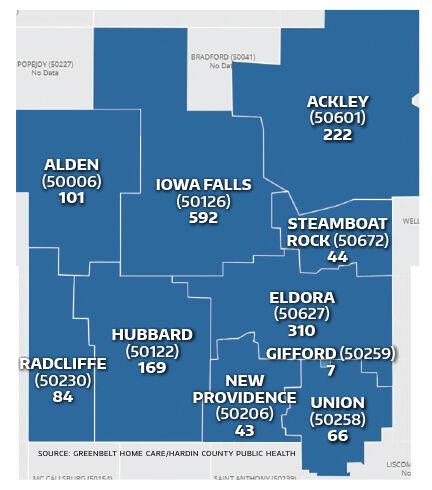 Hardin County Public Health's update of the infection totals per ZIP code show that the Iowa Falls ZIP code gained the most new cases last week with six. Hubbard had four new cases of the disease, and Ackley, Eldora and Radcliffe each had one.
Eldora and Hubbard remain the only two ZIP codes in the county that have had a greater share of COVID cases than they have population. The Eldora ZIP code is home to 17 percent of the total population, but it has had 18.9 percent of the COVID-19 cases. The Hubbard ZIP code has 7.3 percent of the population and has had 10.3 percent of the cases.