Hardin County reported a total of 49 new cases of COVID-19 last week, down from 68 cases the week before. The county saw two additional deaths due to the disease as well.
According to the Iowa Department of Public Health, a total of 1,429 Hardin County residents have tested positive for COVID-19 since March, an increase over the 1,393 cases reported at the same time last week. The reason for the difference is in part that the state's reporting lags behind that of Greenbelt Home Care/Hardin County Public Health.
Of the 1,429 cases, IDPH reports that 1,171 are classified as recovered and 25 people have died, leaving 233 active cases in the county.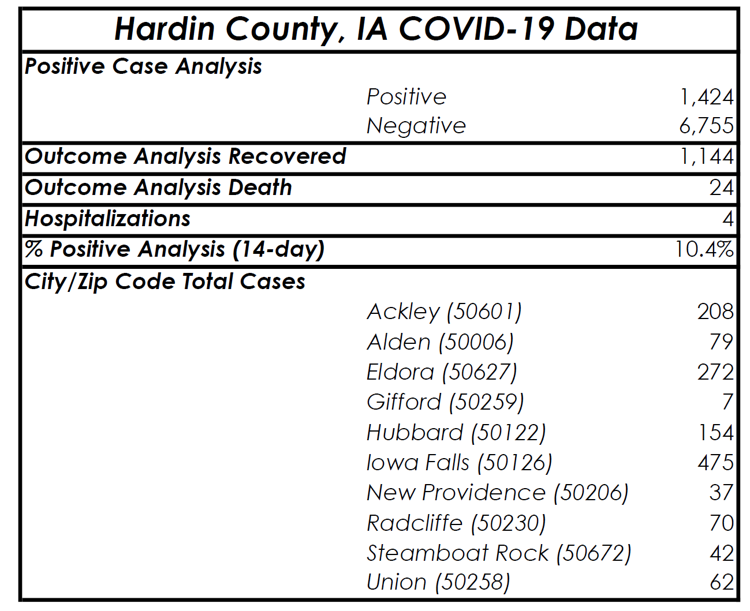 The number of Iowans hospitalized due to COVID-19 has continued to decline. As of Monday, the IDPH reported 586 Iowans as being hospitalized, down from 644 last Monday and less than half of the 1,527 who were hospitalized at the state's peak on Nov. 17. As of Friday, four Hardin County residents were hospitalized.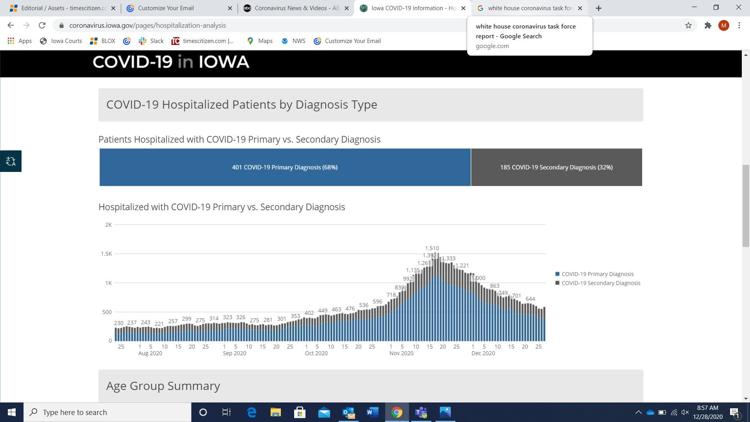 It's not clear how many of the new Hardin County cases are tied to COVID-19 outbreaks at two Eldora nursing homes. Susan Eichmeier, administrator of Eldora Specialty Care and Valley View Specialty Care, said earlier this month that both care centers have outbreaks. Currently, only the Eldora Specialty Care outbreak is being reported on the Iowa coronavirus website. According to the website, 14 residents there have tested positive, but the information on the website has lagged by days or even weeks.
Hardin County schools normally release updated case numbers on Fridays, but did not do so last week because of Winter Break.
The IDPH has been reporting case counts based on ZIP code for months now. Iowa Falls, the largest city in the county, has had 475 cases. Eldora is next in line with 272, followed by Ackley's 208 total cases. 
As of Friday, the county's 14-day positive case rate (the number of positive cases over the number of tests administered) was 10.4 percent.