The number of new COVID-19 cases in Hardin County grew at a faster pace last week, but the number of people who've recovered grew more, leaving fewer total people infected this week than there were last week.
Last Monday, Jan. 4, there had been a total of 1,465 COVID-19 cases among Hardin County residents since March 2020. On Monday this week, that total stands at 1,517 – an increase of 52 cases. Of the 1,517 total people who've tested positive for the disease, 1,335 people are classified as having recovered, and 29 Hardin County residents have died of the disease, leaving 153 people currently infected with COVID-19. One week ago, on Jan. 4, there were 175 active cases of the disease in the county.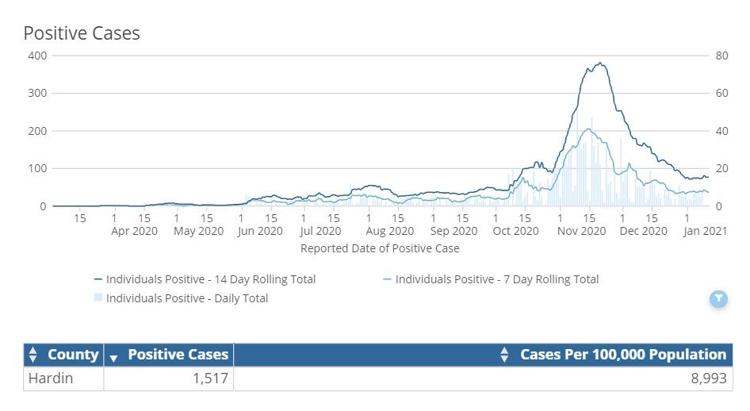 While the county's total infection count this week is 52 cases greater than one week ago, only 37 of those cases are assigned to dates in the last week, according to the Iowa Department of Public Health's coronavirus website. Times Citizen analysis of Hardin County's data shows the state has been assigning some positive cases to dates that are weeks and months in the past. For example, last Monday, the state added Hardin County cases to Nov. 7, 8, 9 and 18, and it removed one case from Aug. 4. The addition of cases to past dates has been happening since at least mid-December. The Iowa Department of Public Health has not responded to questions from the Times Citizen about the old case additions.
Testing for COVID-19, which has been down among Hardin County residents in recent weeks, is still low, but has rebounded slightly from the weeks surrounding the Christmas and New Year holidays. According to data on the state's coronavirus website, 1,098 tests were administered to Hardin County residents during the week of Jan. 2-8. That's the most since the week of Dec. 12-18, when 1,164 tests were administered. Previous weeks' testing totals have been as follows:
Dec. 26-Jan. 1: 1,058
Dec. 19-25: 1,040
Dec. 12-18: 1,164
Dec. 5-11: 1,253
Nov. 28-Dec. 4: 1,316
Some of the new cases in the county may be attributed to a reported outbreak of COVID-19 at Heritage Care Center in Iowa Falls. The outbreak showed up on the state's coronavirus website on Monday morning, and reports that three people have tested positive for the disease, all in the last 14 days. It is the first time an outbreak has been reported at the facility. Heritage Care Center Administrator John Freeman confirmed on Monday afternoon that three residents have tested positive in the last 14 days. But he said the facility has had a total of seven positive tests dating back to Dec. 19, and some of those residents have since recovered. In recent months the state has lagged days and weeks in its reporting of outbreaks at long term care facilities. An outbreak at Scenic Manor in Iowa Falls wasn't reported until 28 days after the last positive test.
Some of the new cases may also be attributed to local school districts. Last week Hardin County's public school districts resumed in-person instruction after being closed for winter break. For Iowa Falls-Alden, it was the first time that all students and staff were in the schools since before Thanksgiving. In November, amid rising COVID-19 numbers in the district and the county, IF-A Superintendent Tony Neumann announced that the districts would follow a hybrid model, with only half of students in the schools for in-person learning each day. That started Nov. 16 and lasted until schools dismissed for winter break in mid-December.
The superintendents' reports on new COVID-19 cases in the schools were released on Friday. They report the following new cases:
Iowa Falls-Alden: 3
South Hardin: 7
AGWSR: 1
ZIP code map updated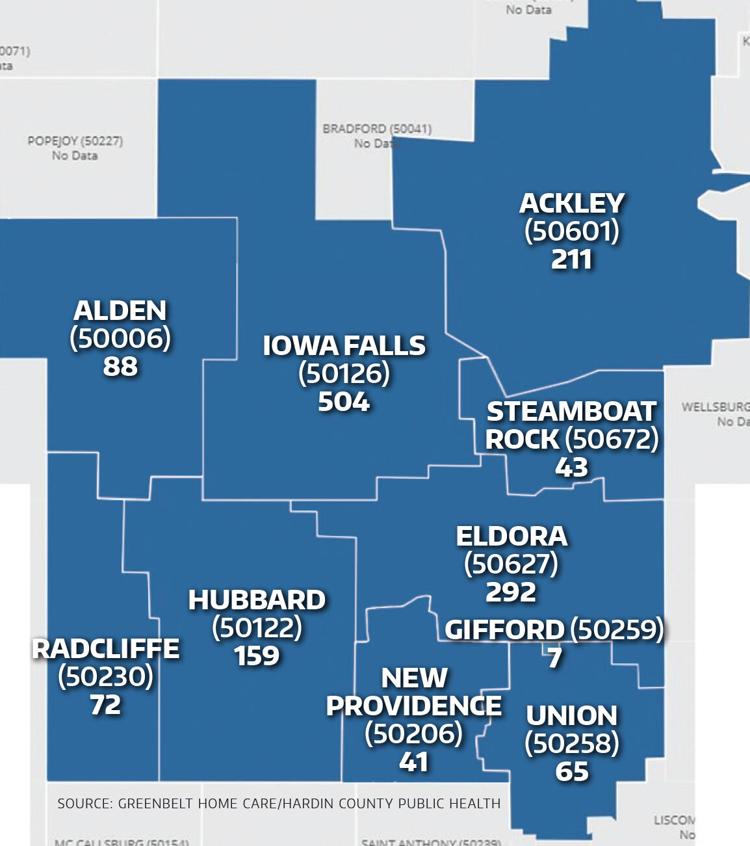 On Friday, Hardin County Public Health released an updated list of total COVID-19 infections per ZIP code in the county. The list shows an increase of 42 cases between Jan. 2 and Jan. 8. 
The Iowa Falls area ZIP code had, by far, the most new cases with 16. That ZIP code is home to 36 percent of the county population. It has had 504 - about 34 percent - of the total COVID-19 cases in the county.
The Eldora and Hubbard ZIP codes, which reported six and zero new cases, respectively, continue to report more total COVID-19 cases than they have population. The Eldora ZIP code, which is home to 17 percent of the total population, had had 19.7 percent of the total cases. And the Hubbard ZIP code, which is home to 7.3 percent of the population, has had 10.7 percent of the total cases.