In the last week, 14 Hardin County residents tested positive for COVID-19, and more than 700 local people became fully vaccinated, demonstrating that even as vaccination rates increase, the disease is still circulating in the community.
According to data published by the Iowa Department of Public Health, as of Monday morning, 1,767 Hardin County residents have tested positive for the novel coronavirus since testing began in March 2020. That's 14 more positive tests than there were one week ago. The previous week, 13 Hardin County residents had tested positive. Of the 1,767 positive cases, 1,668 people are listed as having recovered and 40 Hardin County residents have died of the disease. That leaves 59 people currently infected with the virus. To date, 10.4 percent of Hardin County's population has tested positive for COVID-19 in the last year.
Vaccinations continued last week, and were boosted by Clinic Pharmacy's allotment of 900 doses of the Johnson & Johnson vaccine, which requires only one shot for a person to be fully vaccinated. The Moderna and Pfizer vaccines require second booster doses at 28 and 21 days, respectively.
According to the Iowa Department of Public Health, as of Monday morning, 3,889 Hardin County residents – about 23.1 percent of the population – had been fully vaccinated. Another 1,849 local residents – 10.9 percent of the population – have received a first dose of vaccine.
In the last week, between March 29 and April 5, 711 Hardin County residents became fully vaccinated. During the previous week, 492 Hardin County residents became fully vaccinated.
Since February, Hardin County Public Health has received 300 doses of the Moderna vaccine each week. On Friday, Hardin County Public Health Coordinator Rocky Reents announced that the state would be allocating 100 doses of Johnson & Johnson vaccine to the county. Almost all of the county's vaccine doses have been administered by the agency's partner, Medicap Pharmacy in Eldora. Reents said Friday that the agency was working to determine how best to distribute the Johnson & Johnson doses. Those Hardin County residents interested in receiving a vaccination are invited to sign up on the Hardin County Public Health/Greenbelt Home Care website here.
Clinic Pharmacy in Iowa Falls is continuing to administer its doses of vaccine seven days a week. Find more information about how to sign up for a vaccine appointment at Clinic Pharmacy here. Additionally, HyVee Pharmacy in Iowa Falls and NuCara Pharmacy in Ackley have received vaccine through the federal government and have been distributing those doses to the community.
As of today, all Iowans over the age of 16 are eligible to receive a COVID-19 vaccine. Last week, Iowa Department of Public Health Director Kelly Garcia urged all Iowans - including college-aged people who may not think they're at risk for a severe reaction to COVID-19 - to get the vaccine to protect vulnerable family members, friends and co-workers. She also reminded Iowans to continue mitigation measures, including social distancing, mask wearing and regular hand-washing.
The state is also reminding Iowans that COVID-19 testing is available. Testing rates for the disease have continued to fall statewide and in Hardin County. Data from the Iowa Department of Public Health show that between March 27 and April 2, there were 549 tests performed on Hardin County residents. That's down from 580 the week before, and 610 the week before that.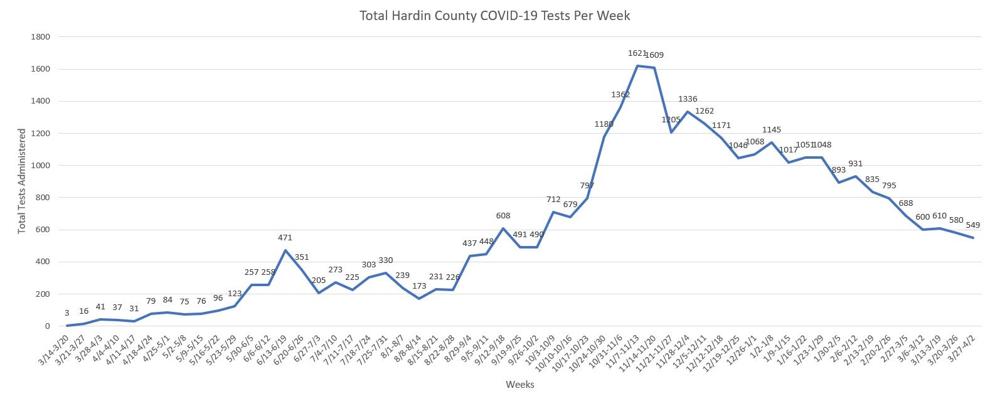 Hardin County's schools reported minimal spread of the virus among students and staff last week. Iowa Falls-Alden schools reported one new cases during the week of March 26-April 1. South Hardin reported no new cases and AGWSR is no longer reporting whether any cases have been identified in the district. Ellsworth Community College, which is conducting regular weekly testing of all student athletes and coaches, reported no new cases of the virus last week.