The number of new cases of COVID-19 reported in Hardin County last week was up from the previous week. It was the first time since January that the number of new weekly cases increased from one week to the next.
According to data published on the Iowa Department of Public Health's coronavirus website, as of Monday morning, March 1, there have been 1,689 cases of the disease since testing began one year ago. That's 24 more than the previous Monday, Feb. 22, when there had been 1,665 cases. Last Monday, the new case count stood at 15, which was down from 18 the week before.
The county also saw an uptick in the number of COVID-19 deaths reported over the last week. There have been four deaths added on the state's website since last Monday, increasing the total to 39 since August 2020. On Saturday, three Hardin County residents were hospitalized for treatment of COVID-19.
It's no longer possible to calculate the number of "active cases" of COVID-19 since the state's latest website update, which removed the page that reported recoveries from the disease. IDPH spokesperson Sarah Ekstrand said last week that the website updates reflect a change in the way the department is tracking COVID-19 in Iowa.
"This is consistent with our overall reporting as we transition away from individuals and focus more on total tests, overall trends, and virus activity," Ekstrand wrote in an email to the Times Citizen.
Beginning last spring, recoveries were reported through contact with individuals who had tested positive for the disease. But as cases increased, calls to individuals were discontinued and instead individuals were designated as recovered if it had been 28 days since their positive test and there was no report of a death.
"As we have learned more about this virus and the potential for some longer term effects of the virus, this metric is no longer as valuable for the public," Ekstrand wrote.
The state website also no longer shows the number of "individuals tested," a number that was arrived at after duplicate tests of a single person were removed. IDPH is still reporting total tests conducted at the state and county level. According to those numbers, testing of Hardin County residents for COVID-19 declined last week, continuing a trend that began weeks ago. According to the Iowa Department of Public Health, 670 tests were administered during the week of Feb. 20-26. That's down from 833 the week before.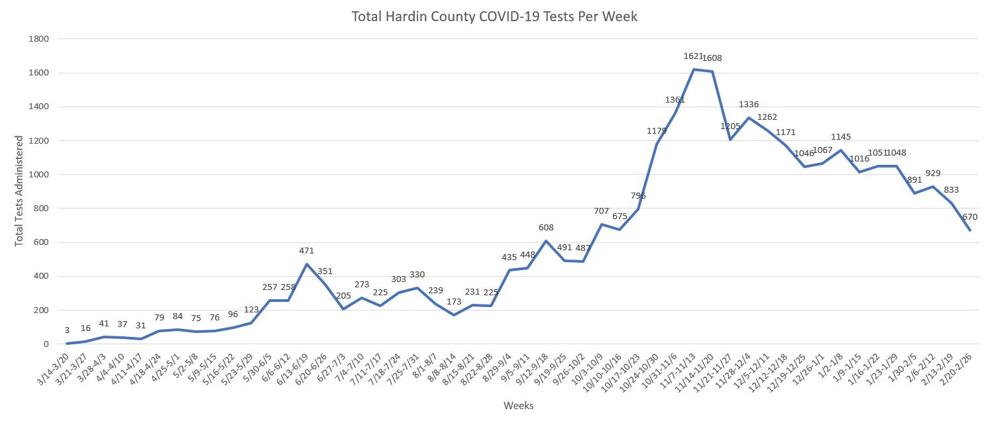 COVID-19 in the schools
There's been minimal spread of coronavirus in Hardin County's schools over the last month. Each week, local school districts' superintendents release information about new cases in the schools. On Friday, the superintendents at Iowa Falls-Alden and AGWR reported no new cases of the disease. South Hardin School reported two cases. Since Feb. 1, Iowa Falls-Alden schools have reported two cases, South Hardin has reported two and AGWSR has reported three.
Ellsworth Community College reported one new case of COVID-19 last week – its second case of the disease since students returned to campus in mid-January.
ZIP code update released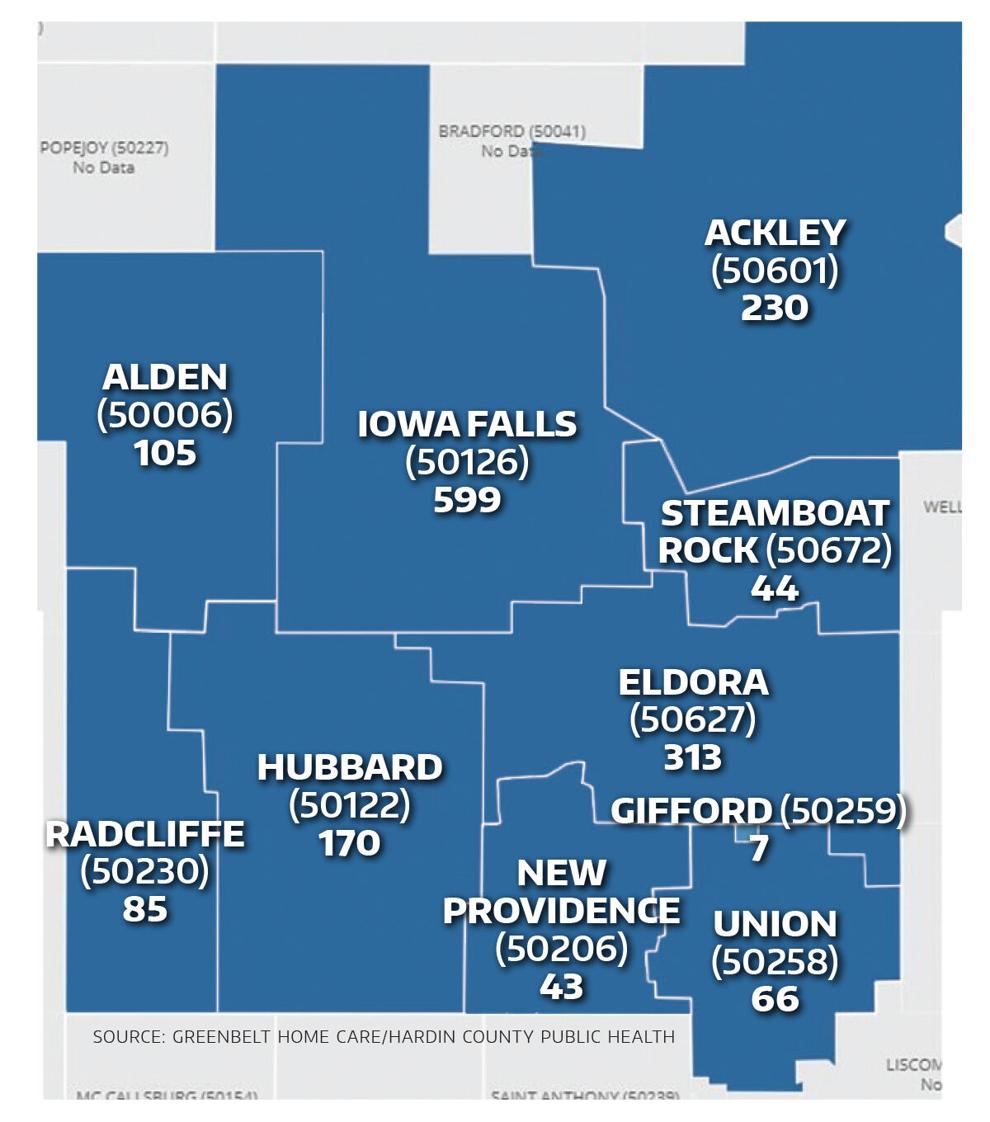 The Ackley ZIP code saw an uptick in new COVID-19 cases over the last week, according to numbers reported by Hardin County Public Health last week.
On Fridays, Hardin County Public Health issues updated infection numbers by ZIP code. The Feb. 26 update showed 24 new cases in the county since the previous update on Feb. 19. Of that total, the Ackley ZIP code reported the biggest jump, with eight new cases. Iowa Falls saw seven new cases, Alden four, Eldora three, and Hubbard and Radcliffe had one new case each.