A ninth Hardin County resident has tested positive for COVID-19, the respiratory disease caused by the novel coronavirus. The diagnosis was announced by Greenbelt Home Care/Hardin County Public Health at around 11:30 a.m. on Friday.
The patient is between the ages of 18 and 40, a detail that wasn't shared when the announcement was made. Greenbelt Public Health Coordinator Rocky Reents said that's because the Iowa Department of Public Health is taking over the job of following up with patients who've tested positive.
Until Friday, Hardin County public health officials - namely, Public Health Nurse Rachel Loyd - were monitoring local patients who've tested positive for COVID-19. But this week, local public health agencies were given the choice of handing that work over to the state. Reents said Hardin County decided to take the state up on its offer.
"We're not a larger health department and we don't have one individual doing this all the time," Reents said of the monitoring work. "Rachel and a couple of other employees have been trained on it, but we're also seeing patients all day long. A lot of the larger health departments have an individual who can do this full-time."
Because of the change, Greenbelt Home Care doesn't have access to as much information about each patient.
"We still get notified when there's a new case and we can see their demographics," Reents said. "But we won't know if they're isolating at home or in the hospital, unfortunately."
And while the Iowa Department of Public Health's coronavirus website includes county level data about the number of people tested, the number of positive tests, deaths and recovered COVID-19 cases, it does not include specifics about the patients, including age and whether they're hospitalized.
The first Hardin County COVID-19 case was announced on March 26. It was 60-year-old Justin Weber, of Eldora, who remains hospitalized as of Friday. Of the local patients, three are age 18 to 41; four are age 41 to 60; and two are age 61 to 80.
Reents said that as of Friday morning, three of Hardin County's eight cases are hospitalized, and two others have recovered. That leaves three patients who are still being monitored by local public health officials (hospitalized patients are monitored by the hospitals). That work will continue for Greenbelt Home Care/Hardin County Public Health - the state will monitor all new cases, starting with the one announced Friday morning. 
Of the eight Hardin County residents who had tested positive before Friday, Reents said half of them have been asymptomatic - meaning they did not have any COVID-19 symptoms - but they were tested because they work in processing plants or long term care facilities where blanket testing has occurred. While a person who has COVID-19 symptoms and tests positive for the disease must go 72 hours without symptoms before they're classified as "recovered," Reents said an asymptomatic patient who tests positive is considered "recovered" after seven days of isolation following their positive COVID-19 test. She said one of Hardin County's two reported "recovered" cases was an asymptomatic person. 
On Friday the Iowa Department of Public Health announced 740 new COVID-19 cases - the largest single day jump so far. That brings the statewide total up to 7,884. The state is also reporting that 170 Iowans have died of COVID-19.
A total of 195 Hardin County residents have been tested for the disease. That is about 1.1 percent of the county's total population of 16,868.
Friday is the first day that restrictions on the operation of restaurants, fitness centers, libraries, retail stores, malls and race tracks in 77 Iowa counties have been relaxed. Hardin County is among the counties where those businesses can open at 50 percent capacity (find a full list of local restaurants and their plans here). Churches will also be allowed to hold worship services starting today, although many have chosen to use virtual services for the time being.
Despite the loosened restrictions, public health officials continue to urge Iowans to practice social distancing and stay home whenever possible.
"We continue to remind residents to take preventive measures to slow the spread of this virus," Public Health Nurse Rachel Loyd said this week. "It's important for everyone to stay home as much as possible and to practice social distancing - this simply means to stay away from groups of people, and to keep a 6-foot distance from other individuals."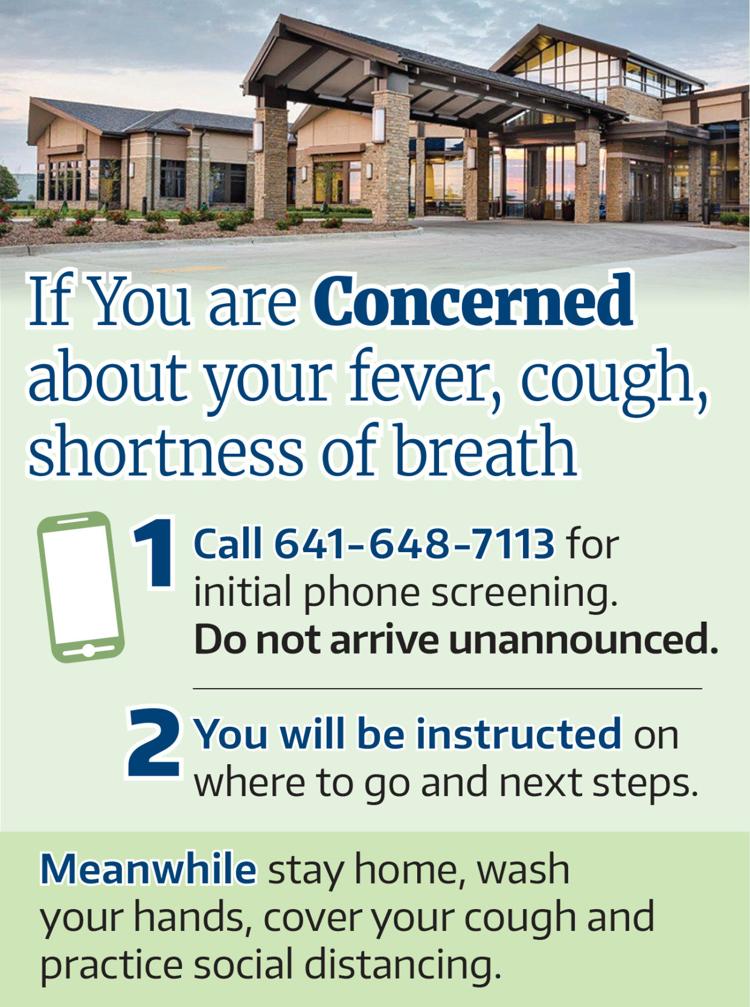 Symptoms of COVID-19 include cough, fever (100.4 or greater) and shortness of breath. If you are experiencing any of these symptoms, you're instructed to call your health care provider before going into the office. They will walk you through a series of questions and may ask you to report to a testing site. Hansen Family Hospital in Iowa Falls is able to test for COVID-19, but patients should not show up at the hospital. Call the HFH COVID-19 phone number at 641-648-7113 first. Hansen Family Hospital is not a Test Iowa site (part of a statewide rollout of testing that's connected to an online assessment tool at TestIowa.com). The public should not show up at the site and expect to be tested for COVID-19.
Find more information about COVID-19 in Iowa on the state's coronavirus website, or on the Greenbelt Home Care/Hardin County Public Health Facebook page.
CORRECTION: This story has been updated with the age range of the ninth patient, a detail that was not initially released by public health officials when the case announcement was made.